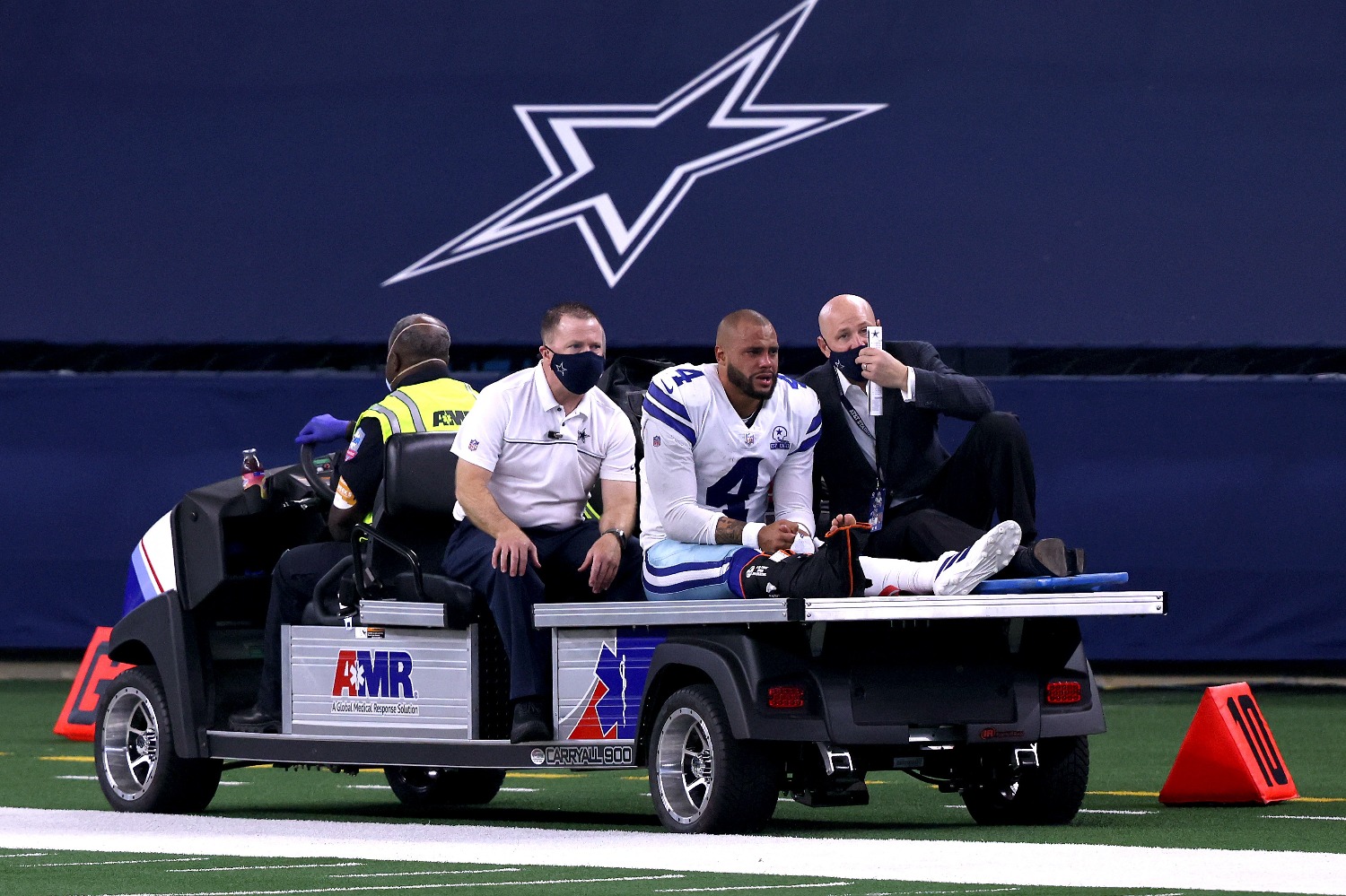 Dak Prescott Just Lost His Chance to Cement His Cowboys Legacy
Dak Prescott just suffered a devastating blow to his Cowboys legacy. Will his injury prevent him from ever leading Dallas to a Super Bowl?
For all of his early-career success, Dak Prescott still has one glaring hole on his impressive NFL resume: a lack of playoff success. Heading into the 2020 season, the Dallas Cowboys quarterback looked to change that narrative. However, a rash of injuries has decimated a Dallas team loaded with premier talent on both sides of the ball.
And after suffering a devastating injury on Sunday, Prescott just lost his chance to cement his Cowboys legacy. Given his contract status, we very well could have seen No. 4 take his last snap in Dallas. And should that prove to be the case, Prescott will be remembered much like Tony Romo as a Pro Bowl-caliber QB who failed to replicate that same success in the postseason.
Dak Prescott entered the season with a point to prove
Despite earning two Pro Bowl berths in his first four years in the NFL, Dak Prescott entered the 2020 season with a point to prove. Sure, he has put up terrific regular-season numbers since taking over for Romo. But like his predecessor, Prescott's Cowboys career has not featured many postseason victories.
In fact, the 27-year-old has won just a single playoff game since entering the league in 2016. That lack of postseason success certainly couldn't have helped him at the negotiating table this offseason, either.
Still, the former fourth-round pick looked to fill that glaring hole on his resume this year. And given their wealth of talent on both sides of the ball, the Cowboys looked like a top Super Bowl contender heading into the season.
Prescott just lost his chance to cement his Cowboys legacy
Unfortunately for Dak Prescott and the Cowboys, the 2020 season has not gone as expected. Due to a brutal run of injuries, Dallas entered its Week 5 matchup against the New York Giants with a disappointing 1-3 record.
Having already lost Tyron Smith and La'el Collins to season-ending injuries, the Cowboys suffered another loss on Sunday. Prescott got carted off the field after sustaining a right ankle compound fracture and dislocation. He underwent surgery to repair the damage. However, his season appears over after just five games.
By sustaining such a gruesome injury, Prescott just lost his chance to cement his Cowboys legacy. Instead of leading Dallas to the playoffs—which still looks highly probable given the dismal state of the NFC East—he will have to watch from the sidelines as Andy Dalton takes over as the Cowboys' starting quarterback. Even though he was in the midst of another strong statistical season, Prescott will not get a chance to silence critics who point to his lackluster postseason resume.
That leaves his legacy in serious doubt. After all, Dallas could elect to let Prescott walk after the season if the team struggles and lands a high draft pick. Would Jerry Jones pass up the opportunity to select Trevor Lawrence, Justin Fields, or Kyle Trask in order to give Prescott a lucrative extension coming off one of the most devastating injuries in recent NFL history?
Has Dak played his final snap in Dallas?
Ultimately, Dak Prescott's injury could prevent him from ever filling the glaring hole on his Cowboys resume. In fact, he may have played his last down in Dallas.
Jones may be saying all the right things at the moment, but when push comes to shove, will he open up his checkbook and give Prescott life-changing money? Considering the two sides couldn't agree to terms before Prescott suffered a devastating injury, it seems like negotiations will only get more difficult and complicated this offseason.
If Jones determines that the team needs to move in a new direction at quarterback, that puts Prescott firmly on Romo's level. Both signal-callers showcased dynamic ability in Dallas. Yet, neither led the franchise to a Super Bowl appearance, let alone a title.
Prescott and Romo may be respected and adored by some Cowboys fans, but their lack of playoff success damages their legacies given quarterbacks get judged on their ability to deliver Lombardi Trophies.
While Dak Prescott can still change that narrative, his devastating injury makes that mission much more difficult. And if the Cowboys move on from him this offseason, he will have no chance at ensuring he will be remembered as an all-time great Cowboy.
Like Sportscasting on Facebook. Follow us on Twitter @sportscasting19.