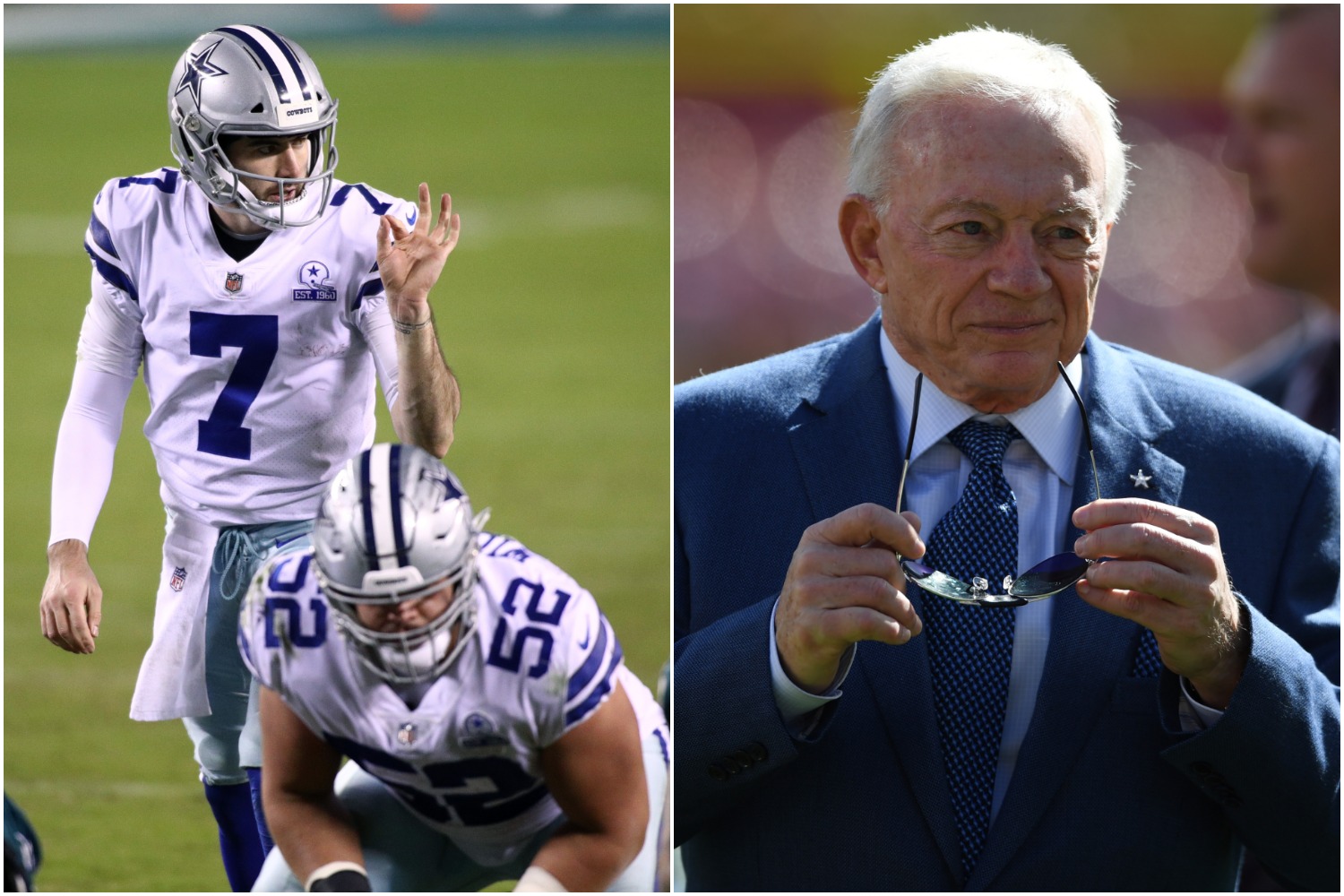 Jerry Jones Just Fired a Disrespectful Shot at Cowboys QB Ben DiNucci
Jerry Jones threw Dallas Cowboys quarterback Ben DiNucci under the bus with an eyebrow-raising comment that seemed totally unwarranted.
Over the years, Jerry Jones has never been afraid to speak his mind. But the Dallas Cowboys owner took things to another level on Tuesday by firing a disrespectful shot at quarterback Ben DiNucci.
But if Jones intends on winning a Super Bowl title during his lifetime, he needs to take a long, hard look in the mirror. Because unless he changes his ways, the Cowboys will never hoist the Lombardi Trophy anytime soon. And his attitude and approach this offseason will play a significant role in the future of the franchise.
Ben DiNucci delivered a dud in his only NFL start
Once Dak Prescott suffered a season-ending injury, Andy Dalton took over as the Cowboys' starting quarterback. However, the former Cincinnati Bengals signal-caller sustained a brutal helmet-to-helmet hit in Week 7 that knocked him out of the game.
That put seventh-round rookie Ben DiNucci in the driver's seat. The 24-year-old completed two passes for 39 yards and got sacked three times in his first real taste of NFL action.
The following week, DiNucci recorded his first career start. However, the Philadelphia Eagles held him to just 180 passing yards. DiNucci got sacked four times and lost two fumbles in a 23-9 defeat.
Of course, it didn't help that he played behind an injury-ravaged offense line. Still, his performance did little to inspire confidence in his ability to lead the offense.
So after just one start, DiNucci got sent back to the bench. Garrett Gilbert earned the nod in Week 9 against the Pittsburgh Steelers before Dalton reclaimed the starting gig following the team's Week 10 bye.
Jerry Jones fires a disrespectful shot at DiNucci
Like the Cowboys, the Denver Broncos have had some issues at the quarterback position this season. Their situation got particularly dire this weekend when all four of their quarterbacks could not play due to COVID-19 protocols.
Denver ended up starting practice squad wide receiver Kendall Hinton at quarterback. The undrafted free agent rookie completed one pass for 13 yards. He got picked off twice in the Broncos' 31-3 loss to the New Orleans Saints.
On Tuesday, Jerry Jones made his weekly appearance on 105.3 The Fan. And while one might have expected him to sympathize with Denver's recent quarterback dilemma, the outspoken owner took things in an entirely different direction. And in doing so, he fired a disrespectful shot at one of his own players.
"You take risks when you put all the quarterbacks in the same room. If you were worried about those things, you can spread them out a little bit—you save one," Jones said. "I don't know that Denver had any more challenge than we've had with [Ben] DiNucci or with the young quarterbacks that we've had."
For Jones to compare the Cowboys starting DiNucci to the Broncos starting Hinton is way out of line. While DiNucci did not play well, what more did Dallas expect from a seventh-round pick who didn't get a full offseason to learn the system? He at least provided some plays in the passing game, which cannot be said of Hinton.
Ultimately, Jones went too far in calling out a first-year player who got put in a bad situation. And unless he finally takes a step back and stops putting himself before the team, the 78-year-old will never taste championship glory again.
The Cowboys must make a difficult decision at quarterback this offseason
At 3-8, the Cowboys will likely miss the playoffs for the second straight season. Assuming Dallas finishes around 6-10, Jerry Jones will face an interesting decision this offseason.
If the Cowboys hold a top-10 pick, they will be in a terrific position to draft an elite quarterback prospect. And with Prescott coming off a brutal injury in a contract year, would Dallas consider drafting a signal-caller and moving on from the veteran?
On one hand, that move makes sense from a financial standpoint. If the Cowboys secure a promising quarterback such as Justin Fields, Kyle Trask, or Mac Jones on a rookie contract, they will have tremendous flexibility to upgrade the rest of the roster.
On the other hand, letting Prescott walk could send a bad message to the locker room. After all, the two-time Pro Bowler is widely respected by his teammates for his toughness and leadership. Jones would be taking a massive risk by going with an unproven prospect over a known commodity.
Then again, is there anything he can do that would surprise Cowboys fans?
All statistics courtesy of Pro Football Reference.