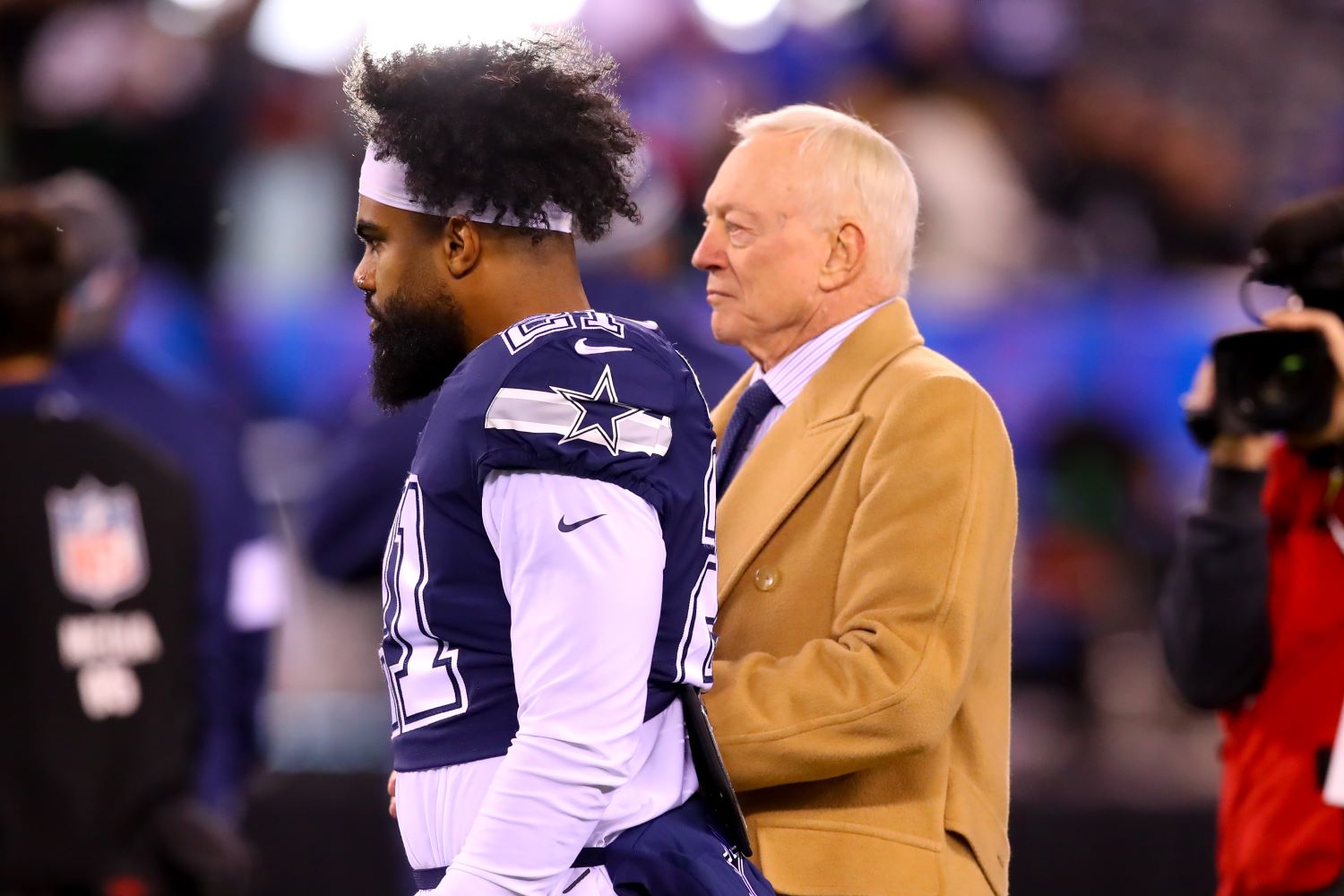 Jerry Jones Just Insulted Cowboys Fans' Intelligence With Ridiculous Ezekiel Elliott Comment
Jerry Jones calling Ezekiel Elliott "our best player" is a huge insult to Cowboys fans' intelligence based on the running back's recent play.
Ezekiel Elliott may be on pace to finish with the worst numbers of his career, but that apparently has done little to change his standing with Jerry Jones. In fact, the outspoken owner just insulted Dallas Cowboys fans' intelligence by calling the running back "our best football player."
After all, Zeke no longer ranks as the best player at his own position. On the other hand, Dallas does have a player on its roster who can claim that honor.
Ultimately, Jones' comments have sparked an interesting question: Who is the best player on the Cowboys?
Ezekiel Elliott is in the midst of his worst NFL season
The Cowboys made a bold move to take Ezekiel Elliott with the fourth overall pick of the 2016 NFL draft. Initially, the selection looked like a home run.
In his rookie season, the former Ohio State star led the NFL in carries (322) and rushing yards (1,631). Elliott racked up 15 rushing touchdowns and earned both first-team All-Pro and Pro Bowl honors for his fantastic first year.
Two years later, he once again led the league in rushing and earned his second Pro Bowl berth. During the offseason, Jerry Jones handed his star running back a six-year, $90 million contract extension that included $50 million guaranteed.
Although Elliott scored 14 total touchdowns last season, he averaged a career-low 84.8 rushing yards per game. His numbers have only gotten worse in 2020.
Through nine games, the 25-year-old has totaled just 572 rushing yards. Elliott's 3.8 yards-per-carry average would easily be his worst mark since entering the league in 2016. He's also averaging a career-low 6.6 yards per catch.
While some may blame Elliott's struggles on a depleted offensive line, it seems like the three-time Pro Bowler has lost some of the explosion and quickness that made him such a dynamic threat in college and early in his NFL career.
Jerry Jones just insulted Cowboys fans' intelligence with his high praise for Zeke
Considering the Cowboys rank dead-last in points allowed, it makes sense that Dallas defenders wouldn't draw the attention of Jerry Jones. But the aging owner just insulted his fan base with a bold proclamation about who's the best player on the team.
During Friday's appearance on 105.3 The Fan, Jones put his full-fledged support behind Ezekiel Elliott despite the running back's underwhelming performance so far.
"I think you're selling him short. Early, when we were full-blown on offense, he was making some things happen. Those turnovers early put a lot of focus on what he was doing," Jones said. "Still, I know the impact he has on opposing defenses."
The 78-year-old then took his praise to an entirely different level.
"He's our best football player; he's our best one," Jones said.
When asked to clarify his stance, the Cowboys owner left no room for interpretation.
"In my mind he's our best player."
While Jones may think his highly-paid running back is also the team's top player, that honor does not belong to Ezekiel Elliott. Based on his resume, he certainly deserves to be mentioned. But Dallas fans know all too well that another player should have earned that type of public praise from Jones.
Who is the Cowboys' best player?
Even during a down year, Ezekiel Elliott is still a top-10 running back
However, in recent years, Christian McCaffrey, Nick Chubb, Alvin Kamara, and even Derrick Henry have made it much more difficult to call Elliott the best back in the league.
With that in mind, it seems downright disrespectful that Jerry Jones deemed the 25-year-old to be the Cowboys' best player.
In reality, a true Dallas fan would choose Zack Martin for that honor. Since becoming the 16th overall pick of the 2014 NFL draft, the former Notre Dame star has been the best right guard in football.
Need proof?
In his first six NFL seasons, Martin has earned six Pro Bowl selections. The 6-foot-4, 315-pound offensive lineman has been named first-team All-Pro four times. He earned second-team honors in 2015 and 2017.
Even Tyron Smith deserves to be ranked higher than Elliott. Although the Cowboys' longtime left tackle has been hampered by injuries in recent years, he may have already locked up a spot in the Pro Football Hall of Fame. Smith earned seven consecutive Pro Bowl selections from 2013-2019. He earned first-team All-Pro honors in 2014 and 2016 and second-team honors in 2013 and 2015.
Perhaps Jones forgot about how just dominant Smith was, or maybe his loyalty to Elliott has clouded his judgment.
Ultimately, though, Cowboys fans (and Zack Martin) should feel insulted by Jones' latest comments. Because if he really believes Elliott is their best player, that pretty much sums up exactly why the Cowboys haven't won a Super Bowl title since 1996.
It's time to wake up, Jerry.
All statistics courtesy of Pro Football Reference.