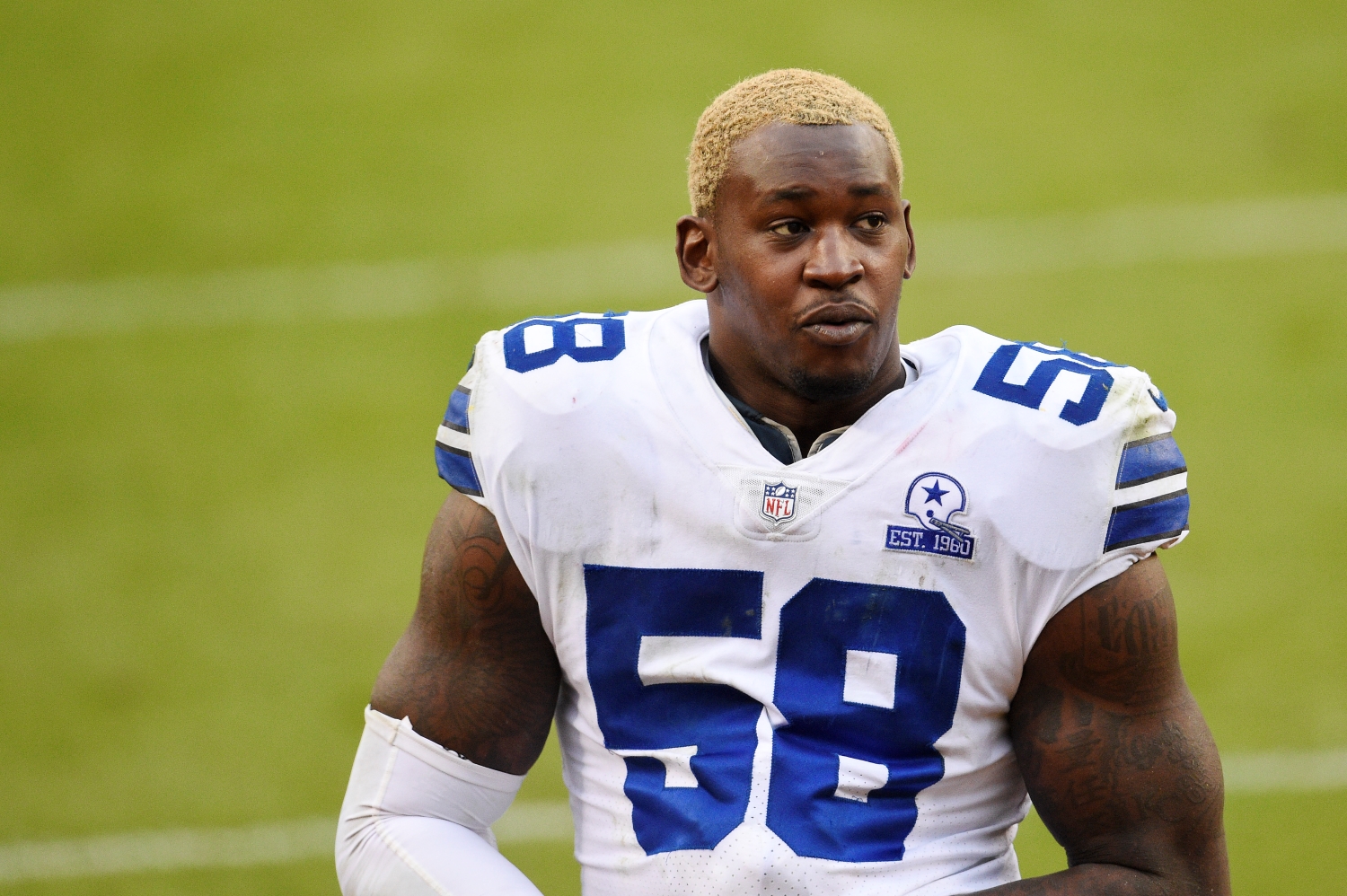 Jerry Jones Just Sent a Clear Message About Aldon Smith's Future
Jerry Jones seems to have made up his mind about Aldon Smith's future in Dallas. Can the star pass rusher help the Cowboys make the playoffs?
During his days with the San Francisco 49ers, Aldon Smith looked like a future Hall of Famer. For the last four years, he has been a ghost. Now, though, he may just be the NFL's best comeback story.
In fact, Smith has played so well that Jerry Jones already seems to have made up his mind about the star pass rusher's future with the Dallas Cowboys.
Aldon Smith has resurrected his career in Dallas
The 49ers appeared to have landed a potential all-time great when they made Aldon Smith the seventh overall pick of the 2011 NFL draft. He racked up 33.5 sacks in his first two seasons before injuries and off-field issues derailed his NFL career.
After spending the last four years out of football, Smith signed a one-year contract with the Cowboys back in April. Given his lengthy layoff, nobody—including Jerry Jones—quite knew what to expect once Smith took the field again.
Although Dallas has been a mess on defense this season, the 31-year-old has surpassed expectations. Smith has racked up 37 tackles, five sacks, nine quarterbacks hits, and two passes defended through nine games.
The 6-foot-5, 255-pound defensive end has been just about the only player on the Cowboys who has applied pressure on opposing quarterbacks. Without Smith, it's scary to think how much worse Dallas would be on defense.
Jerry Jones sends a clear message about Smith's future
Considering Aldon Smith carries a salary of just $910,000, Jerry Jones scored a major steal. But based on his recent comments on 105.3 The Fan, the Cowboys owner sounds ready to make a much more significant investment this offseason.
"Every time he's stepping out there he's gaining on it, and that's interesting to be at this stage of his career," Jones said. "He's an absolute unique-in-every-way pressure player. We want to maximize our relationship with him."
He further added, "We've all got a good one with him. Proud of him. Proud that he's given himself this chance and we're going to help him do it. So, as I've said earlier, I'm a fan of his."
Obviously, it sounds like Jerry Jones plans on making Smith a permanent member of the Cowboys. And if the former 49ers star can rediscover his vintage form as the season continues, he'll only strengthen his case to get paid this offseason.
Can the Cowboys improve enough on defense to make the playoffs?
Despite ranking dead-last in points allowed, the Cowboys have started to show some improvement on defense in recent weeks. After surrendering nearly 36 points per game through six weeks, Dallas has allowed an average of 24 points in its last three losses.
Moving forward, the Cowboys could still make the playoffs if they continue to fix their issues on that side of the ball. In particular, Dallas needs to do a better job of rushing the passer.
After racking up four sacks through the first three weeks of the season, Aldon Smith has recorded just one in his last six games. He and DeMarcus Lawrence need to step up if the Cowboys have any chance of winning the NFC East.
But with a second-half schedule that looks more than manageable, perhaps Dallas will pull off a major turnaround and earn a playoff berth.
And if Smith plays a major role in that, his price tag will only go up.
Luckily for him, it sounds like Jerry Jones is willing to open up his wallet to keep him in Dallas for good.
All statistics courtesy of Pro Football Reference.