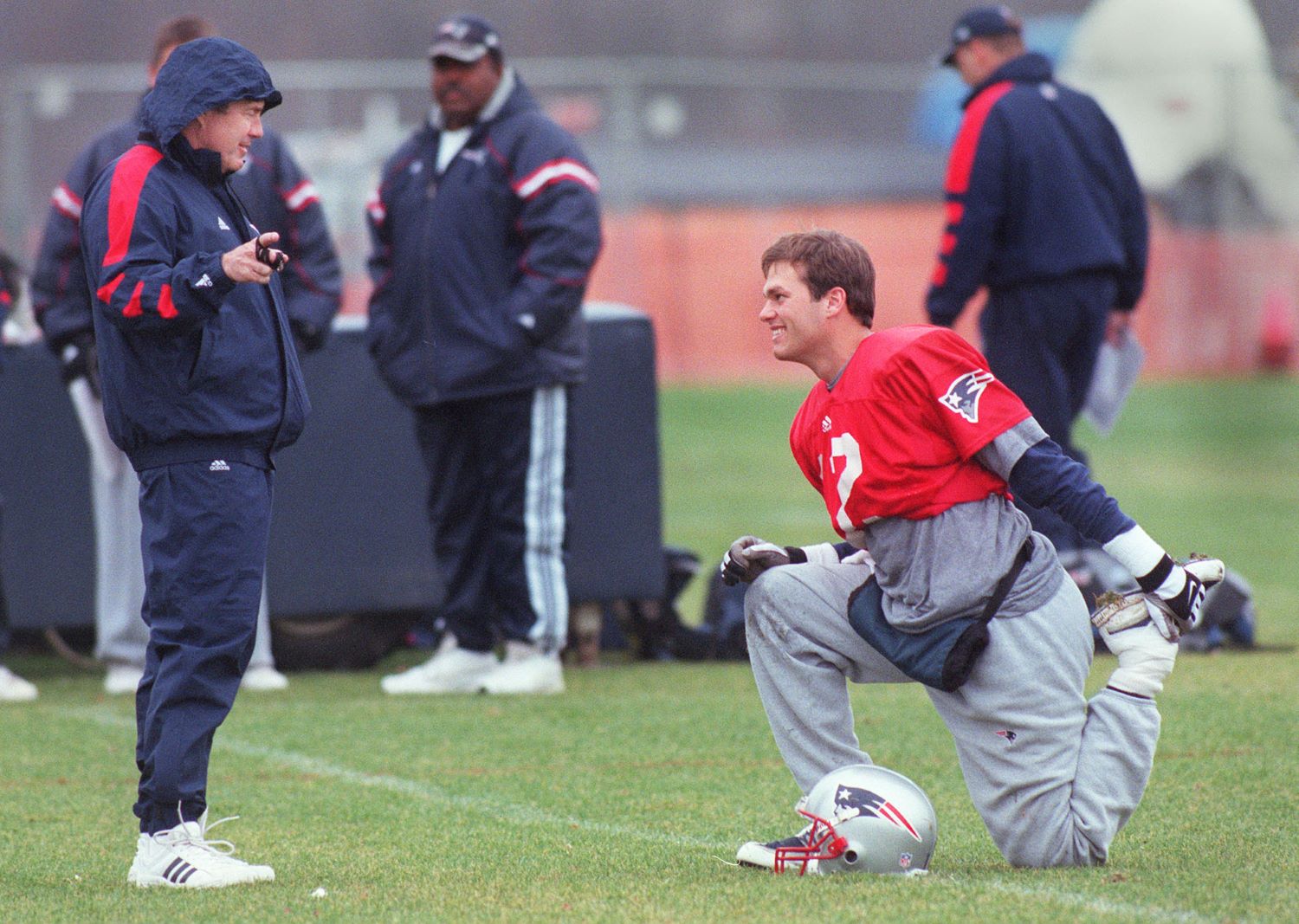 A Former Patriots Employee Admitted the Truth About How Early Bill Belichick Was Willing to Draft Tom Brady
Tampa Bay Buccaneers GM Jason Licht recently exposed exactly what Bill Belichick thought of Tom Brady at the time of the 2000 NFL draft.
Before he became the general manager of the Tampa Bay Buccaneers, Jason Licht spent ample time learning the ins and outs of scouting and player personnel as a member of the New England Patriots.
During his time working for Bill Belichick, the 49-year-old got a chance to see a number of players go from NFL draft picks to big-time contributors.
Of course, Tom Brady was among those success stories.
Ironically, the legendary quarterback now plays for an organization that's run by someone who worked for his previous team at the time he was drafted.
In fact, Licht just exposed what his former boss really thought about Brady during the 2000 NFL draft.
Jason Licht spent several years in New England before taking over in Tampa
NFL front-office executives typically spend multiple years (if not longer) working their way up the corporate ladder. In the case of Jason Licht, he worked for several franchises before landing the promotion of a lifetime in 2014.
The former college defensive tackle joined the Patriots as a scout in 1999 before ascending his way up the organization. In 2002, Licht became New England's assistant director of player personnel. He served in that same role for the Philadelphia Eagles from 2003-05 before getting promoted to vice president of player personnel.
A few years later, Licht returned to New England to take on a much bigger job: director of player personnel.
During his three years in that role, the Patriots drafted a number of future stars, including Rob Gronkowski, Julian Edelman, Devin McCourty, and Patrick Chung. Bill Belichick's team enjoyed tremendous success as a result of the home-grown talent brought in during Licht's tenure as director of player personnel.
Of course, by that time, New England was already considered a dynasty. After all, Bill Belichick had found the most important piece of a championship puzzle a decade earlier.
Tom Brady suffered a painful NFL draft experience
Tom Brady will undoubtedly be remembered as the greatest quarterback in NFL history. But nobody expected him to become a starter (let alone a star) when he first entered the league.
Despite showcasing excellent leadership skills and toughness at the University of Michigan, the California native didn't hear his name called during the first round of the 2000 NFL draft.
He got passed over in the second and third rounds, too.
In fact, Brady infamously slipped all the way to the sixth round. After six other quarterbacks got selected, the Patriots finally ended his misery by drafting him 199th overall.
Given the presence of Drew Bledsoe, the pick didn't exactly move the needle in New England. Obviously, Brady far outplayed his sixth-round status once he got a chance to get on the field.
For years, though, many have wondered exactly how Bill Belichick and the Patriots viewed the skinny, slow ex-Wolverines QB before he started winning Super Bowl titles.
And thanks to Jason Licht, we now know how his former boss felt about Brady at the time of the 2000 NFL draft.
The Buccaneers GM just exposed Bill Belichick's true feelings about Brady during the 2000 NFL draft
Jason Licht spent years working for Bill Belichick. And in many respects, the Buccaneers GM probably owes much of his success to the Patriots head coach.
Just don't expect Licht to take credit for discovering Tom Brady.
"I did not personally scout Tom. I was a southeast area scout at the time," he said during his Wednesday press conference. "I listened to the conversations about him and we watched tape together, but I can't take any credit for Tom being drafted."
Licht did, however, give credit to his former boss for the Brady pick.
"I do know that Coach Belichick really had his eye on him for a long time," Licht explained. "We took him in the sixth. We didn't need a quarterback at the time. He had him much higher than that—he and Scott Pioli had him much higher than that on the board."
He further added, "The conversation started with, if I recall correctly, the third round. And he was still sitting there in the sixth round and they took him."
So according to the Buccaneers GM, Belichick clearly felt Brady deserved to go much earlier than the 199th overall pick. The Patriots could have easily selected him before the sixth round, but it didn't happen that way.
Instead, Belichick drafted six other players before he used a compensatory sixth-round pick to select the greatest quarterback of all time.
Was that pure luck? Or was that the first example of the genius of the greatest coach in NFL history?
We'll never really know.
But thanks to Jason Licht, we do know exactly what Bill Belichick thought of Tom Brady at the time of the 2000 NFL draft.
Like Sportscasting on Facebook. Follow us on Twitter @sportscasting19.