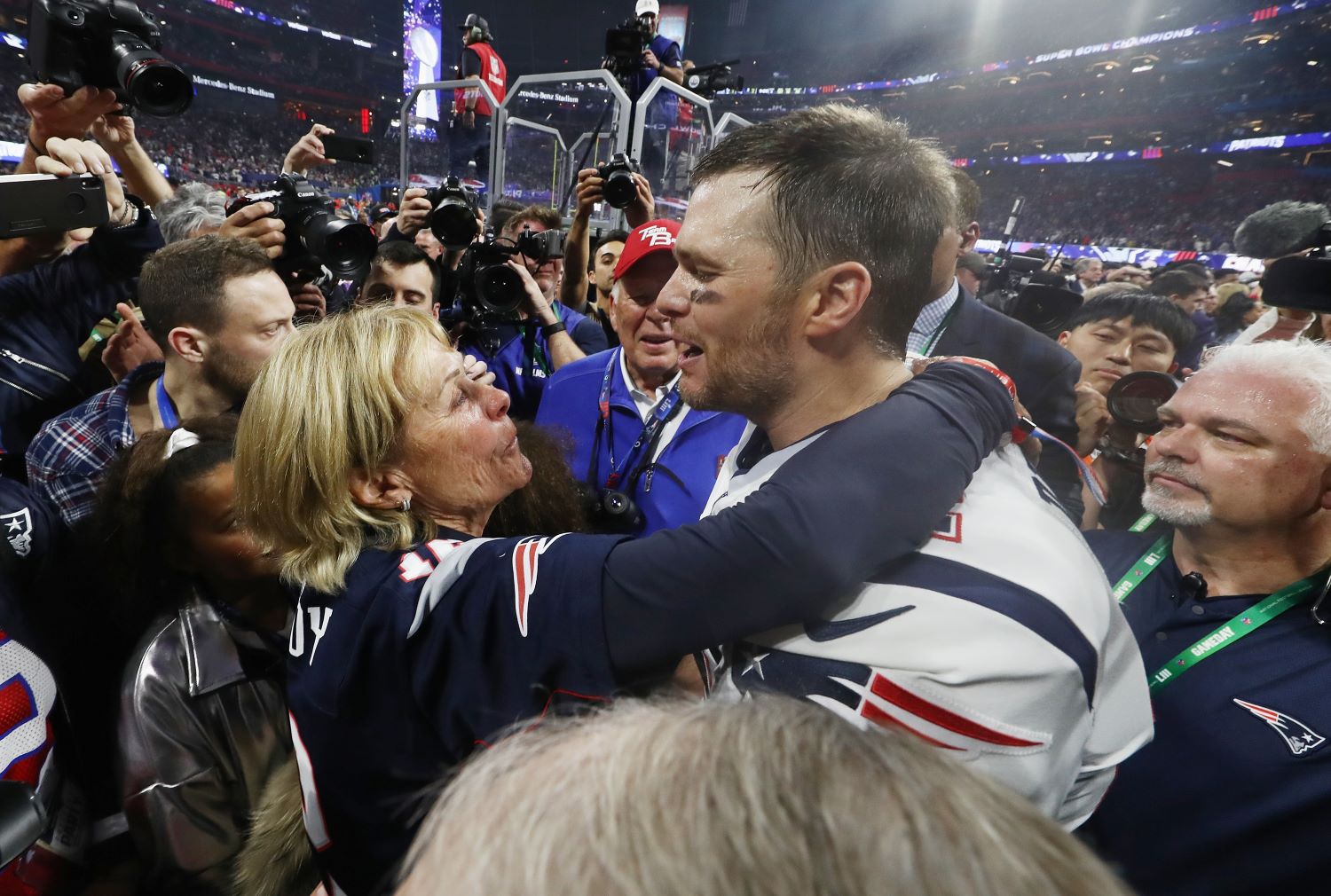 Tom Brady's Parents Suffered the Scary Reality of COVID-19 Early in the 2020 NFL Season
In the beginning of their son's first season with the Tampa Bay Buccaneers, Tom Brady's parents suffered the scary reality of COVID-19.
For decades, Tom Brady could always count on his parents to attend his football games. But in his first season playing for the Tampa Bay Buccaneers, the NFL legend didn't have his mom and dad in the stands.
At least, not initially.
As we learned on Monday, Brady's parents suffered the scary reality of COVID-19 just as their famous son began another chapter of his legendary career.
While his two biggest supporters survived their battle with the coronavirus, the former New England Patriots quarterback faces an entirely other challenge of his own in trying to beat the Kansas City Chiefs in Super Bowl 55. And given the adversity his parents faced back in the fall, it only seems fitting that the future Hall of Famer has a chance to celebrate the new year with his family by winning a seventh Super Bowl ring.
Tom Brady has showed no signs of slowing down after leaving New England
Patriots fans witnessed the birth of a star when Tom Brady took over starting quarterback duties in 2001 and led the team to the first Super Bowl title in franchise history.
As he continued to carve out a reputation as one of the most clutch performers in NFL playoff history, Brady had the support of not only Patriot Nation but also his family.
His father, Tom Brady Sr., and his mother, Galynn, attended many of his games over the years.
However, the family got a scare a few years ago when Brady's mother got diagnosed with breast cancer. However, even though she didn't attend a single regular-season game back in 2016, she did recover enough to make a trip to Houston to watch her son lead the greatest comeback in Super Bowl history.
While Brady's unbelievable performance against the Atlanta Falcons should have convinced Bill Belichick to keep him around for years to come, that did not happen.
Instead, the six-time Super Bowl winner had to settle for added contract incentives rather than long-term financial and job security.
Finally given the chance to choose his own fate, Brady took his talents to Tampa. And even though he could have retired years ago and still been considered the GOAT, he further cemented his case by throwing 40 touchdowns in his age-43 season.
As it turns out, though, Brady's parents did not get a chance to see their son play earlier in the fall.
Tom Brady's parents suffered the scary reality of COVID-19
With his son set to play in his 10th Super Bowl, Tom Brady Sr. conducted an interview with Mike Greenberg of ESPN Radio on Monday.
The father of the greatest quarterback to ever step foot on an NFL field revealed a scary situation that occurred during the early portion of the 2020 season.
Brady Sr. told Greenberg that he spent three weeks in the hospital as he battled COVID-19. He told the ESPN host that both he and his wife were "sick as a dog."
Brady's parents, who are both 76 years old, couldn't watch the Buccaneers' first two games as a result of Tom Sr.'s hospitalization.
"We've never missed a game at Michigan or New England or wherever," he told ESPN. "For the first two games when I was in the hospital, I didn't even care if they were playing — much less missing the game. It was a matter of life and death, just like anybody who goes to the hospital. That's serious stuff."
Despite her previous bout with cancer, Galynn Brady did not have to remain hospitalized during her battle with COVID-19.
Still, the situation with his parents took a toll on the aging quarterback.
"Tommy fought through it, and so now it's in the rearview mirror," Brady Sr. said. "We're healthy, we're happy and everything is good."
Will the GOAT celebrate another Super Bowl victory with his family?
Luckily for Tom Brady and his family, both of his parents survived their encounter with COVID-19.
With their health in order, Tom Sr. and his wife can focus fully on supporting their son in his quest to win a Super Bowl ring without Bill Belichick.
But will the Brady family have reason to celebrate when the final whistle blows in Super Bowl 55?
The matchup between the Buccaneers and the Chiefs has the potential to be one of the best of all time.
Looking for star power?
It doesn't get bigger than Brady vs. Mahomes.
Have a need for speed?
They don't come much faster than Tyreek Hill. And Bucs receiver Chris Godwin brings plenty of quickness to the equation, too.
And don't worry about a lack of impact players on the defensive side of the ball.
Kansas City boasts bonafide stars in Tyrann Mathieu, Chris Jones, and Frank Clark. Tampa counters with a terrifying front seven headlined by Devin White, Ndamukong Suh, Jason Pierre-Paul, Lavonte David, and Shaquil Barrett.
That unit could feast against a Chiefs offensive line that will not have left tackle Eric Fisher available. The former No. 1 pick tore his Achilles in the AFC championship.
Can the Bucs exploit that weakness and force Mahomes to make a critical mistake?
If so, Tom Brady and his family can firmly put the past behind them and embrace the familiar feeling of being Super Bowl champions again.
Like Sportscasting on Facebook. Follow us on Twitter @sportscasting19.