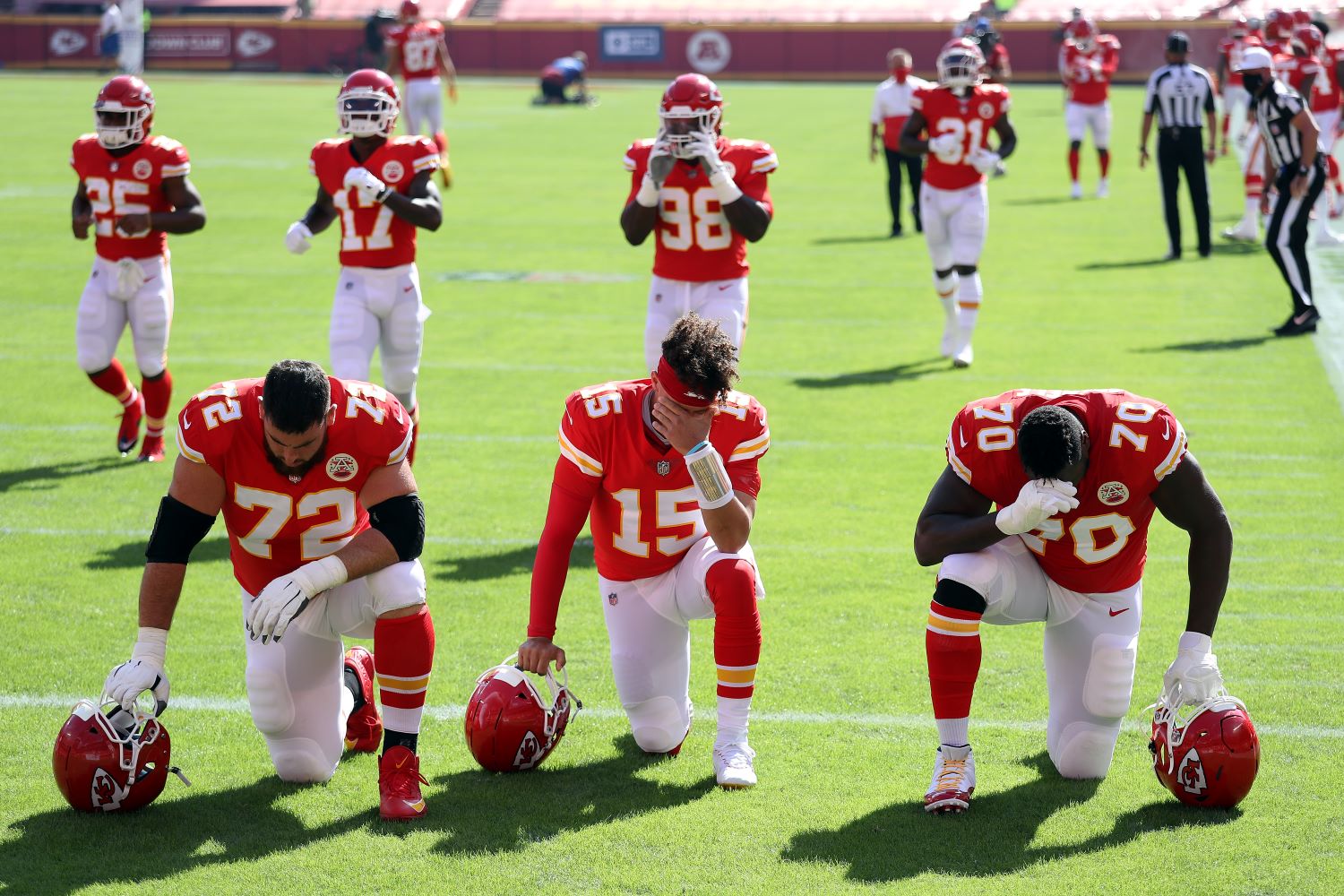 Patrick Mahomes and the Chiefs Suffer Devastating Loss in AFC Championship Victory
Patrick Mahomes and the Kansas City Chiefs may have won the AFC championship again, but their impressive victory came at a painful price.
Although the Kansas City Chiefs secured a second straight Super Bowl berth on Sunday, their AFC championship victory came at a brutal price. With one of their most important players suffering a devastating injury against the Buffalo Bills, the defending champions suddenly seem vulnerable heading into a star-studded showdown against Tom Brady and the Tampa Bay Buccaneers.
And considering how much pressure Aaron Rodgers faced in the NFC championship, Patrick Mahomes better hope that his coaches scheme up a way to keep him protected against a defense that has more than enough talent to prevent the Chiefs from hoisting the Lombardi Trophy again.
Kansas City took care of business against an overmatched Buffalo Bills squad
Josh Allen and the Bills came out firing in the AFC championship. But after jumping out to an early 9-0 lead, Buffalo scored just 15 points the rest of the way.
Meanwhile, Patrick Mahomes and his talented cast of weapons made up for a slow start by scoring three touchdowns in the second quarter.
Kansas City carried that momentum into the second half and continued to torch Buffalo's defense. Travis Kelce caught a game-high 13 passes on 15 targets. The All-Pro tight end scored two touchdowns, one of which came on a beautifully designed shovel pass play near the goal line.
As for the whole Mahomes vs. Allen battle?
It wasn't even close.
The Bills quarterback completed just 28-of-48 attempts for 287 yards, two touchdowns, and one interception. Although he ran for 88 yards, Allen got sacked four times in Sunday's loss.
Meanwhile, Mahomes looked completely unfazed and played error-free football in his third consecutive AFC championship appearance. The most gifted quarterback in NFL history only had nine incompletions and finished the night with 325 passing yards and three touchdowns.
However, while the Chiefs convincingly earned a spot in Super Bowl 55, their victory came at a brutal price.
Patrick Mahomes lost his trusted blindside protector in the AFC championship
Unfortunately for Patrick Mahomes and the Chiefs, they didn't escape unscathed in Sunday's two-touchdown win against the AFC East champions.
In fact, the team suffered a devastating loss in the midst of capturing the Lamar Hunt Trophy for the second consecutive year.
Left tackle Eric Fisher exited the AFC championship with what looked like a serious lower-body injury. After the game, Chiefs head coach Andy Reid provided an ominous update about Mahomes' blindside protector.
"It doesn't look too good with his Achilles," Reid told reporters.
On Monday, Fisher's injury situation became more clear.
According to the NFL Network's Ian Rapoport, the 29-year-old tore his Achilles against the Bills. Fisher "faces a long road of recovery" as his team prepares to take on the Buccaneers in Super Bowl 55.
While the 6-foot-7, 315-pounder isn't an elite player, he has earned two Pro Bowl selections and started 113 regular-season games since arriving as the No. 1 overall pick back in 2013. But without Fisher anchoring the left side of the line, Mahomes could be in trouble against a Tampa Bay defense that features several blue-chip playmakers.
Can Tom Brady and the Buccaneers prevent the Chiefs from pulling off a repeat?
With Eric Fisher out with a torn Achilles, the Chiefs must find a way to protect their most important player in the most important game of the season. After all, if Patrick Mahomes faces consistent pressure from Shaq Barrett, Jason Pierre-Paul, Ndamukong Suh, and Devin White, he will look like a mere mortal rather than a football god.
Ultimately, though, Kansas City should weather the storm and scheme up ways to help whoever lines up at left tackle in Super Bowl 55.
But even if their offense plays up to its potential, that doesn't mean the Chiefs will necessary leave Raymond James Stadium as champions.
After all, they have to stop a superstar quarterback by the name of Tom Brady.
The 43-year-old threw three second-half interceptions in the NFC title game, but does anyone really believe he won't be fully locked and loaded when he suits up in his 10th Super Bowl? And like Mahomes, Brady has a boatload of weapons who can inflict major damage at any given moment.
Will Kansas City be able to slow down Mike Evans, Chris Godwin, Rob Gronkowski, and Scotty Miller? Plus, Antonio Brown should be good to go after he missed the NFC championship with a lingering knee injury.
And with the way Leonard Fournette has looked down the stretch, the Buccaneers may be able to take the game out of Mahomes' hands by committing to the run.
Needless to say, both the Chiefs and the Bucs boast a wealth of talented skill players and two elite quarterbacks at vastly different stages of their respective careers.
But if Kansas City fails to protect Mahomes without Eric Fisher in the lineup, expect TB12 to add a seventh Super Bowl ring to his collection in his first season without Bill Belichick by his side.
All statistics courtesy of Pro Football Reference.