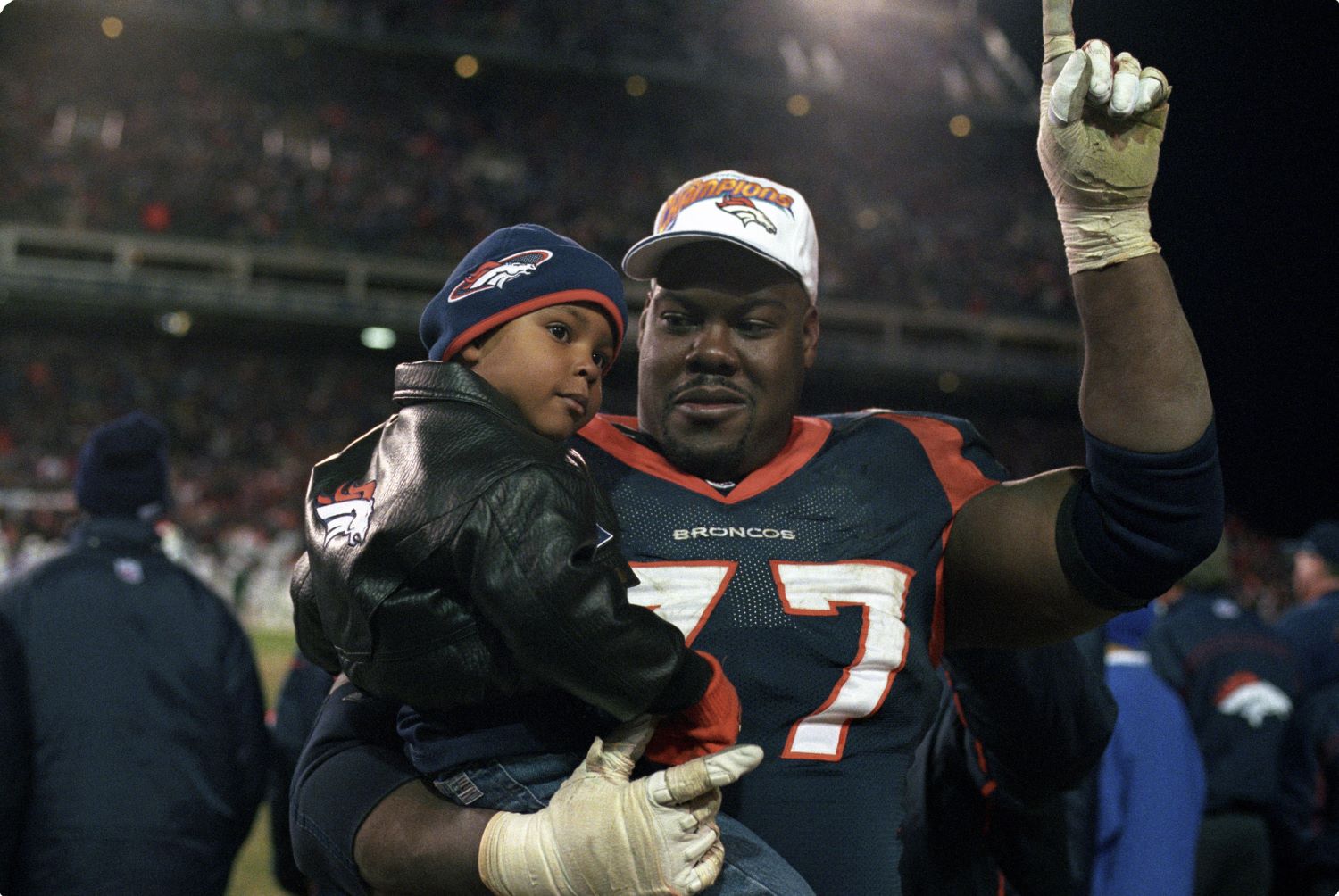 The Denver Broncos Suffer Tragic Loss With the Unexpected Death of John Elway's Former Blindside Protector
John Elway and the Denver Broncos suffered a tragic loss on Friday with the unexpected death of former offensive tackle Tony Jones.
Before Tony Jones joined the Denver Broncos, John Elway had never won a Super Bowl ring. However, thanks to the protection he received from the talented offensive tackle, the legendary quarterback hoisted the Lombardi Trophy twice before he retired from the NFL.
Unfortunately for Elway, he will never get a chance to see his former teammate again.
But even though Jones died on Friday, his legacy will continue to live on. After all, based on the way his teammates have spoken about him in the aftermath of his unexpected death, it's clear that the Georgia native made an incredible impact during his 54 years on Earth.
Tony Jones helped Denver win two Super Bowl titles
Despite possessing ample physical skills and a more-than-adequate frame, Tony Jones did not hear his name called during the 1988 NFL draft. The Western Carolina product signed with the Cleveland Browns and remained a fixture along their offensive line for nearly a decade.
In fact, the former undrafted free agent started all 16 games every year from 1990-96.
After suffering through years of losing in Cleveland, Jones finally got a chance to taste championship glory near the end of his NFL career. Denver traded a second-round pick to the Baltimore Ravens in exchange for Jones.
He started 60 games across four seasons with the Broncos. In his first year in Denver, he helped pave the way for Terrell Davis to score three touchdowns in a 31-24 win against the Green Bay Packers in Super Bowl 32. Reggie White, who many regard as the most dominant pass rusher in NFL history, didn't register a single sack against Jones.
The 6-foot-5, 290-pound tackle then captured his second Super Bowl ring in as many seasons after switching to the left side in 1998. With sound protection up front, Elway threw for 336 yards and scored two touchdowns in a 34-19 victory against the Atlanta Falcons down in Miami.
Although Jones only played two more years, he retired as one of the top offensive linemen in Broncos history. During his 13-year NFL career, the two-time Super Bowl champion earned one Pro Bowl selection and one second-team All-Pro berth.
John Elway's former blindside protector unexpectedly died on Friday
On Friday, John Elway and the Broncos organization suffered a tragic loss. The team formally announced on its website that Tony Jones passed away at the age of 54.
A cause of death has not been reported.
Even though he spent just four years with the franchise, Jones earned a spot on the Broncos' Top 100 Team back in 2019.
The team's official website ranked him as the fourth-best tackle in franchise history back in 2016.
His unexpected death represents a tragic loss given his relatively young age. As the 60-year-old Elway enters another pivotal offseason as a front-office executive, he and his former teammates must cope with the sudden passing of Tony Jones.
Former Broncos players react to the tragic loss of their former teammate
NFL players form tight bonds both on and off the field.
And based on the reactions of former teammates and peers, it's clear that Tony Jones was well-liked and respected as both a player and as a person.
Fellow franchise icon Rod Smith paid tribute to his late teammate via Instagram.
"We lost a great man. Just happened to be a hell of a ball playa," the former Broncos star wrote. "We love you and miss you Bone. One of the @broncos all time best tackles. Greatest dresser of ALL-TIME!"
Mike Klis, a Broncos reporter for 9News, shared a message from Steve Atwater about his fallen teammate via Twitter.
"Great guy. Great family. Awesome teammate," Atwater said of Jones. "Best-dressed guy on the team. Just real sad."
Even NFL players who didn't suit up on the same team as Jones have taken to social media to pay their respects.
Willie Anderson, a three-time first-team All-Pro with the Cincinnati Bengals, tweeted, "RIP to my our guy Tony Jones . A great dad , friend , Offensive Tackle , trainer and Coach . @Broncos ,@Ravens , @Browns."
All statistics courtesy of Pro Football Reference.