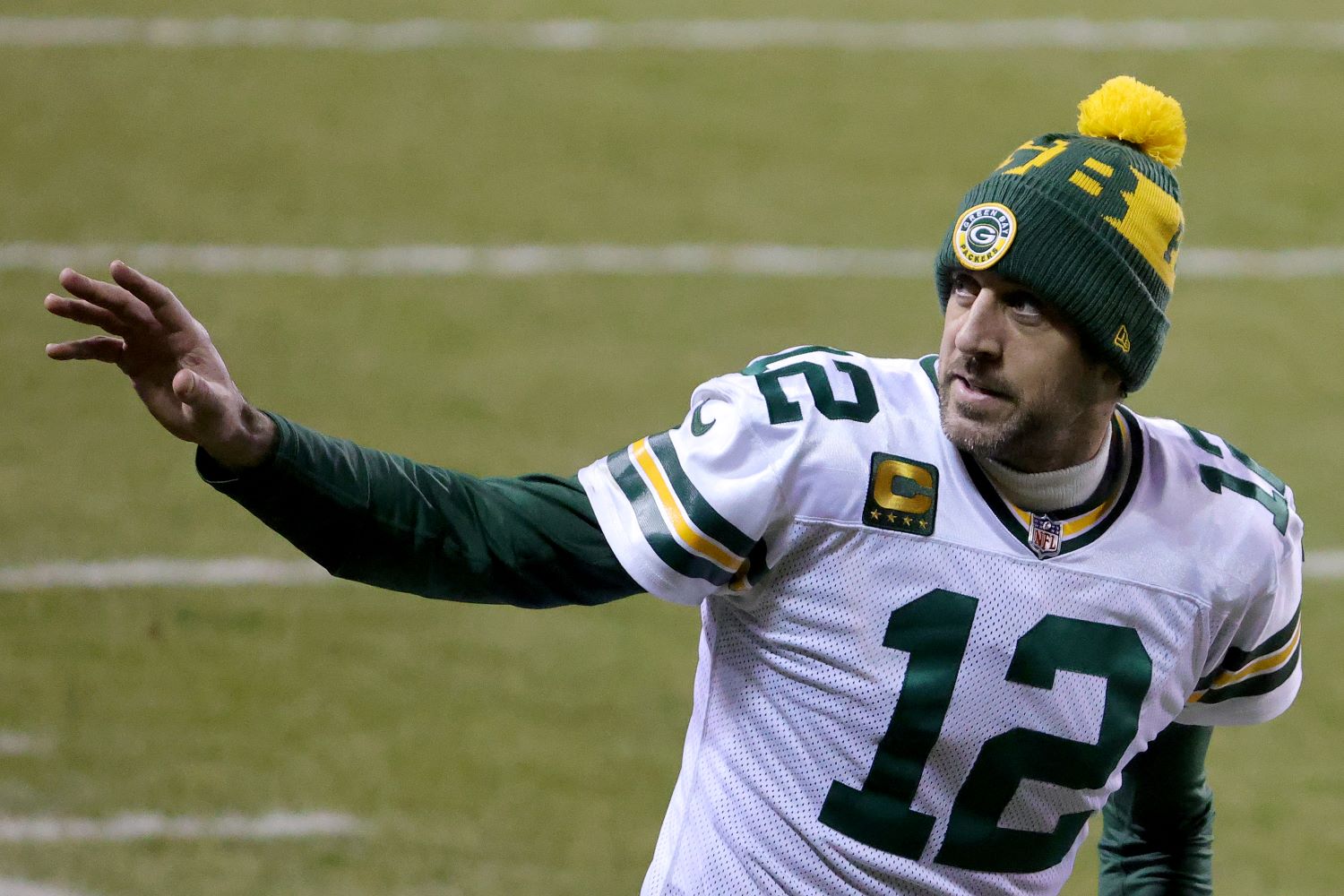 Aaron Rodgers Reveals the Silent Weapon He Had This Season That Saved His Packers Career
Aaron Rodgers entered the 2020 season with a point to prove. It turns out the Packers QB had a silent weapon that helped him bounce back.
Back in April, the Green Bay Packers sent a clear message about the future of the franchise by drafting Jordan Love. Sixteen games later, that decision already looks like a massive mistake. Aaron Rodgers rediscovered his vintage form and may soon add a third NFL MVP trophy to his collection.
However, the future Hall of Hamer had some help from a weapon that didn't catch a single pass or run one route all season. Rather, Rodgers benefitted from a simple concept that carries massive implications for NFL quarterbacks: silence.
Aaron Rodgers made the Packers look silly for drafting his potential successor
Aaron Rodgers received a wake-up call from the Packers during the first round of the 2020 NFL draft when the team traded up to select Jordan Love. However, given his age and statistical drop-off in recent years, it made sense for Green Bay to invest in the quarterback position…but not so early.
While Love may very well become a starter one day, he has no shot at unseating Rodgers anytime soon based on the nine-time Pro Bowler's 2020 campaign.
In his age-37 season, Rodgers somehow took his game to another level. He led the NFL in completion percentage (70.7), touchdowns (48), quarterback rating (121.5), and QBR (84.4.). The superstar signal-caller accomplished all of that despite having nearly all of his key weapons experience injury issues.
With their franchise player reverting back to his prime form, the Packers led the league in scoring at 31.8 points per game. They won their final six games to finish with a 13-3 record and the No. 1 seed in the NFC.
Needless to say, the whole "quarterback controversy" storyline that started in the spring never came close to being a real thing. Love didn't play a single snap in his rookie season. Rodgers was the only Packers QB to attempt a pass all year.
The MVP candidate reveals the silent weapon that played a major factor in his bounce-back season
For Aaron Rodgers, his 2020 season wouldn't have been possible without some help from a deep cast of weapons. Davante Adams missed two games and still caught a career-high 115 passes. The four-time Pro Bowler led the NFL with 18 touchdown receptions.
Running back Aaron Jones earned his first Pro Bowl selection at the perfect time. The fourth-year pro racked up 1,459 yards from scrimmage and 11 total touchdowns right as he's about to become a free agent.
Plus, Robert Tonyan emerged as a legitimate weapon in his third season in Green Bay. The 6-foot-5, 237-pound tight end caught 11 touchdowns after entering the year with just two career TD receptions.
However, Rodgers also had a significant advantage this season that he never had before.
During Tuesday's appearance on The Pat McAfee Show, he revealed the weapon that may have saved his Packers career: silence.
"It's just different playing on the road and being able to not have any crowd noise issues," Rodgers explained to McAfee and former teammate A.J. Hawk. "It's just like at home when you're able to hear things and able to communicate everything you want to communicate to the guys, it just changes the whole dynamic of a game now."
He further added, "I think that's really helped all veteran quarterbacks this year, and really all quarterbacks in general. Being able to hear eight games where you wouldn't be able to really hear anything."
Rodgers specifically mentioned Seattle, New Orleans, Minnesota, and Chicago as tough environments that no longer carry such a strong home-field advantage due to the absence of fans.
"You're able to just do things that you wouldn't be able to do in a normal year with fans," Rodgers said.
And the numbers back it up.
The benefit of silence can be seen in Rodgers' road stats
In 2019, Aaron Rodgers completed 61.4% of his passes for 1,793 yards, 12 touchdowns, and two interceptions in eight road starts. He posted a quarterback rating of 89.6 away from Lambeau Field.
The year prior, his road numbers included a 62% completion rate and a quarterback rating of 98.0. In 2017, he threw four interceptions in four road starts.
However, with no crowd noise to drown out his audibles and checks, Rodgers completely flipped the script on the road in 2020. He completion 69.7% of his passes for 2,236 yards, 25 touchdowns, and three interceptions. He posted a quarterback rating of 120.7—less than two points shy of his home mark of 122.4.
Coincidence?
Or did the absence of fans actually play a legitimate role in Rodgers' MVP-caliber campaign?
Either way, he desperately needed to bounce back in 2020 to prove he still belongs as the starting quarterback in Green Bay. And because of the beautiful sound of silence, Aaron Rodgers thoroughly dominated on the road just as much as he did at home.
And in doing so he, he sent a clear reply to the Packers' draft-day message that he won't be knocked off his throne anytime soon.
All statistics courtesy of Pro Football Reference.