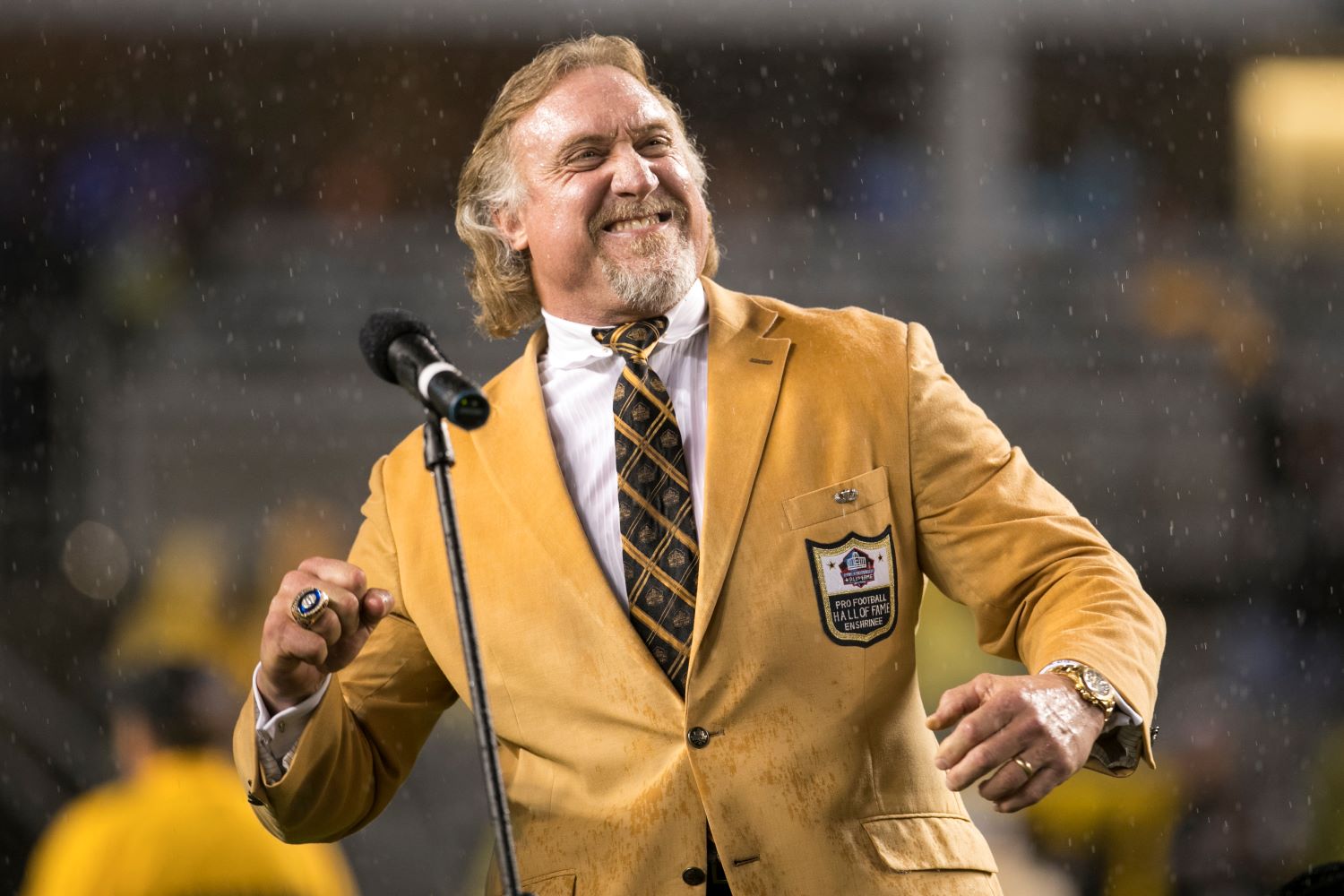 NFL Hall of Famer and Steelers Legend Kevin Greene Dies Unexpectedly at 58
The Pittsburgh Steelers and NFL community as a whole suffered a tragic loss on Monday with the sudden death of Hall of Famer Kevin Greene.
Kevin Greene terrorized quarterbacks for a living. And boy did he excel at making life a living hell for opposing signal-callers during his brilliant NFL career that included stops with the LA Rams and the Pittsburgh Steelers.
But on Monday, the Steelers, along with the NFL community as a whole, suffered a tragic loss with the unexpected death of the Hall of Fame linebacker. Although Greene may be gone, he most certainly won't be forgotten.
After all, you can't talk about all-time great pass-rushers without mentioning the man whose signature long hair and unparalleled intensity made him one of the dominant forces the league has ever seen.
Kevin Greene was one of the most feared sack artists in NFL history
No. 91: Hall of Fame pass rusher Kevin Greene

"I don't play this game for any other reason than just sheer love and passion." @sackmaster91

?: #NFL100 Greatest Characters on @NFLNetwork pic.twitter.com/vYLxTGJegO

— NFL (@NFL) October 12, 2019
Despite being a former college walk-on, Kevin Greene earned a spot in the Pro Football Hall of Fame. The former Auburn University standout entered the NFL as a fifth-round pick in 1985 by the Rams and developed into a game-changing defensive star.
Tipping the scales at 6-foot-3, 247 pounds, the big-bodied edge rusher quickly translated his pass-rush prowess from college to the pros. In his second season, Greene racked up seven sacks for an LA team that went 10-6.
By the end of his fourth year in the league, he had established a reputation as a terrifying sack artist. From 1988-90, Greene racked up 46 sacks from his outside linebacker position.
But after eight years in LA, he utilized free agency to blaze a different path. In search of a team running a 3-4 defense, Greene found the ideal landing spot: Pittsburgh.
He signed a three-year deal to join the iconic franchise—a move that paid major dividends for both parties. Although he moved on from the team after playing out his contract, Greene made sure to make every snap count during his time with the Steelers.
He never missed a single game in three years in Pittsburgh. By the time he departed, the game-wreaking pass-rusher had accumulated 35.5 sacks in 48 contests. Greene earned Pro Bowl honors in two of his three seasons with the franchise, as well as a first-team All-Pro selection in 1994.
From sacking quarterbacks to coaching from the sidelines
Following his three-year stint with the Steelers, Kevin Greene wrapped up his NFL career by playing for the Carolina Panthers (twice) and the San Francisco 49ers. He retired after the 1999 season with some highly-impressive numbers.
In 228 career games, Greene totaled 160 sacks, 23 forced fumbles, 26 fumble recoveries, and five interceptions. That production earned the former Steeler a spot in the Pro Football Hall of Fame. And surprisingly, despite spending just three years in Pittsburgh, Greene chose to receive his Hall of Fame ring from the iconic AFC franchise.
Even after hanging up his cleats, the New York native continued to collect NFL paychecks.
Greene transitioned from playing linebacker to coaching the position for two NFL teams. From 2009-2013, he coached outside linebackers for the Green Bay Packers. The five-time Pro Bowler then spent two seasons with the New York Jets coaching the same position group.
The former Steelers linebacker died unexpectedly on Monday
Kevin Greene made every moment count when he stepped foot on an NFL field. And as a coach, he put forth the same tenacious effort in order to help young players improve.
However, the Hall of Famer will never have another chance to impart his knowledge of the game to help young linebackers reach their potential.
The Steelers organization, along with the rest of the NFL community, suffered a tragic loss on Monday when Greene died unexpectedly. According to the Pro Football Hall of Fame, the 58-year-old passed away at his home in Alabama.
"The entire Pro Football Hall of Fame family mourns the passing of Kevin Greene. I regarded him as a personal friend and a true Hall of Famer in every sense," Hall of Fame president and CEO David Baker said in a statement. "He possessed the most incredible can-do attitude of anyone I ever met. He was a great player, but more than that, he was a great man. Our thoughts and prayers are with Kevin's wife, Tara, and their entire family. We will forever keep his legacy alive to serve as inspiration for future generations. The Hall of Fame flag will be flown at half-staff in Kevin's memory."
Steelers team president Art Rooney II also paid homage to the franchise icon.
"We lost an amazing player and person this morning with the passing of Kevin Greene. His sudden death is a shock to us all as he was a close friend and teammate to so many people in the Steelers family," Rooney said in a statement.
All statistics courtesy of Pro Football Reference.