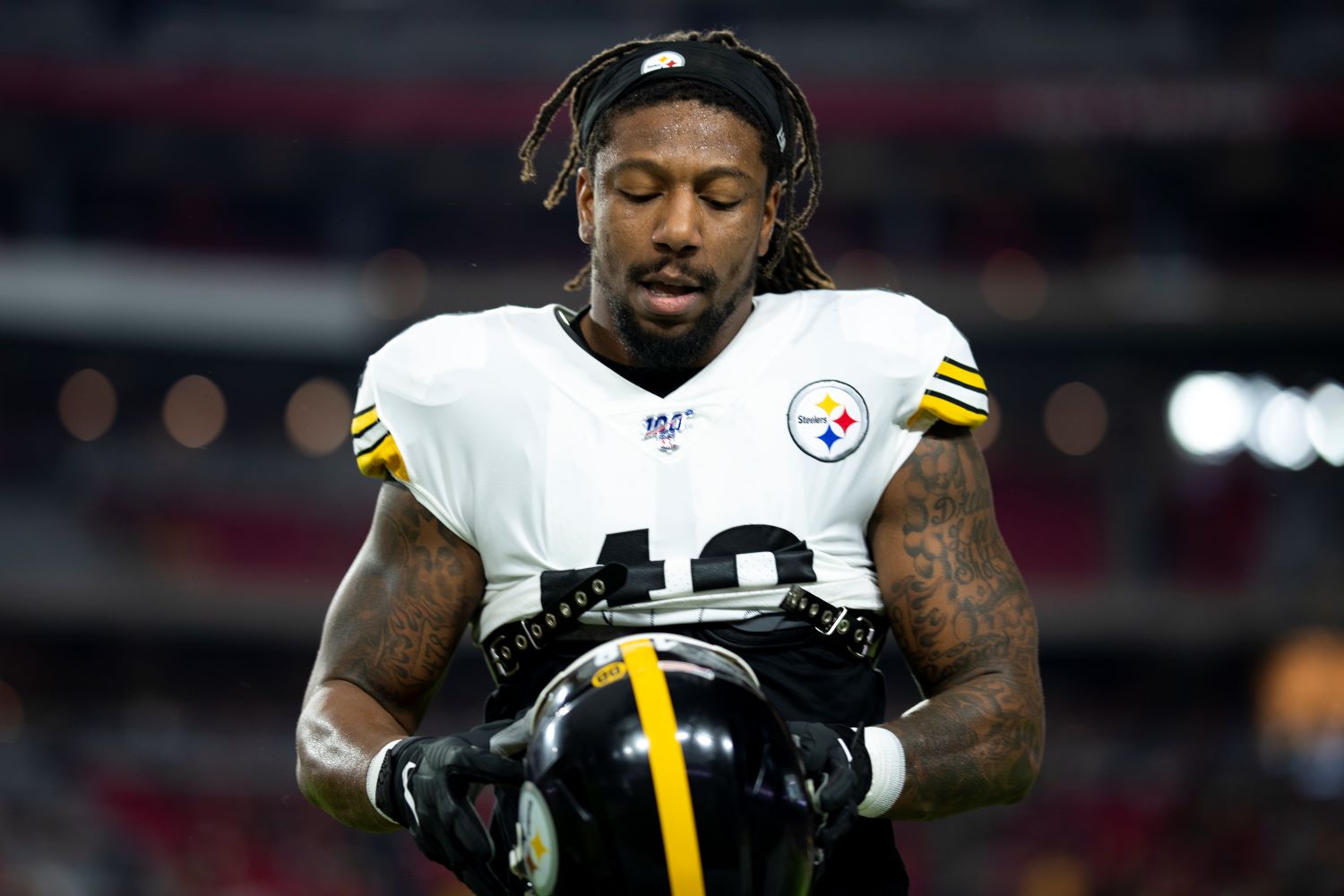 Bud Dupree Has Potentially Played His Final Snap With the Steelers
After suffering a torn ACL against the Ravens, star linebacker Bud Dupree may have just played his final snap with the Pittsburgh Steelers.
The Pittsburgh Steelers waited patiently for Bud Dupree to reach his potential. And in 2019, the explosive outside linebacker finally lived up to his first-round billing by delivering a career-high 11.5 sacks.
But after suffering a season-ending injury against the Baltimore Ravens, the 27-year-old may have played his final snap for the Steelers.
Bud Dupree entered the 2020 season without long-term financial security
Following an impressive career at the University of Kentucky, Bud Dupree got selected 22nd overall in the 2015 NFL draft. However, the ultra-athletic outside linebacker did not experience immediate success.
As a rookie, the 6-foot-4, 269-pound edge rusher totaled just four sacks and six quarterback hits. He only played seven games the following year because of a groin injury.
Although he stayed on the field in 2017 and 2018, Dupree failed to provide a consistent pass-rush spark. He totaled just 11.5 sacks and 20 QBH in 31 games.
Despite his underwhelming pass-rush production, the Steelers still exercised his fifth-year option. Dupree finally put everything together in his age-26 season and set career-highs across the board. The Georgia native totaled nearly as many quarterback hits (17) in 2019 as he did across his first three years in the league (20).
Despite stuffing the stat sheet, the Steelers did not sign Dupree to a contract extension. Instead, they used the franchise tag to retain his services for one more year.
Steelers LB suffers season-ending injury against Ravens
Coming off a breakout campaign, Bud Dupree entered the season with a chance to strengthen his case to earn a long-term deal from the Steelers. Determined to prove his 2019 performance wasn't just an outlier, he started the year off on a tear.
In his first five games, Dupree racked up five sacks and 10 quarterback hits. After getting held in check against the Tennessee Titans in Week 7, he added three more sacks to bring his season total to eight.
But after suffering a brutal injury against Baltimore, the sixth-year pro no longer has a chance to post double-digit sacks for the second straight season.
On Thursday, Ian Rapoport reported that Dupree will not play another down this season. An MRI confirmed that the veteran linebacker sustained a torn ACL in the Steelers' 19-14 win against the Ravens on Wednesday.
Now the question is: Has Dupree played his final snap for Pittsburgh?
What does the future hold for Dupree?
Bud Dupree did well to earn a massive raise playing on the franchise tag. However, it will be interesting to see how his free-agent journey goes now that he has suffered a torn ACL.
In fact, there's a very real possibility that the former first-round pick has played his final snap as a Steeler.
While there's no doubt that Dupree can get after the quarterback, it's fair to wonder whether Pittsburgh should break the bank to keep him around for years to come, especially after he just suffered a major injury. Plus, the franchise has a much more important issue to address: T.J. Watt's contract extension.
The two-time Pro Bowler looks like a favorite to capture NFL Defensive Player of the Year honors. At this point, the Steelers might as well hand him a blank check in order to ensure he never plays for another NFL franchise.
Ironically, Dupree's first double-digit sack campaign didn't take place until after Watt arrived. In reality, Dupree isn't a true No. 1 pass rusher. Rather, a strong argument can be made that his recent uptick in production has much more to do with Watt's presence rather than his own skillset.
Pittsburgh could certainly use the franchise tag again to keep Dupree around. And a long-term deal could still be an option. But with Watt needing a major raise, it might not be a smart financial strategy to invest so much money in one position.
And if Colbert agrees, Bud Dupree may have played his final down with the Steelers.
All statistics courtesy of Pro Football Reference.