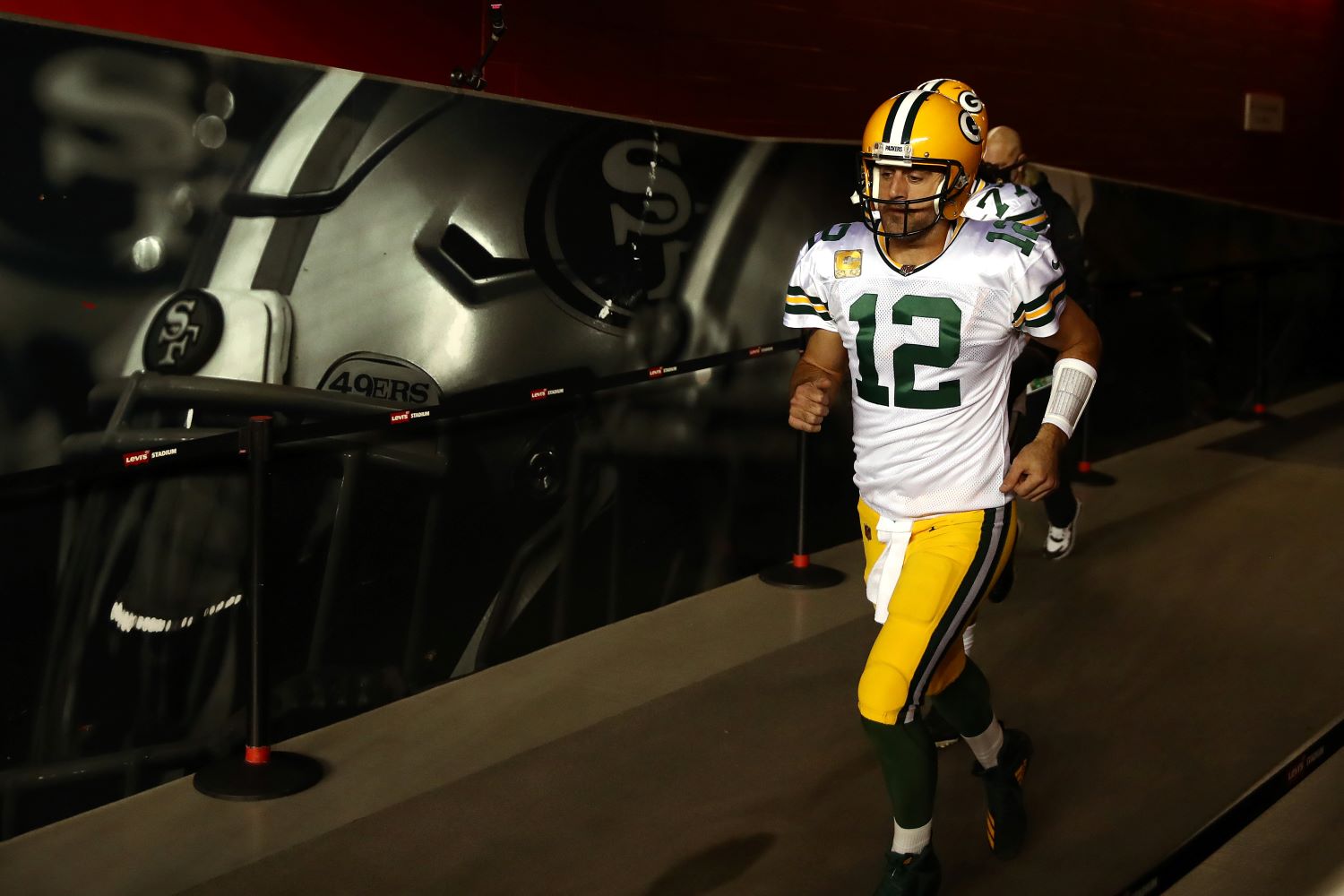 Aaron Rodgers Sends Scary Message About His Packers Future After Crushing NFC Championship Loss
After losing to Tom Brady and the Buccaneers in the NFC championship, Aaron Rodgers sent a scary message about his future with the Packers.
Despite putting together one of the best seasons of his NFL career, Aaron Rodgers will watch another Super Bowl from home. Although Tom Brady made several mistakes in the NFC championship game, the Tampa Bay Buccaneers still left Lambeau Field with a victory.
Following another crushing playoff loss, Rodgers discussed his future with the Green Bay Packers. And in doing so, he sent a scary message that raises major question marks about how much longer he will remain in Wisconsin.
The Buccaneers ended the Packers' Super Bowl dreams on Sunday
In a matchup between two of the greatest quarterbacks to ever step foot on an NFL field, it was Tom Brady who walked away as the ultimate winner on Sunday. However, the six-time Super Bowl champion got outplayed by his counterpart.
Tampa escaped with a 31-26 victory despite a three-interception performance by Brady. The 43-year-old also threw three touchdown passes, including a 39-yarder to Scotty Miller right before halftime.
On the other hand, Rodgers completed 33 passes for 346 yards, three touchdowns, and only one interception. He accomplished that despite facing consistent pressure from the Buccaneers' star-studded defense. The 37-year-old got sacked five times in the crushing NFC championship loss.
Once again, another year has passed without Rodgers playing for the Lombardi Trophy. In fact, the three-time NFL MVP has appeared in just one Super Bowl since he entered the league in 2005.
Aaron Rodgers sends scary message about his future in Green Bay after crushing NFC championship loss
Coming off another early postseason exit, Aaron Rodgers certainly has every reason to be frustrated. After Sunday's NFC championship loss, the veteran quarterback sent a scary message about his future with the Packers.
"A lot of guys' futures, they're uncertain—myself included," Rodgers said in his post-game media availability. "That's what's sad about it most. Obviously there's going to be an end to it at some point, whether we make it past this or not. Just the uncertainty is tough and the finality of it all."
As if that statement didn't already open the door for speculation about a possible exit from Green Bay, Rodgers followed up with another statement that certainly did little to put Packers fans at ease.
"There's a lot of unknowns going into this offseason now. I am going to have to take some time away for sure and clear my head and just kind of see what's going on with everything," Rodgers said. "But it's pretty tough right now, especially thinking about the guys that may or may not be here next year. There's always change; that's the only constant in this business."
Based on his tone and body language, it's fair to say Rodgers came across as a player who legitimately has questions about his future with the franchise. After all, the Packers traded up to select his potential successor back in April. Jordan Love can't spend his entire NFL career on the bench, so obviously a decision must be made about how long Rodgers will remain the starter in Green Bay.
Jordan Love still seems like a longshot to start in 2021
With Aaron Rodgers raising uncertainty about his future with the Packers, some NFL fans may be wondering if Jordan Love will see the field in 2021.
Unless Green Bay pulls off one of the most shocking moves in NFL history this offseason, No. 12 should be back under center…at least for one more year.
Rodgers carries a dead-cap charge of nearly $32 million next season. In other words, it would be extremely expensive for the Packers to trade or cut him in order to transition to Love.
On the other hand, Green Bay can move on from Rodgers in 2022 when his dead-cap charge checks in at about $17 million.
Considering he just put together an MVP-worthy campaign, perhaps Rodgers can pull a Brady and extend his career well into his 40s. And like the GOAT, it seems all but guaranteed that he will finish his career with another NFL team.
All contract data courtesy of Spotrac. All statistics courtesy of Pro Football Reference.