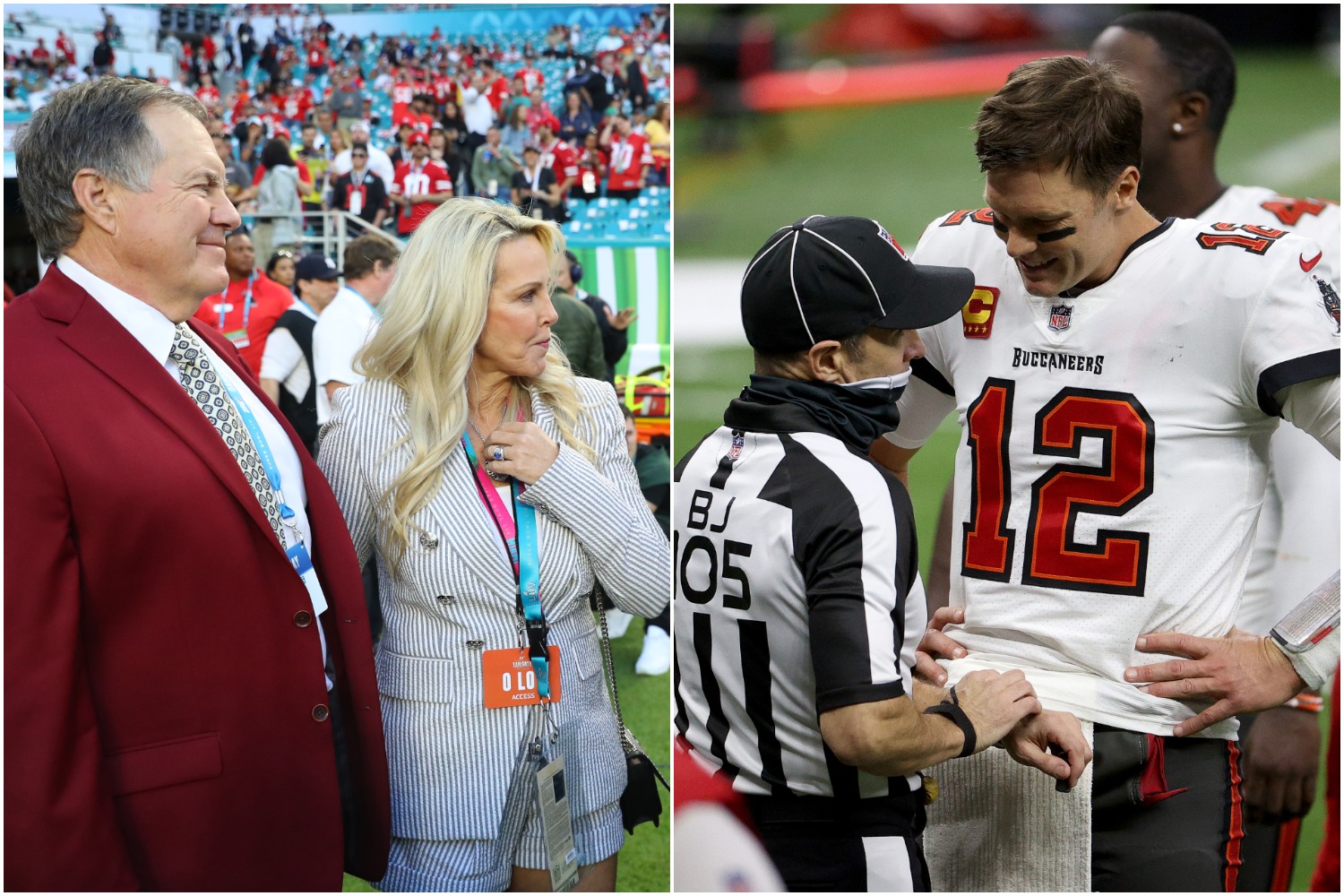 Bill Belichick's Girlfriend Completely Embarrassed Herself By Trying to Spread a Blatant Lie About Tom Brady
Linda Holliday, Bill Belichick's long-time girlfriend, recently embarrassed herself by trying to spread a blatant lie about Tom Brady.
It turns out that Tom Brady doesn't need Bill Belichick on his side in order to win an NFL playoff game. That fact got cemented for the second time on Sunday when the Tampa Bay Buccaneers defeated the New Orleans Saints thanks to a horrific final outing by Drew Brees.
But apparently, Linda Holliday didn't actually watch that game.
Although she attempted to take a dig at the former New England Patriots quarterback, Belichick's girlfriend completely embarrassed herself in the process.
After all, she tried to spread a blatant lie in an ill-fated attempt to defend her longtime boyfriend, who many blame for driving the greatest quarterback of all time out of Foxborough.
Tom Brady looks alive again after getting away from Bill Belichick
Least season, Tom Brady looked like he had one foot off the proverbial cliff. At least, that's what it seemed like based on his numbers and body language.
But in his first season playing for another team other than the Patriots, the future Hall of Famer has looked rejuvenated to the point that it's fair to wonder if Brady will remain in the NFL longer than the coach who essentially showed him the door this offseason.
In his age-43 campaign, the six-time Super Bowl champion showed no ill effects of not having Bill Belichick as his head coach. Finally surrounded by legitimate weapons, Brady threw 40 touchdown passes—the second-highest mark of his legendary career.
Meanwhile, Belichick opted to go the cheap route with Cam Newton. Without starting-caliber receivers and tight ends to work with, the former No. 1 overall pick struggled mightily. The Patriots missed the playoffs for the first time since Brady tore his ACL in the first game of the 2008 season.
Down in Tampa, Brady's presence transformed the Buccaneers from a perennial losing franchise into a team that's now one win away from having the chance to win a Super Bowl title in their home stadium.
Linda Holliday embarrassed herself by trying to put Brady on blast
Although Tom Brady didn't have his best performance in Tampa's 30-20 divisional-round victory in New Orleans, the description of his performance from Linda Holliday couldn't be further from the truth.
And by trying to defend her boyfriend (and fire a shot at Brady) she completely embarrassed herself.
An Instagram user named kathypellet commented, "Too bad Bill let Tom go!" on a post Holliday shared on New Year's reflecting about 2020.
Bill Belichick's girlfriend fired back with a response that proves she either didn't watch the game at all or she couldn't even take a quick look at a box score before commenting back.
"And you have all the answers evidently? Tom didn't score once last night … not once! Defense won that game. Were you even watching? OTOH – I'm happy for Tom's career! Why can't you be?" she wrote.
Ironically, Holliday questioned whether @kathypellet watched the game when she blatantly lied about Brady's stats.
In what's apparently news to Linda Holliday, Brady actually threw two touchdown passes and punched another one in over the goal line as a runner.
So no, he didn't score once.
He did it three times to stamp his team's place in the NFC championship.
Will the Packers help Belichick's girlfriend save face (somewhat)?
Despite Linda Holliday's failed attempt to spread a flat-out lie about his last playoff performance, Tom Brady shouldn't be feeling too comfortable. After all, he'll have a much more difficult time finding the end zone this week against a Green Bay Packers defense that completely shut down the LA Rams last Saturday.
Facing the NFL's No. 1 scoring offense, Kenny Clark, Rashan Gary, and Za'Darius Smith combined for four sacks and six quarterback hits in a 32-18 win at Lambeau Field. The Rams mustered just 244 total yards and 17 first downs.
Now, Holliday's only chance of saving face (somewhat) rests on the Packers putting together another dominant defensive effort like they did against Jared Goff and Co.
Of course, the Buccaneers boast a boatload of talented pass catchers, including Mike Evans, Chris Godwin, Antonio Brown, and Rob Gronkowski. Plus, Leonard Fournette made a major impact on all three downs against the Saints with 63 rushing yards and 44 receiving yards.
If the Packers can generate consistent pressure against a Buccaneers offensive line that has been exposed at times this season, they stand an excellent chance at ruining Brady's chance of winning a Super Bowl in his first season without Bill Belichick.
But given what's at stake, does anyone really doubt the GOAT won't rise to the occasion if given the chance?
All statistics courtesy of Pro Football Reference.