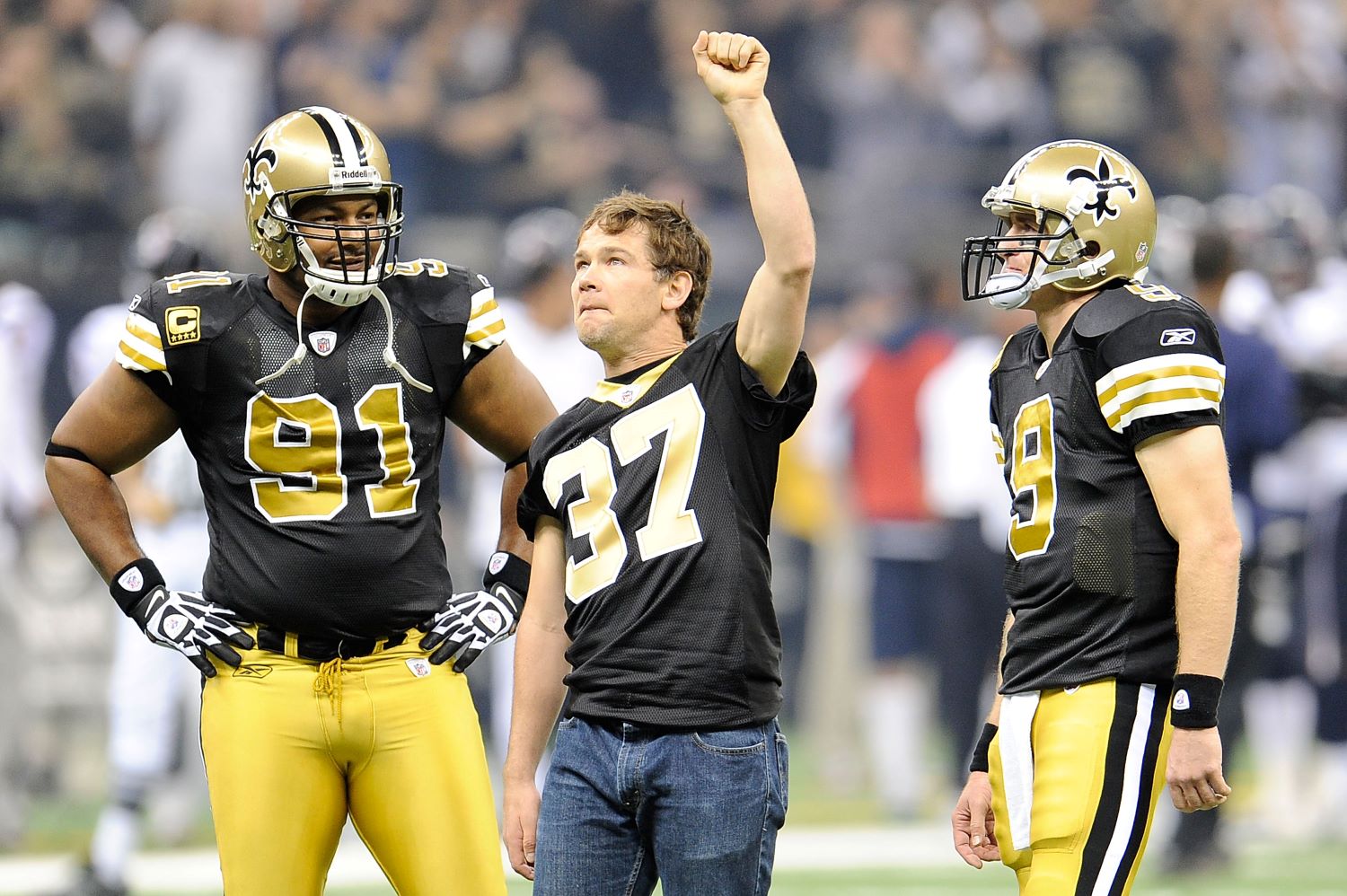 Drew Brees Won a Free Sushi Dinner and the Respect of a Saints Legend Using Nothing But a Jump Rope
Drew Brees is more than just an NFL quarterback. He once used a jump rope to win a free sushi dinner from Saints legend Steve Gleason.
When Drew Brees joined the New Orleans Saints, nobody knew whether he would succeed as the team's starting quarterback. After all, he suffered a devastating shoulder injury with the Chargers that raised obvious concerns about his NFL future.
In fact, even one of the most beloved players in Saints history had serious doubts about his new teammate. But for Steve Gleason, he definitely learned his lesson about not believing in the franchise's most important free-agent signing.
Thanks to a jump rope and a hyper-competitive attitude that's fueled his Hall of Fame-worthy career, Brees walked away as the winner of a free sushi dinner and the respect of his teammates.
Steve Gleason endeared himself to Saints fans
Steve Gleason only started one NFL game. Yet, Saints fans hold the lifelong special-teamer in high regard.
Renowned for his infectious energy and hustle, the Washington native spent seven seasons in New Orleans. Gleason appeared in 83 games and recorded 71 total tackles. He also tallied two forced fumbles as a heat-seeking missile in the kicking game. He famously blocked a punt that got recovered for a touchdown in the Saints' first game in New Orleans after Hurricane Katrina destroyed the city.
Sadly, Gleason's life took a difficult turn just a few years after he hung up his cleats for good.
In 2011, Gleason revealed that he had been diagnosed with amyotrophic lateral sclerosis, also known as ALS or Lou Gehrig's disease. Despite this life-altering setback, the father of two has used his platform to inform and inspire others. His experiences can be seen in the 2016 documentary Gleason that provided incredible insight into his everyday life and challenges he faces.
In 2019, the former Saints safety earned the Congressional Gold Medal for his work related to ALS awareness. During the ceremony, Drew Brees delivered a powerful speech about his former teammate. Over the years, he has shown tremendous support for Gleason as he battles ALS.
Drew Brees came to New Orleans with a point to prove
Although Steve Gleason and Drew Brees may be close friends today, their relationship didn't exactly start out on the most solid of ground.
But you can't exactly blame the special-teams ace for having some concerns about the signal-caller the Saints signed back in 2006.
Brees spent the first five years of his career in San Diego. In his third season as a starter, the former Purdue star threw for 3,159 yards and 27 touchdowns.
However, in the last game of the 2005 season, he suffered a torn labrum that required arthroscopic surgery. Brees also sustained damage to his rotator cuff. The 27-year-old entered free agency at the ideal age but certainly not under the most ideal circumstances.
In the end, the Chargers moved forward with Philip Rivers. Brees nearly joined the Miami Dolphins before he signed on the dotted line with the Saints. Still, he came to New Orleans needing to shed the "damaged goods" tag.
Brees won a free sushi dinner thanks to his jump-roping skills and some motivation from Gleason
When Steve Gleason saw his team's new quarterback doing some jump-rope drills in the locker room just a week or two into the offseason training program, he didn't expect much. As a result, he had no hesitation about betting against Drew Brees.
According to ESPN, the first-year Saints QB asked onlookers how many double unders they wanted to see him perform.
And he wanted to bet on it.
"Do 50 and I'll be impressed," Gleason replied.
When Brees asked his new teammate to name his wager, they ultimately decided on a sushi dinner.
Let's just say Gleason didn't get satisfy his fish fix as a result of the bet.
"He got to 20 and guys started getting excited. Twenty-five and things got more intense. At 40, it got loud enough that guys started coming in from the locker room to see what was going on," he recalled. "Drew hit 50 and kept rolling. He got to 75 without missing a beat and just decided that was enough."
Upon hitting that mark, Brees came over to Gleason's training table and shook his hand with his signature half smile that still exudes full confidence.
"That was my first experience in learning not to doubt Drew's physical abilities," Gleason concluded.
Fast forward to 2021 and Brees has yet to call it a career.
And even though he's expected to retire after the season finishes, would it really be surprising if his competitive juices convince him to come back for one more Super Bowl run?
Considering how much I love sushi, I'm not betting against him.
All statistics courtesy of Pro Football Reference.