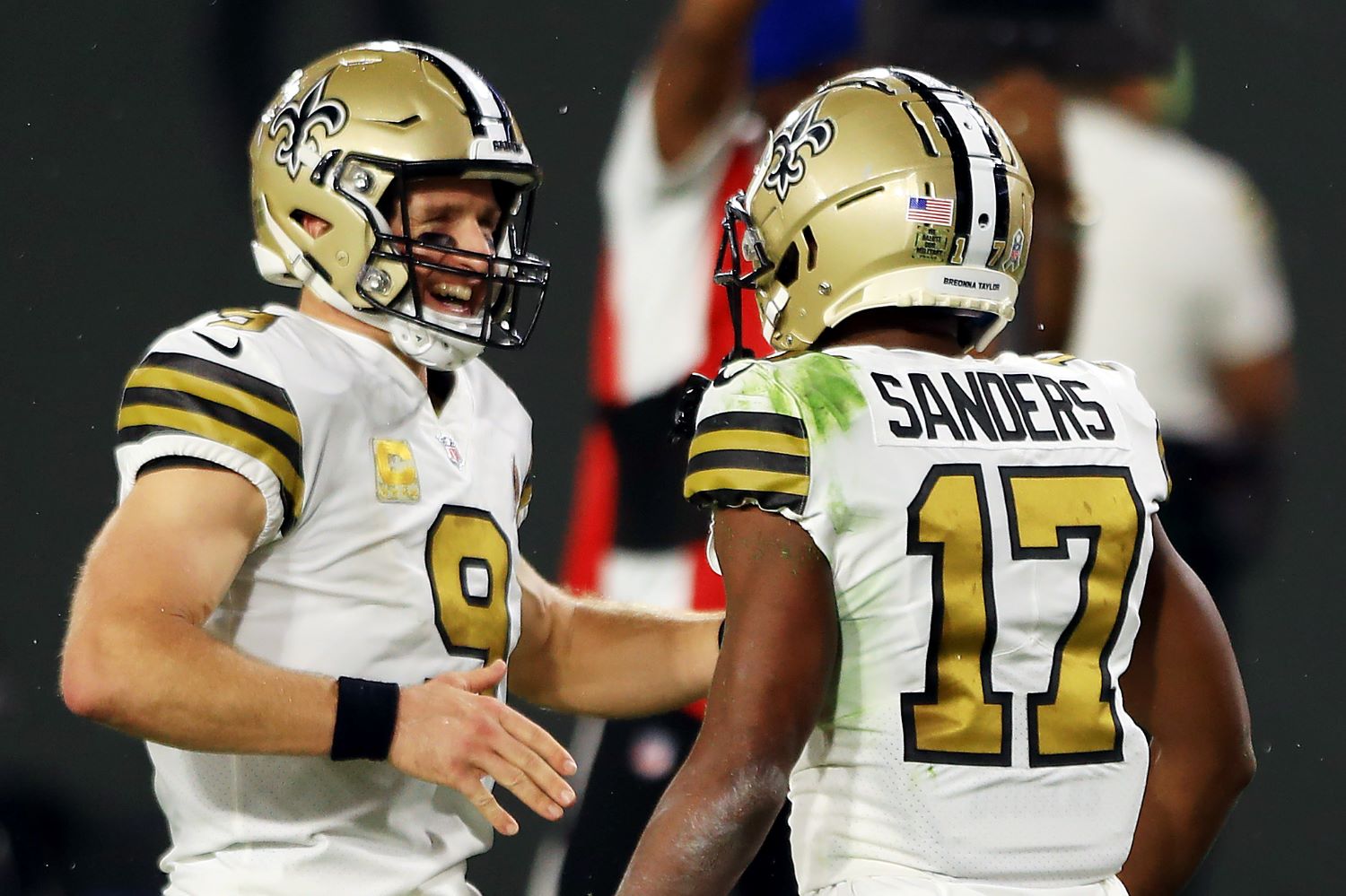 Drew Brees Delivered a $500,000 Gift to His Saints Teammate Without Paying a Single Penny
Drew Brees helped one of his New Orleans Saints teammates earn a $500,000 bonus in Sunday's 33-7 win against the Carolina Panthers.
In what's expected to be his final NFL season, Drew Brees has dealt with plenty of adversity. Cracked ribs and a collapsed lung sidelined the iconic New Orleans Saints quarterback for a four-game stretch. And since returning to the lineup, the 41-year-old has looked nothing like a future Hall of Famer.
However, in perhaps the final regular-season game of his decorated career, Brees completed a $500,000 mission to boost his teammate's bank account. And if the Saints' fifth-ranked offense keeps playing efficient, turnover-free football, they have an excellent shot at winning Super Bowl 55.
Drew Brees has struggled since returning to the lineup in Week 15
After experiencing some inconsistencies early in the season, Drew Brees finally hit his stride in October. However, after stringing together three terrific performances, the aging quarterback couldn't make it through the Saints' Week 10 matchup against the San Francisco 49ers.
Brees eventually got diagnosed with fractured ribs and a collapsed lung. New Orleans placed him on injured reserve on Nov. 20, 2020. Ultimately, he missed four games.
Unfortunately for the Saints, Brees' return to the lineup didn't lead to a victory in their biggest game of the season. The former Super Bowl MVP completed just 44.1% of his passes in a three-point loss to the Kansas City Chiefs in Week 15.
Although New Orleans scored 52 points against the Minnesota Vikings in Week 16, Brees tossed two interceptions and posted his lowest quarterback rating (80.8) of the year.
With the Saints still in the hunt for the No. 1 seed, they needed their franchise icon to step up in their season finale.
The Saints legend just added $500,000 to Emmanuel Sanders' bank account
Coming off his first multi-interception game since October 2017, Drew Brees delivered a rock-solid bounce-back performance to cap off the regular season. He completed 22-of-32 passes for 201 yards and three touchdowns in a 33-7 win against the Carolina Panthers.
Emmanuel Sanders finished the afternoon with 63 receiving yards, including a 9-yard TD grab in the second quarter. And because his quarterback made a concerted effort to get him the ball, the veteran wideout just added $500,000 to his bank account.
Back in April, the Saints signed Sanders to a two-year contract that included performance-based incentives. Heading into Week 17, the two-time Pro Bowler needed eight catches to hit 60 for the season. By hauling in nine receptions, he triggered a $500,000 bonus in his contract.
In his post-game press conference, Brees couldn't recall the specifics of Sanders' second-quarter touchdown. However, he did admit that he made a concerted effort to help his teammate score a hefty bonus.
"I just know we were trying to get Emmanuel at least eight catches in this game," Brees said. "So down the stretch, you're just trying to feed him. Obviously, he's always a great matchup and a guy that you're trying to feed the ball to."
Can Brees cap off his career with a second Super Bowl ring?
Because the NFL playoff format changed, only the No. 1 seed gets a first-round bye. So for the Saints, their path to a trip to Super Bowl 55 begins with a home matchup on Sunday against the Chicago Bears.
Matt Nagy's team limps into the playoffs coming off a 35-16 loss to the Green Bay Packers that dropped their record to 8-8. Chicago does have some intriguing weapons in versatile running back David Montgomery (1,508 yards from scrimmage, 10 total TD) and physical wideout Allen Robinson (102 catches for 1,250 yards and six TD).
However, the uninspiring Mitch Trubisky only has one postseason start under his belt. Plus, he has a penchant for turning the ball over under pressure. Unfortunately for the former No. 2 overall pick, New Orleans recorded 45 sacks during the regular season, including 13.5 by contract-year defensive end Trey Hendrickson.
Expect the Saints to power past the Bears to advance to the divisional round. Assuming the Seattle Seahawks and Tampa Bay Buccaneers take care of business in their respective matchups, that would set up a showdown between Drew Brees and Russell Wilson with a spot in the NFC Championship on the line.
Can the aging Hall of Famer fend off arguably the best quarterback in the league not named Patrick Mahomes? Or will Brees fall short of winning a second Super Bowl ring before he retires?
We're about to find out.
All statistics courtesy of Pro Football Reference.