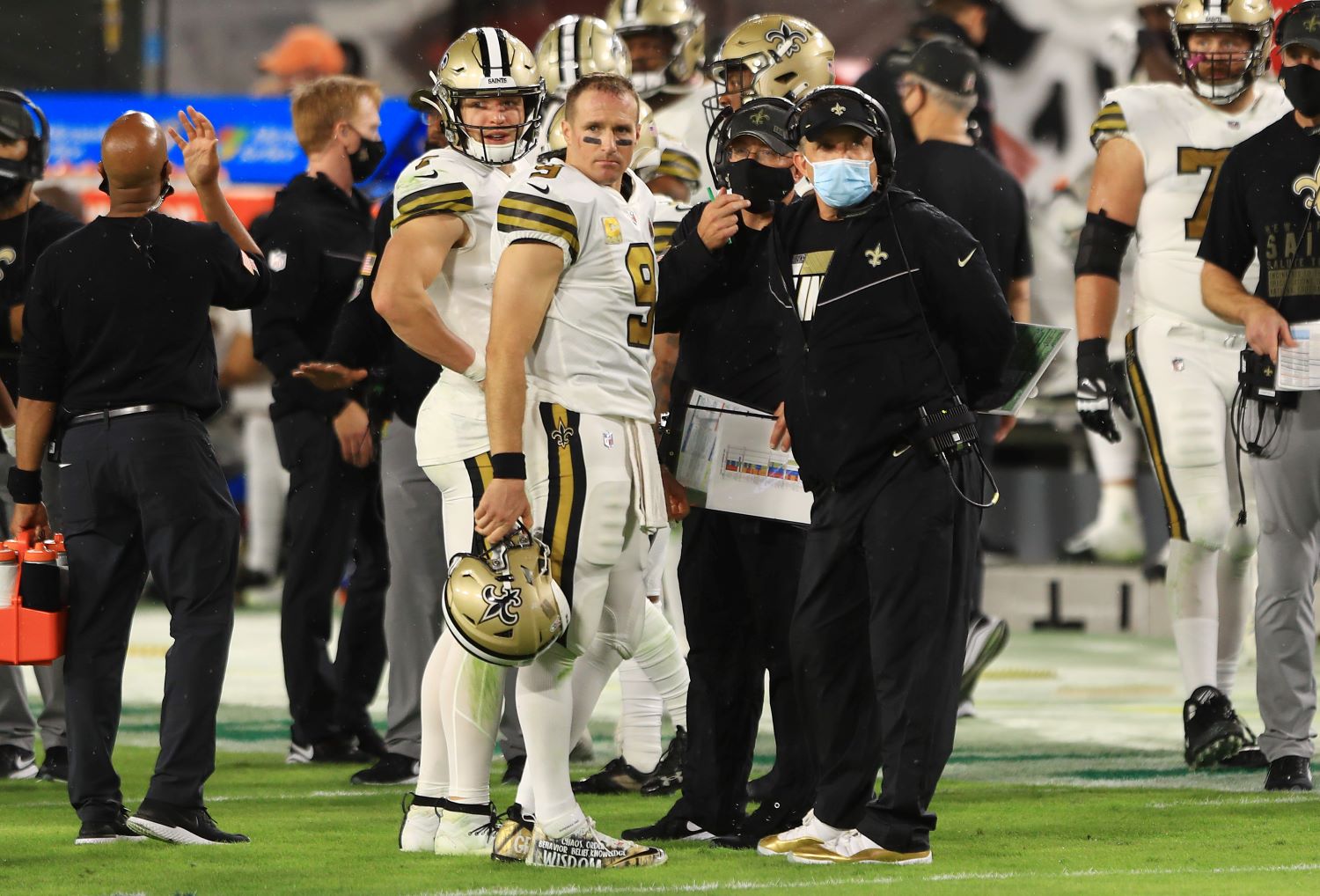 Sean Payton Reveals the Saints' Unorthodox Plan to Replace Drew Brees
Sean Payton recently revealed how the New Orleans Saints plan to replace Drew Brees. Will their unorthodox approach to the QB spot pay off?
For over a decade, Sean Payton and Drew Brees have made magic together. But with the New Orleans Saints quarterback's legendary career winding to a close, the franchise has had to start planning for life after No. 9.
Of course, with Brees still on the mend, the Saints have already got a glimpse at a possible successor to the future Hall of Famer. But on Tuesday, we learned much more about the Saints' unorthodox plan to replace one of the greatest quarterbacks in NFL history.
Drew Brees might be in the midst of his final NFL season
Since 2006, Drew Brees has put up prolific passing numbers as the starting quarterback for the Saints. Along the way, he has smashed his way through the record books while establishing a legacy as one of the best quarterbacks to ever grace an NFL field.
The 13-time Pro Bowler has been the face of the franchise for more than a decade, but that won't be the case much longer.
Although he considered retiring after the 2019 season, Brees decided to continue playing. On March 17, he signed a two-year, $50 million contract extension to remain in New Orleans.
But given his age, few expect the two-time NFL Offensive Player of the Year to continue playing beyond this season.
Plus, Brees' brutal injury situation has only added more fuel to the fire that this will be his last year in the NFL.
The 41-year-old hasn't played since Week 10 due to multiple rib fractures and a collapsed lung. In nine games, he has thrown for 2,196 yards, 18 touchdowns, and just three interceptions.
Taysom Hill has gone 3-1 as the fill-in starter in New Orleans. Meanwhile, Jameis Winston, who signed a one-year deal with the Saints this offseason, hasn't attempted a single pass since he took over for Brees against the San Francisco 49ers.
Sean Payton reveals the Saints' unorthodox plan to replace Brees
Dating back to the offseason, one of the major storylines in New Orleans has been the team's succession plan for Drew Brees. For some, Jameis Winston appeared to be the perfect reclamation project for Sean Payton. Yet, the Saints head coach spoke highly of Taysom Hill throughout the spring and summer as a legitimate candidate to eventually take over for the team's iconic quarterback.
On Tuesday, we learned a little bit more about the Saints' unorthodox plan to replace Brees thanks to NFL reporter Jim Trotter. And based on the comments Payton told him on the Huddle & Flow podcast, it sounds like New Orleans expects to make a major transition at the most important position in professional sports this offseason.
"He said he believes the successor is in the building now," Trotter said during an NFL Network appearance on Tuesday.
Payton reportedly described Hill as an ascending player who still "needs to process quicker" as a quarterback.
While the dual-threat signal-caller could take over on a permanent basis, he will apparently face competition from another current member of the quarterback room.
Payton told Trotter that Winston "definitely can be a starter" and that he will "have that opportunity the minute Drew leaves."
Of course, the former Tampa Bay Buccaneers QB would have to re-up with the Saints in order to make that happen. Winston is set to become a free agent again after he failed to find a starting job last spring.
New Orleans is taking a big risk by building around either Taysom Hill or Jameis Winston
Sean Payton certainly has a unique plan to replace one of the most accurate and gifted passers of all time.
Instead of drafting a young quarterback, he will instead let Taysom Hill and Jameis Winston (if he re-signs) battle it out. But is that the right call?
On one hand, Hill's athleticism gives the Saints a different element on offense. He can extend plays with his feet, or even gain significant yardage on scrambles or designed runs.
On the other hand, he will be 31 next season with limited experience as a starting NFL quarterback. Hill never threw a touchdown pass prior to this season. In fact, when Winston signed with the Saints, he had actually completed more passes to Saints players than Hill!
At the same time, New Orleans would be taking a big risk by going from Brees—who hasn't thrown double-digit interceptions since 2016—to the turnover-prone Winston.
The future Hall of Famer owns a career interception rate of only 2.3%. The former No. 1 pick posted a 3.5% interception rate in five years with the Bucs. Winston led the NFL with 30 picks in his final season in Tampa.
However, the former FSU star has also thrown for 121 touchdowns and nearly 20,000 yards since entering the league in 2015.
In either case, both players have strengths and limitations. It will certainly be interesting to see which quarterback emerges in training camp.
Then again, maybe Drew Brees will come back for the final year of his deal and Payton's plan will get turned upside down.
All statistics courtesy of Pro Football Reference.