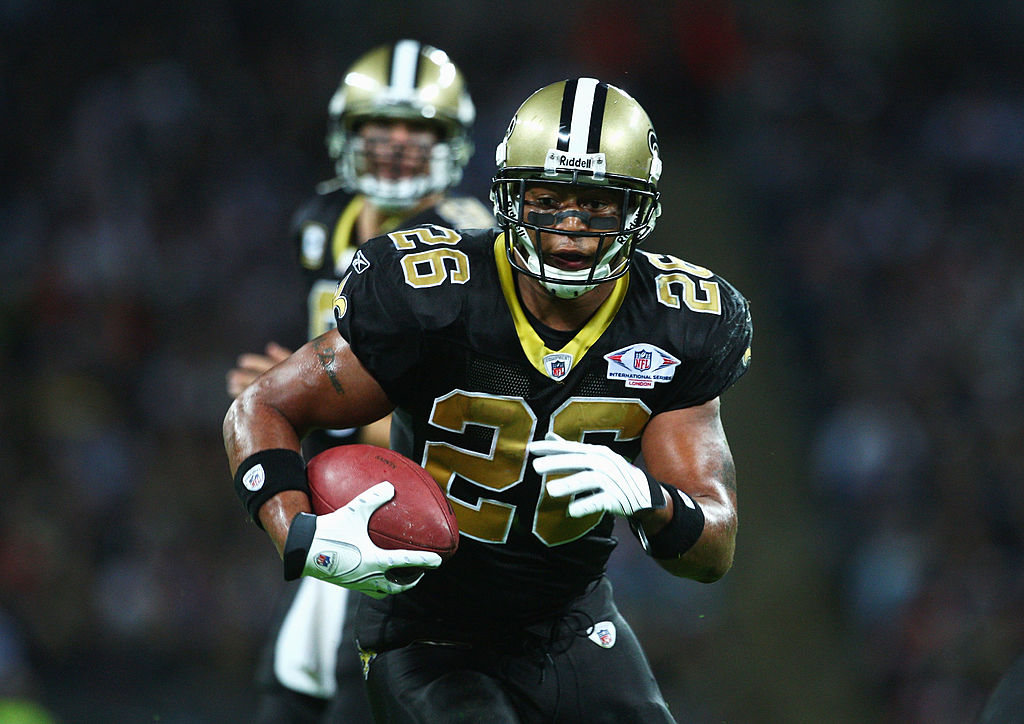 Deuce McAllister's $70 Million Saints Fortune Shriveled to Just $50,000
Deuce McAllister made $70 million from the New Orleans Saints, but the former NFL star has blown his massive fortune in retirement.
Before Drew Brees became the face of the New Orleans Saints, Deuce McAllister held down that honor. The 6-foot-1, 232-pound back became a fan favorite for his hard-charging running style. While his NFL lasted just eight seasons, McAllister still earned $70 million. Yet, the former Saints standout joined a long list of former athletes who swindled away their fortunes after retiring.
Deuce McAllister's path to the Saints
An SEC star at Ole Miss, Deuce McAllister entered the 2001 NFL draft after scoring 38 touchdowns for the Rebels in four years. Though he topped 1,000 yards just once in his college career, the Saints showed no hesitation in pulling the trigger on the gifted running back. New Orleans drafted McAllister with the 23rd overall pick, just nine picks ahead of future franchise legend Drew Brees.
The selection certainly raised some eyebrows. Two years earlier, the Saints famously traded their entire draft haul to select Ricky Williams. The former Texas star had just averaged 100 yards per game in his second season, but he played just 10 games. As a rookie, McAllister barely saw the field, as Williams ran for a career-high 1,245 yards. However, New Orleans traded the enigmatic back to the Miami Dolphins and McAllister stepped up.
Over the next three seasons, McAllister became one of the NFL's best backs. He scored 30 rushing touchdowns during that three-year span and made his only two Pro Bowls. McAllister ran for a career-high 1,641 yards in 2003 before watching that total drop to 1,074 the following year. Eventually, the Saints drafted Reggie Bush to give them a formidable backfield duo. Unfortunately, McAllister's career came to an abrupt halt as the Saints released him after the 2008 season.
Pro Bowl running back made $70 million during his NFL career
Despite posting just four 1,000-yard seasons, Deuce McAllister made a ton of money in the NFL. Of course, that came on the strength of his early-career numbers. In the 2005 offseason, the Saints rewarded their two-time Pro Bowl back with a monster contract that made him one of the highest-paid players at his position.
ESPN's John Clayton reported that the Saints signed McAllister to an eight-year, $50.1 million deal. The big back's big contract included $12.5 million in signing and option bonuses, plus an additional $3.1 million in escalators. The report indicated that McAllister would receive $14.55 million during the first two years of the deal and $28.2 million over the first five years of the extraordinary long contract.
The deal put McAllister right behind LaDainian Tomlinson, but unlike the Chargers star, the Saints' highly-paid back never lived up to the deal. Just five games into his new deal, McAllister tore his ACL in his right knee. He did return the following year and ran for 1,057 yards. Sadly, he tore his left ACL in 2007 and never looked the same. New Orleans cut him in a cap-saving maneuver during the 2009 offseason. Of course, the Saints went on to win the Super Bowl the next season.
McAllister's net worth has plummeted to $50,000
Just like his Saints career, Deuce McAllister's NFL fortune vanished much quicker than anticipated. According to Complex, the iconic running back blew threw his money within three years of retiring. So how did he manage to lose millions? The former NFL star made a significant investment in a Nissan car dealership that ultimately didn't pay off.
According to ESPN, Deuce McAllister had to file for bankruptcy protection for that dealership in 2009. He reportedly owed Nissan more than $6.6 million with $300,000 in interest. It turns out Deuce wasn't quite an adept businessman after all. Though he has spent his post-playing days as an athletic consultant and TV analyst, Deuce McAllister's net worth has shriveled to just $50,000.