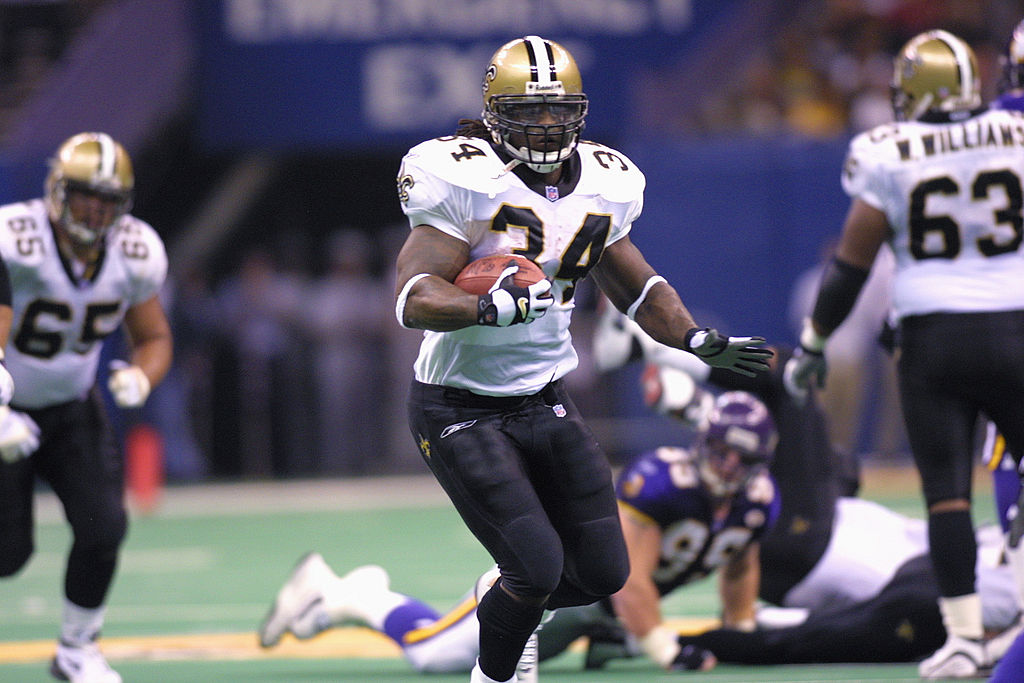 Ricky Williams Was at the Heart of the Worst NFL Draft-Day Trade We've Ever Seen
While the NFL draft brings plenty of excitement, there's also the possibility of some terrible moves. Remember the New Orleans Saints trading up for Ricky Williams?
While the NFL draft may seem like a bunch of men standing around, every football fan knows that it can make or break your franchise. A smart move, like moving up to snag Patrick Mahomes, can lead directly to a Super Bowl title; not every draft-day trade, however, turns out well. Just ask the New Orleans Saints and Ricky Williams about that.
During his time in college, Williams established himself as a talented prospect. The New Orleans Saints, however, took their pursuit of him to the next level, pulling off one of the worst draft-day trades the NFL has ever seen.
Ricky Williams looked like a must-draft prospect
While Ricky Williams played baseball, ran track, and wrestled in high school, he truly shone on the football field. When the time came to enroll in college, he headed to the University of Texas, looking to make an impact on the gridiron.
It's safe to say that Williams did exactly that. During his freshman season with the Longhorns, he piled up 990 rushing yards and eight touchdowns; he would improve in both metrics with each passing season.
As a senior, however, Williams took his game to a new level. The running back chewed up 2124 yards on the ground, finding the end zone 27 times en route to the Heisman Trophy. By the time he finished his college career, Williams had recorded 6,279 rushing yards and 72 rushing touchdowns; both were NCAA records at the time
The New Orleans Saints pull off a historic draft-day trade
Heading into the 1999 NFL draft, the New Orleans needed to make something happen. The team had just come off their second-straight 6-10 season, and picking 12th overall wasn't going to cut it.
Head coach Mike Ditka set his sights on Rickey Williams; he believed that the young running back could be his new Walter Peyton. General manager Bill Kuharich had a problem, though. Everyone knew the coach wanted Williams—he publically said he would give up every pick he had for the running back—, sapping the Saints of any possible leverage.
When draft-day rolled around, the Saints had no choice but to live up to Ditka's promise. They traded all six of their 1999 picks, plus a first and third-rounder in the 2000 draft, to the Washington Redskins; in return, New Orleans moved up to the fifth spot. They, of course, selected Ricky Williams.
The Ricky Williams draft-day trade didn't work out for anyone
After the 1999 NFL draft, Ricky Williams and Mike Ditka posed for ESPN The Magazine as a bride and groom. That turned out to be the highlight of their relationship.
That season, the Saints flopped; they finished the campaign 3-13, and both Ditka and Kuharich lost their jobs. Williams struggled through injuries, rushing for 884 yards and two touchdowns. He would go on to post two solid seasons with the Saints before being shipped to Miami.
While the NFL has seen plenty of bad trades—like the Minnesota Vikings giving up a king's ransom for Herschel Walker—the Ricky Williams deal hit the trifecta. Everything started with Mike Ditka voluntarily blowing all of his leverage. That was followed by a gross overpayment, and everything ended in on-field disappointment. It's hard to get better (or worse, depending on your perspective) than that.