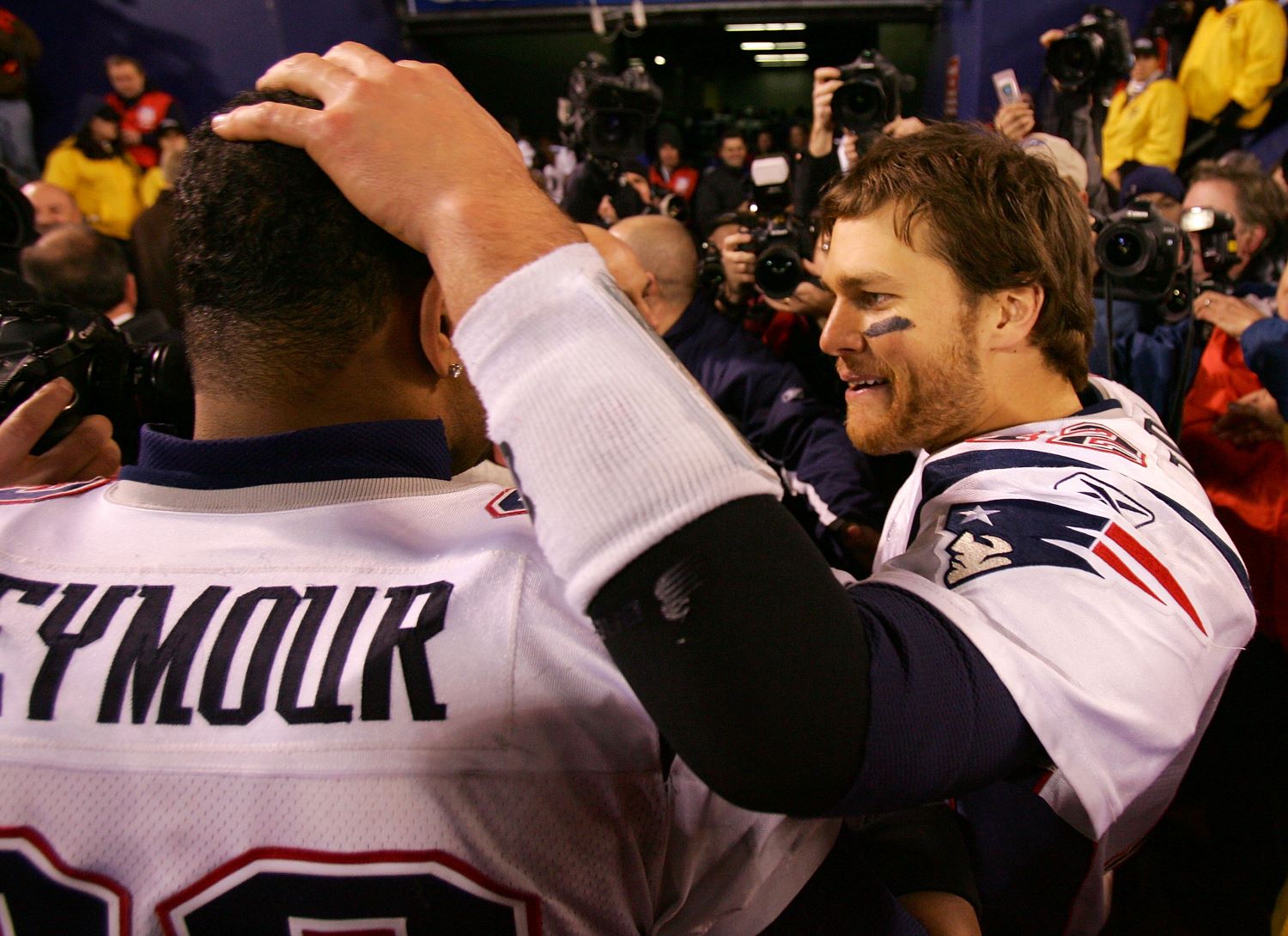 Tom Brady Wants the NFL Hall of Fame to Induct a Patriots Legend Who's Made Over $600,000 by Playing Poker
Tom Brady believes Richard Seymour, a Patriots legend who has won a ton of money by playing poker, deserves a spot in the NFL Hall of Fame.
Tom Brady has played alongside a number of talented NFL players throughout his legendary career. After all, the New England Patriots didn't win six Super Bowl titles solely because of the greatest quarterback of all time.
However, one of Brady's former teammates stands above the rest…literally.
Though he no longer has to keep his weight well above 300 pounds in order to take on offensive linemen, Richard Seymour still towers over most people thanks to a powerful 6-foot-6 frame that helped him overthrow blockers with ease.
After earning a spot in the Patriots Hall of Fame last year, the former defensive lineman who dabbles in professional poker now has a chance to earn a bust in Canton. And if he succeeds in getting enshrined in the Pro Football Hall of Fame, Seymour can thank his former quarterback for the powerful pitch he delivered on Tuesday.
Richard Seymour helped New England become an NFL dynasty
Richard Seymour arrived in New England as the sixth overall pick of a loaded 2001 NFL draft class featuring Drew Brees, LaDainian Tomlinson, Michael Vick, and Steve Hutchinson. It didn't take long for the physically gifted defensive lineman to make an impact for the Patriots.
As a rookie, the University of Georgia product totaled 45 tackles, three sacks, and one fumble recovery in 13 games. Of course, the Patriots won their first Super Bowl title that year thanks to the clutch play of a much younger version of Tom Brady.
Over the next half-decade, Seymour may have been the most difficult defensive lineman to block in the entire league. The former first-rounder earned five straight Pro Bowl selections from 2002-06. He also earned three consecutive first-team All-Pro honors while anchoring New England's star-studded defense.
Seymour won three Super Bowl rings in eight seasons with the team before he got traded to the Raiders. The NFL 2000s All-Decade Team member made the Pro Bowl twice during his time in Oakland.
By the time he retired, Seymour had totaled 496 tackles, 57.5 sacks, 35 passes defended, and eight forced fumbles. Last May, he earned a spot in the Patriots Hall of Fame for his stellar play that helped New England become an NFL dynasty.
The Patriots legend has earned a substantial amount of money thanks to his poker skills
Richard Seymour got paid handsomely to tackle quarterbacks and running backs. According to Spotrac, he earned just under $43 million during his time playing with Tom Brady and the Patriots. The seven-time Pro Bowler made almost $47 million with the Raiders.
The former NFL defensive lineman has also cashed in thanks to a skillset that has nothing to do with reading blocking schemes or maintaining proper pad level.
Instead, Seymour has earned a substantial amount of money from playing a popular card game: poker.
According to The Hendon Mob, he has totaled $643,401 in live earnings, which puts him 27th on Georgia's all-time money list.
Seymour tested his poker skills on the biggest stage back at the 2019 World Series of Poker. Unfortunately for the former NFL star, he didn't taste championship glory. According to ESPN, he finished in 131st place out of 8,569 total entrants.
Tom Brady makes a powerful NFL Hall of Fame pitch on Seymour's behalf
While Richard Seymour may not be a legend in the poker world, Tom Brady is doing his best to make sure future generations of NFL fans never forget his former teammate's name.
As a finalist for the Pro Football Hall of Fame, the former Patriots defensive lineman has a chance to add another accomplishment to his impressive resume.
So on Tuesday, TB12 took to Twitter to deliver a powerful pitch for his former teammate who has won more than $600,000 thanks to his poker skills.
"I would love to see Richard Seymour inducted into NFL HOF. Not only was he a dominant player but a team-first, selfless player who played championship fb each & every wk. He was a cornerstone of the Patriots dynasty & deserves to be recognized for his contributions to fb history," Brady tweeted.
Will his pitch be enough to convince voters to induct a player who garners widespread respect from both his former teammates and adversaries?
We'll have to wait to find out.
But considering how many defensive linemen Brady has seen during his own Hall of Fame-worthy NFL career, it's safe to say he's more than qualified on the subject.
All contract data courtesy of Spotrac. All statistics courtesy of Pro Football Reference.