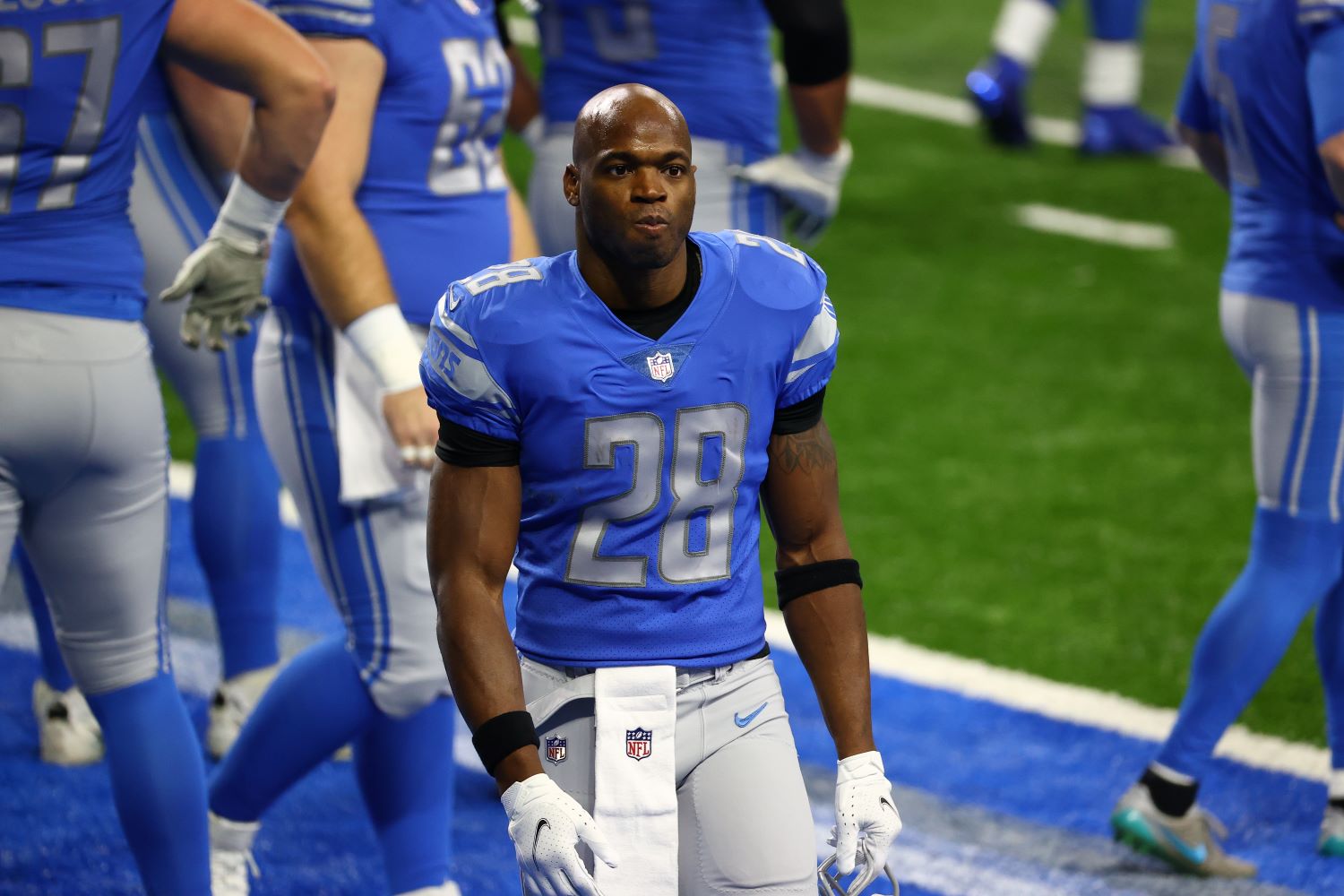 Adrian Peterson Will Be Charged $2,200 a Day Until He Takes Care of His Latest Financial Fiasco
Despite earning more than $100 million in his NFL career, Adrian Peterson has a frightening financial situation that just got much worse.
Since 2007, Adrian Peterson has been paid handsomely to carry a football. However, despite earning millions of dollars during the course of his decorated NFL career, the 35-year-old barely has anything to show for it.
In fact, the Detroit Lions running back may have hit rock bottom recently.
For a player who excels at going in the right direction on the field, Peterson has gone down the wrong direction off the field—at least from a financial standpoint. And on Wednesday, his frightening financial situation took a brutal $8.3 million turn that officially puts the future Hall of Famer in even hotter water with the legal system.
Adrian Peterson continues to earn NFL paychecks well into his 30s
Although he entered the NFL all the way back in 2007, Adrian Peterson continues to collect paychecks for his skills on the football field. The seven-time Pro Bowler and former league MVP certainly doesn't intimidate defenses quite like he did in his prime. Still, the longtime Minnesota Vikings star continues to make an impact on Sundays.
The three-time rushing champion spent the 2017 season with the Arizona Cardinals and the New Orleans Saints. He then went on to start 31 games for the Washington Football Team. During his two-year tenure playing for the NFC East franchise, Peterson totaled nearly 2,000 rushing yards.
Last September, the future first-ballot Hall of Famer signed a one-year contract with the Lions. In his age-35 season, Peterson shared backfield duties with the Lions' young tandem of D'Andre Swift and Kerryon Johnson. Although he only averaged 3.9 yards per carry, he scored seven touchdowns.
Given the fact he's collected NFL paychecks for 14 years, you'd expect Peterson to be in a terrific financial position. Yet, that couldn't be further from the truth.
The Lions RB has major money problems despite his substantial career earnings
Since entering the league more than a decade ago, Adrian Peterson has been well-compensated for his ability to run through, around, and over NFL defenders. In total, he has earned $102.8 million during his 14-year career.
Stunningly, despite his substantial career earnings and lucrative endorsement deals, Peterson remains a cautionary tale for athletes who fail to manage their money properly.
In July 2019, Daniel Kaplan of The Athletic delivered a sobering update about the running back's financial woes.
"A Pennsylvania lender is suing Peterson for allegedly defaulting on a $5.2 million loan, the proceeds of which he used to pay back other debts he incurred, including millions from a "pay-day lender," court documents in New York show," Kaplan reported.
He further added, "The sum, which with interest and legal fees is now $6.6 million, is separate from the $2.4 million a Maryland state judge last week ordered Peterson to pay another creditor — Democracy Capital Corp. In 2018, a Minnesota court ordered him to pay $600,000 left unpaid on a $2.4 million loan."
As it turns out, Peterson apparently never got around to paying off that debt. And on Wednesday, his frightening financial situation just took a brutally expensive turn.
Peterson's frightening financial situation just took a brutal $8.3 million turn
Adrian Peterson recently wrapped up his 14th NFL season by making about $1 million.
He'll have to keep playing for much, much longer if he has any shot of settling his latest legal matter.
On Thursday, Kaplan reported that a New York state judge has ordered Peterson to pay back the Pennsylvania lender $8.3 million for the defaulted loan. Interest will accrue at a rate of "several thousand dollars a day" moving forward.
Shockingly, Peterson didn't even send counsel to the hearing.
So how much does the veteran NFL running back actually owe?
According to Jeffrey Reina, an attorney representing one of the lenders waiting to get paid, Adrian Peterson's current tab totals $8,268,426.21.
The daily interest rate: $2,207.12.
All contract data courtesy of Spotrac. All statistics courtesy of Pro Football Reference.