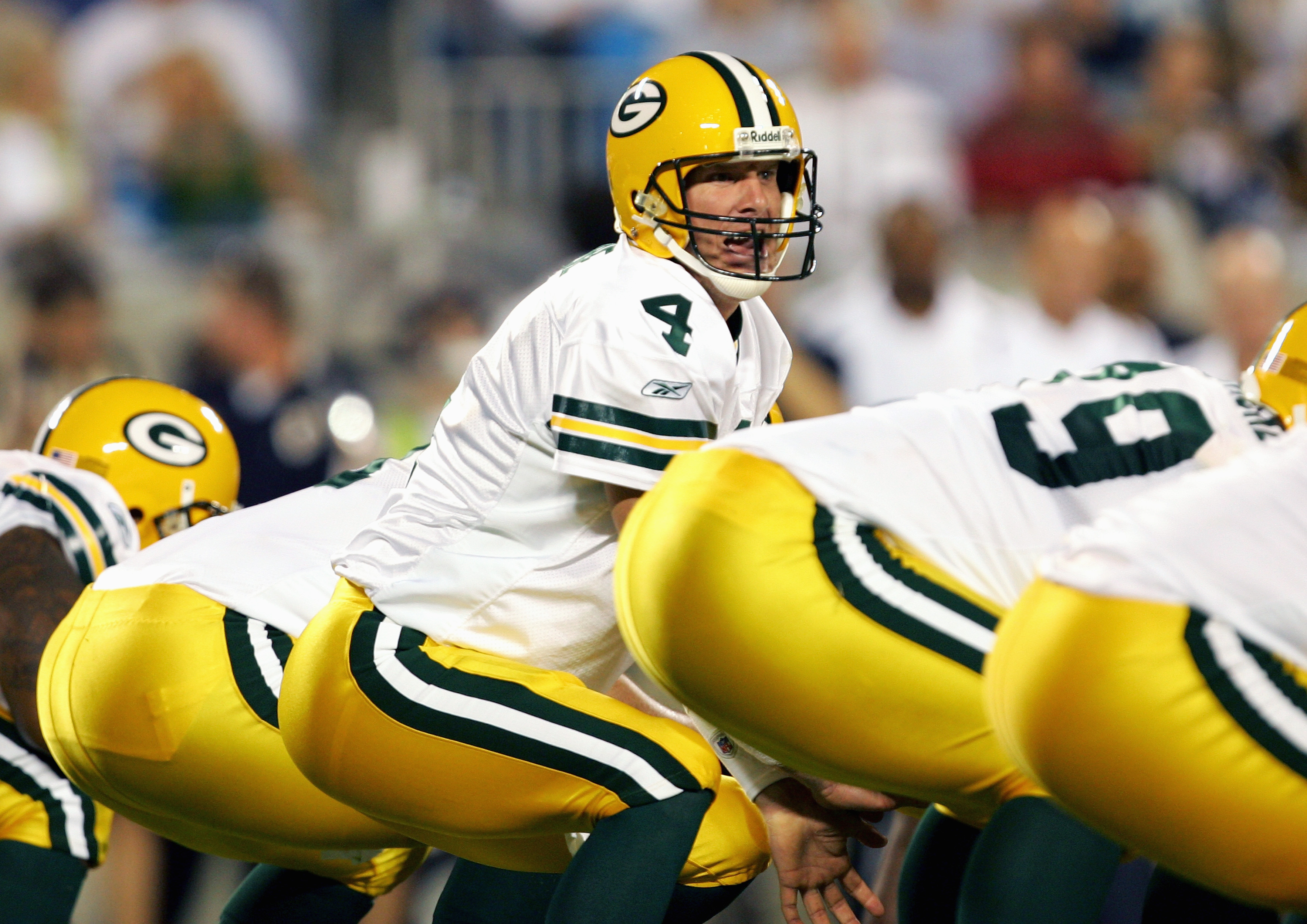 Brett Favre Gave Adrian Peterson the Motivation to Keep Playing
Legendary Green Bay Packers quarterback Brett Favre gave running back Adrian Peterson to keep on playing football.
At 35 years old, Washington Football Team running back Adrian Peterson is considered past his prime. In NFL life, Peterson's an aging player, but he's still going strong. Last season, he rushed for 898 yards in 15 games and is planning on big things this season. There's no end in sight for Peterson, who credited his motivation to keep playing to former Green Bay Packers quarterback Brett Favre.
Adrian Peterson's football career
Adrian Peterson played his college football at Oklahoma and was a first-round pick in the 2007 NFL draft. The 6-foot-1, 220-pound running back was taken with the seventh overall pick by the Minnesota Vikings. Peterson didn't disappoint. He rushed for better than 1,300 yards in his first three seasons, including 1,341 in his rookie year when he added 12 touchdowns and was named the AP Offensive Rookie of the Year.
Peterson made the Pro Bowl in his first four seasons in the league. He rushed for a league-leading 1,760 yards in his second season and then added 1,383 (and a league-leading 18 touchdowns) and 1,298 yards in his third and fourth seasons. Peterson had his best season in 2012 when he ran for a league-leading 2,097 yards and added 12 touchdowns.
In 10 seasons with the Vikings, Peterson rushed for 11,474 yards and scored 97 rushing touchdowns. He then split the 2017 season with the Arizona Cardinals and New Orleans Saints in a less-than-stellar season. He revived his career with the then-Washington Redskins in 2018 when he eclipsed the 1,000-yard rushing mark. Peterson is a seven-time Pro Bowler and has an MVP under his belt.
Brett Favre is a legend in Green Bay
After a stellar college football career at Southern Mississippi, Brett Favre was a second-round pick of the Atlanta Falcons in the 1991 NFL draft. Favre threw just four passes for the Falcons before being traded to the Green Bay Packers prior to the 1992 season.
Favre took over for an injured Don Majkowski in 1992 and never looked back. through the 2004 season, Favre never had a losing record as the quarterback for the Packers. He spent 16 seasons in Green Bay and compiled a 160-93 record. He was an 11-time Pro Bowler and a three-time MVP. Favre guided the Packers to a Super Bowl title in 1997.
After a breakup with the Packers, he was traded to the New York Jets where he spent one season and went 9-7. Favre then went on to play two seasons with the Minnesota Vikings. He guided the Vikings to the NFC Championship in his first season with the team. Favre never missed a start in 297 games. He finished his career with 508 touchdown passes and was inducted into the Pro Football Hall of Fame in 2016.
Peterson said Favre motivated him to keep playing
At the age of 40, Brett Favre was still playing like he was a kid in the NFL. He took the Minnesota Vikings to the NFC title game and threw for 4,202 yards and 33 touchdowns during the regular season. His passes still had that zip and he was still a scrambler as a 40-year old.
According to The Washington Post, running back Adrian Peterson, who played with Favre in Minnesota, was a guest on a talk show co-hosted by Favre in Dec. of 2018. Peterson said he drew inspiration from Favre as he watched the quarterback shine at 40 years old. "You know what it takes," Peterson told Favre. "I had the opportunity to play with you in 2009. Still to this day, I haven't felt wind go by my ear from any other passer. That was at 40 years old. At practice you threw the ball so hard, wind went by as the receiver was coming by to catch the ball.
"That season you had was just spectacular and amazing. Being around you, too, even motivated me more to know that I could play this game as long as I felt I could, and not allowing people to box me in. . . . You are a great example, so for me, that was something that I wanted to continue to do throughout my career. Coming in and watching you be the professional that you were at your age, the way that you practiced."