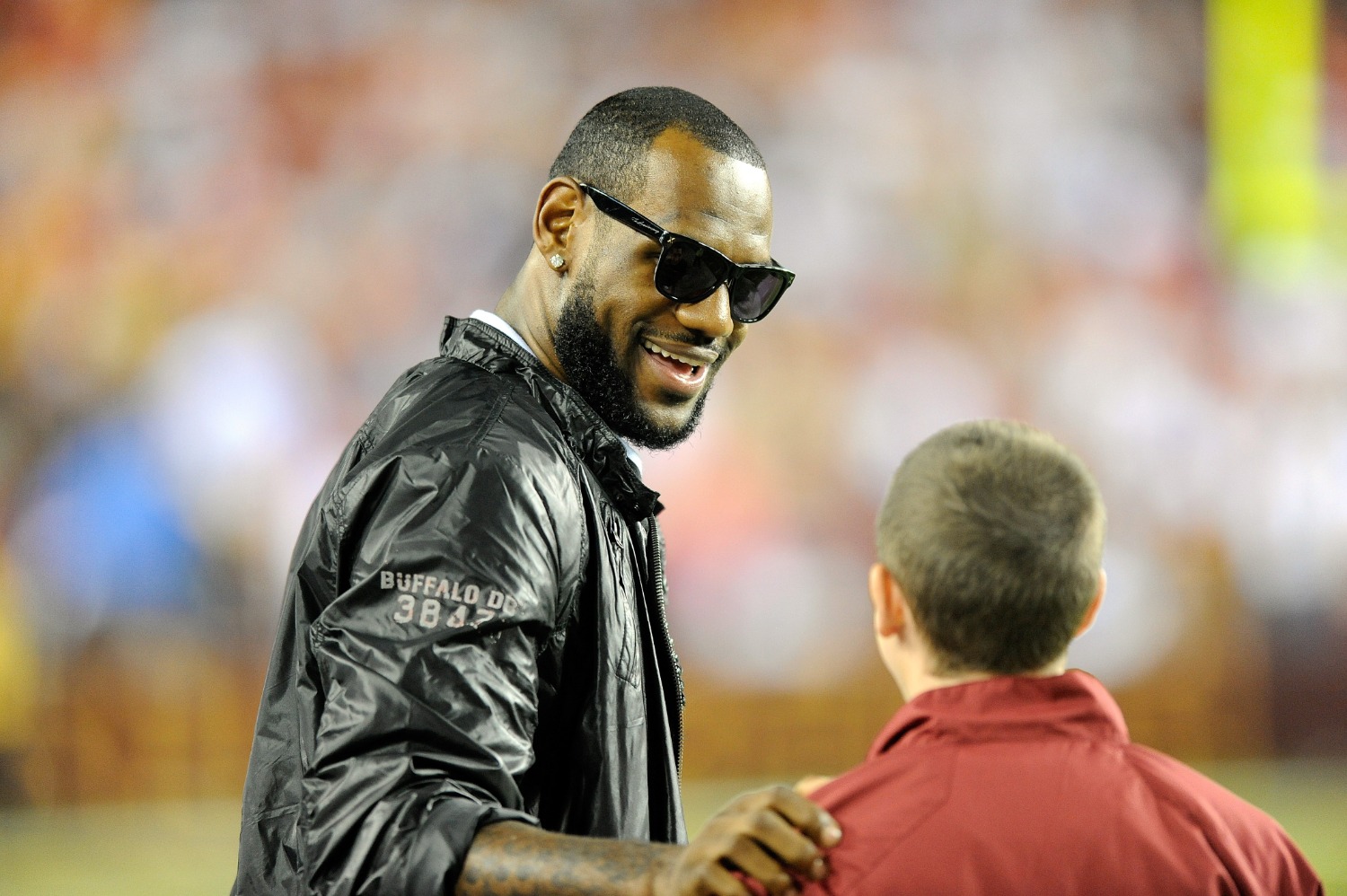 LeBron James Brings Up Valid Point By Trolling Washington Football Team
LeBron James didn't waste any time taking a savage shot at how the Washington Redskins changed their name to the Washington Football Team.
After weeks of speculation, Dan Snyder finally made the move that many have begged him to undertake for years. On Thursday, the era of Washington Redskins football officially ended. The historic NFL franchise re-branded (for now) as the Washington Football Team. While many praised the move, LeBron James brought up a valid point by trolling the team.
An end of an era in Washington
As one of the NFL's most historic franchises, the team formerly known as the Washington Redskins has been around for decades. At one point, the franchise dominated the league. From 1982-1991, Washington captured two Super Bowl titles in four trips.
However, once Dan Snyder took over as owner a few years later, the franchise plummeted. Besides the team's disappointing play on the field, Snyder got scorned for refusing to get rid of the "Redskins" name, which carries offensive overtones to Native Americans.
For years, he flat-out refused to even consider changing the name. However, this offseason, the billionaire finally came face-to-face with reality. And once FedEx and other sponsors and investors threatened to withdraw precious financial resources, Snyder had no choice but to make the change many have demanded for decades.
On Thursday, the era of Washington Redskins football came to a close. But the team's new name didn't exactly go over well with everyone.
LeBron James brings up valid point by trolling Washington Football Team
Once news broke about the franchise re-branding as the Washington Football Team, reactions flew in quick. Some praised the move for the simple fact that it got rid of the offensive name. Others found it to be plain ridiculous. However, Adam Schefter tweeted that the re-brand is not complete.
But for LeBron James, replacing the "Redskins" with the Washington Football Team felt less than impressive. In fact, the four-time NBA MVP delivered a harsh reality check to Snyder's franchise.
The Chosen One learned about the name change after waking up from a nap. And when he discovered that the franchise will now be called the Washington Football Team, he said, "Is that real? No way! Oh man they had a thorough intense long board meeting about that one huh."
James does bring up a valid point. After all, it seems like whoever was involved with the re-brand could have come up with a more exciting solution. Plus, when you're a marketing and branding savant like LeBron James, you probably should take his criticism seriously. Couldn't Snyder and his executives have come up with a more intriguing, catchy name to captivate fans?
But while the Washington Football Team may not have a fan in James, the team's most loyal followers will care much more about whether the new name will result in a new brand of football this fall.
Will a change in name coincide with better results on the field?
Getting rid of the "Redskins" represented a monumental step in the right direction for a franchise in desperate need of a culture overhaul. But from a football perspective, Ron Rivera faces a tall task in turning around a team that has fallen precipitously.
After going 9-7 in Jay Gruden's second season, the Washington Football Team has watched its win total decline on an annual basis. The team posted back-to-back 7-9 records before bottoming out at 3-13 last year. That positioned the franchise to land Chase Young in the draft, which should help boost a defense that ranked 27th in points allowed.
Rivera at least has plenty of talent to work with along the front seven. Young joins a defensive front loaded with former first-round picks. The interior duo of former Alabama stars Jonathan Allen and Da'Ron Payne should give Young and second-year pro Montez Sweat plenty of one-on-one pass-rush opportunities. Plus, don't forget about veteran Ryan Kerrigan.
While the additions of Rivera and Young give the defense plenty of reason for optimism, the offensive side of the ball has more questions than answers. Can Dwayne Haskins put a disappointing rookie campaign behind him and live up to his first-round billing? Can Derrius Guice stay healthy and run the ball like he did at LSU?
Does Haskins even have a chance playing behind and offensive line that projects to start two former undrafted free agents on the left side? Plus, the team already lost promising wideout Kelvin Harmon to a torn ACL.
Ultimately, Dan Snyder took care of perhaps his most pressing problem by changing the name of his franchise. But if the Washington Football Team doesn't turn it around on the field, it will be another long year for the team's loyal fan base.