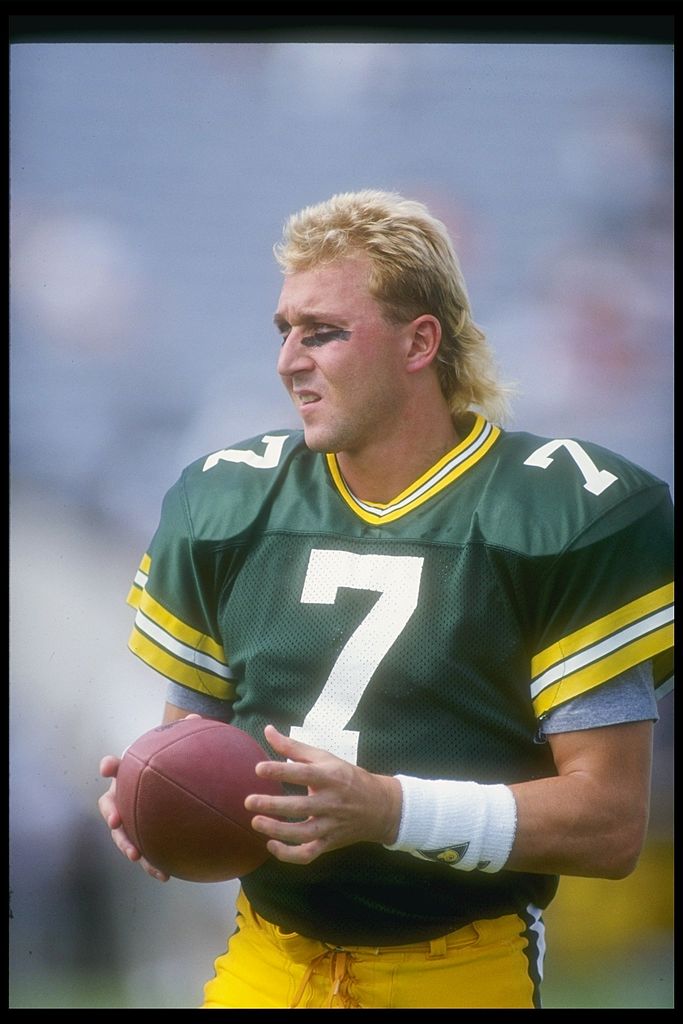 Before Aaron Rodgers and Brett Favre, There Was Don Majkowski — Green Bay's Majik Man
Before the days of Packers quarterbacks Aaron Rodgers and Brett Favre, there was Don Majkowski - Green Bay's Majik Man
Since 1992, The Green Bay Packers have been blessed with two dominant starting quarterbacks in Brett Favre and Aaron Rodgers. The two QBs, one a Hall of Famer and the other a future Hall of Famer, have held down the quarterback fort for the last 28 seasons in Green Bay. Each has won a Super Bowl. Favre led the way through the 2007 season before Rodgers, drafted in 2005, took over in 2008 and is still going strong.
Prior to Favre's arrival in Green Bay, courtesy of a trade with the Atlanta Falcons, there was another quarterback who appeared to be headed to Canton. His name is Don Majkowski, also known as the Majik Man.
Don Majkowski's hot start and The Instant Replay Game
Don Majkowski was drafted out of the University of Virginia in the 10th round by the Green Bay Packers in 1987. In 1989, Majkowski was named the starter after veteran Randy Wright was given his release.

Majkowski took advantage by throwing for a league-leading 4,318 yards and tossing 27 touchdown passes. The Majik Man led the NFL in both attempts (599) and completions (353) that season and guided the Packers to a 10-6 record. Majkowski was selected to the Pro Bowl that season and finished second in the MVP voting that year.
One of Green Bay's biggest highlights of that 1989 season was the Packers' first win over the rival Chicago Bears since 1984. The win didn't come without controversy and the Majik Man was right in the middle of it.
Referred to often as The Instant Replay Game, Majkowski, with his team trailing 13-7 with 32 seconds left, threw an apparent 14-yard touchdown pass to Sterling Sharpe. Initially, the play was ruled no touchdown as the side judge said Majkowski has crossed the line of scrimmage.
After the Lambeau Field crowd waited more than four minutes for the play to be reviewed, it was ruled a touchdown and Chris Jacke's extra point secured the Packers' win.
I can't imagine what Lambeau would have been like if the call wasn't overturned. It was definitely the highlight of the 1989 season, and I was lucky enough to have been a part of it.



Don Majkowski
Majkowski's injury opened the door for Brett Favre
Known for his long blond mullet, Majkowski suffered his share of injuries, with one of his bigger ones coming in a game against the Phoenix Cardinals in 1990. While running out of bounds, Phoenix linebacker Freddie Jo Nunn grabbed Majkowski from behind, and the Packers quarterback landed awkwardly on his right shoulder, tearing his rotator cuff.
Majkowski resumed his role as the Packers' starter in 1992 and was injured in an early-season game against the Cincinnati Bengals. He tore a ligament in his ankle and was replaced by Brett Favre, who rallied the team to victory and then started every game at quarterback for the Packers through 2007.
Majkowski went on to play for the Indianapolis Colts and the Detroit Lions. He is a member of the Green Bay Packers Hall of Fame.
Life after football for the Majik Man
Those football injuries have been catching up with Majkowski in his post-NFL career. According to a tweet by his wife Kelly, he underwent surgery No. 22 in January. His latest procedure was on his neck to relieve some pinching of his nerve root in his spinal column.
Majkowski has said he was also suffering from post-traumatic concussion syndrome.

They didn't have the concussion protocol then that they do now. If you get dinged up now, you come out and go through the whole procedure to be cleared to play.

Don Majkowski
If not for all those injuries suffered by the Majik Man, who knows how far he could've gone in Green Bay.