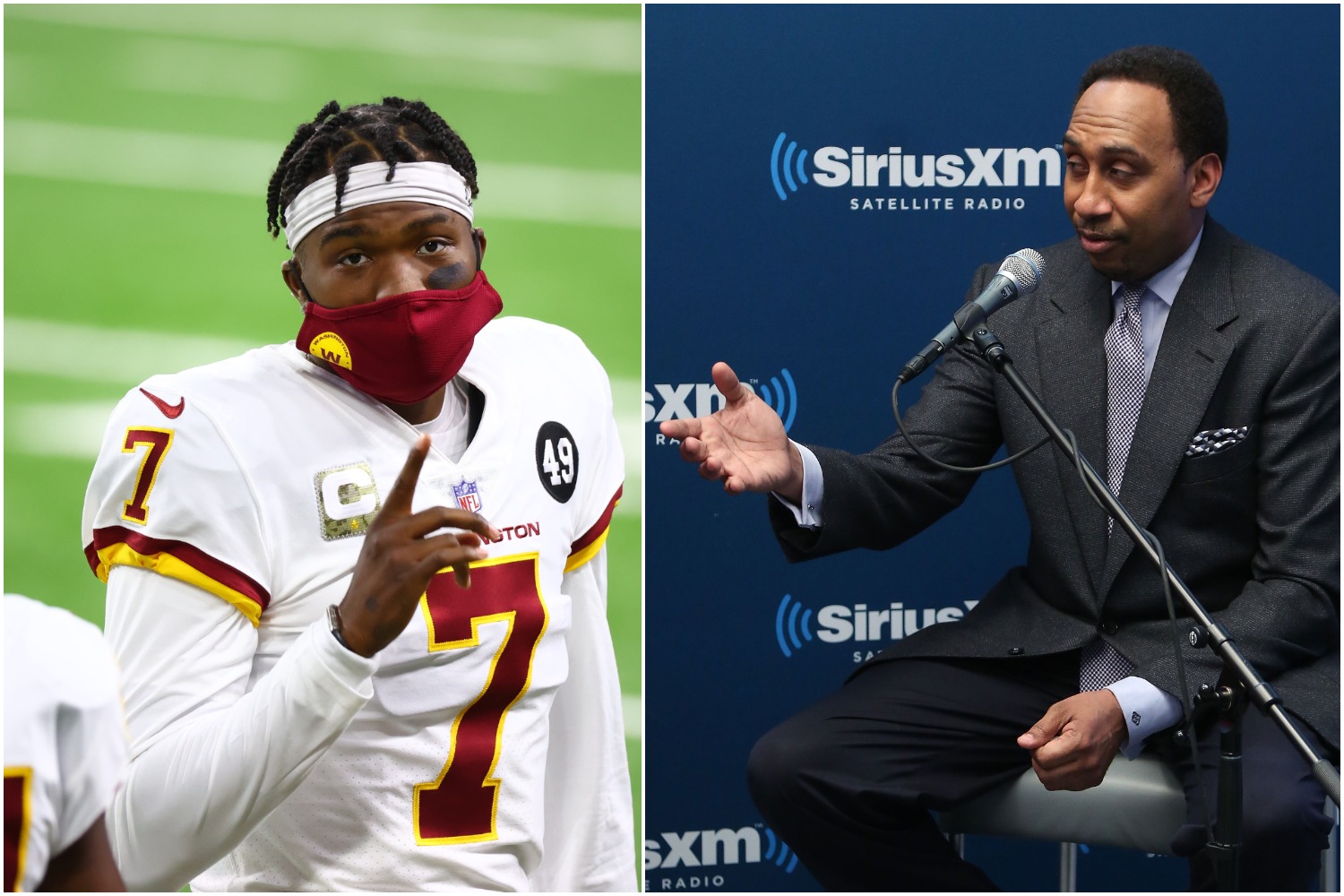 Stephen A. Smith Paused His Vacation to Put Dwayne Haskins on Blast
Even though he's on vacation, Stephen A. Smith took to Twitter on Monday afternoon to put former Washington QB Dwayne Haskins on blast.
Stephen A. Smith should have been kicking back and relaxing on Monday. But thanks to Dwayne Haskins, the sports media star had to put his vacation on pause.
After all, it's not everyday that a first-round quarterback gets released before the conclusion of his second season. But with the Washington Football Team bringing a swift end to their latest failed experiment, Smith took to Twitter to put Haskins on blast.
Washington throws in the towel on Dwayne Haskins
Dwayne Haskins serves as another cautionary tale about drafting a one-year wonder. Despite only starting 14 games at Ohio State, the big-armed quarterback still became the 15th player off the board in 2019.
In his rookie season, the former Buckeye started seven games and looked completely overmatched. Haskins completed just 58.6% of his passes for 1,365 yards. And when he did complete a pass, it didn't always go to the right team. The New Jersey native threw as many touchdowns (seven) as interceptions in his first year in the league.
The 2020 season hasn't gone much better for Haskins. In seven games (six starts), he has thrown just five touchdowns compared to seven picks. He tossed two interceptions in Washington's 20-13 loss to the Carolina Panthers on Sunday.
Between his poor play on the field and his questionable decisions off of it, Haskins failed to live up to the "franchise quarterback" label. On Monday, Washington pulled off a stunning move by releasing the former first-round pick after 13 starts and far too many headaches.
Stephen A. Smith won't let his vacation stop him from putting the QB on blast
Dwayne Haskins had at least one fan when he entered the NFL. But not even Stephen A. Smith can overlook just how awful the 2019 first-round pick has been since he arrived in Washington.
In fact, the popular ESPN star paused his vacation to put the recently-released QB on blast.
"I was totally WRONG about Dwayne Haskins," Smith wrote in a Monday afternoon tweet. "Thinking the @Giants were foolish to pass up on him in favor of Daniel Jones, I look like a damn fool."
He took things a step further by putting the gravity of Haskins' release in context.
"You know how bad you to be as a player — and person — to be a 1st-round pick and still get released inside of two years?" Smith tweeted. "This has bad attitude written all over it. Not being mature enough. Not working hard enough. Why else would @WashingtonNFL let him go right now?"
The highly-opinionated sports media personality cast a somber mood with the final part of his two-part tweet.
"Inside of 2 years, Haskins entire football career is now officially in grave jeopardy," Smith wrote.
Can Haskins resurrect his career with another NFL team?
At 23 years old, Dwayne Haskins still has time to turn his career around. Given his cheap rookie contract and first-round pedigree, it wouldn't be surprising if at least a few teams put in a waiver claim to secure two years of his services.
Looking at the rest of the NFL, a few franchises stand out as logical landing spots.
The New England Patriots obviously have a huge hole at the quarterback position. Cam Newton looks like a one-and-done situation. Jarrett Stidham doesn't seem like the long-term answer based on his lack of playing time amidst all of Newton's struggles. Could Bill Belichick view Haskins as a worthwhile reclamation project?
Another AFC powerhouse with a shaky quarterback situation could be in the mix, too. The Pittsburgh Steelers have a major decision to make this offseason about Ben Roethlisberger and his future with the franchise. Would Mike Tomlin be willing to take on the task of trying to rebuild Haskins from the ground up?
In the NFC, the Atlanta Falcons have to think long and hard about life after Matt Ryan. Bringing Haskins in to learn from the veteran wouldn't be a bad idea. The Detroit Lions may also move in a different direction and could view Haskins as a potential long-term replacement for Matthew Stafford if he can fix his flaws.
Ultimately, it will be interesting to see where the former Washington QB lands. But whoever "wins" the race for Dwayne Haskins will have to work some serious magic to save his career.
All statistics courtesy of Pro Football Reference.