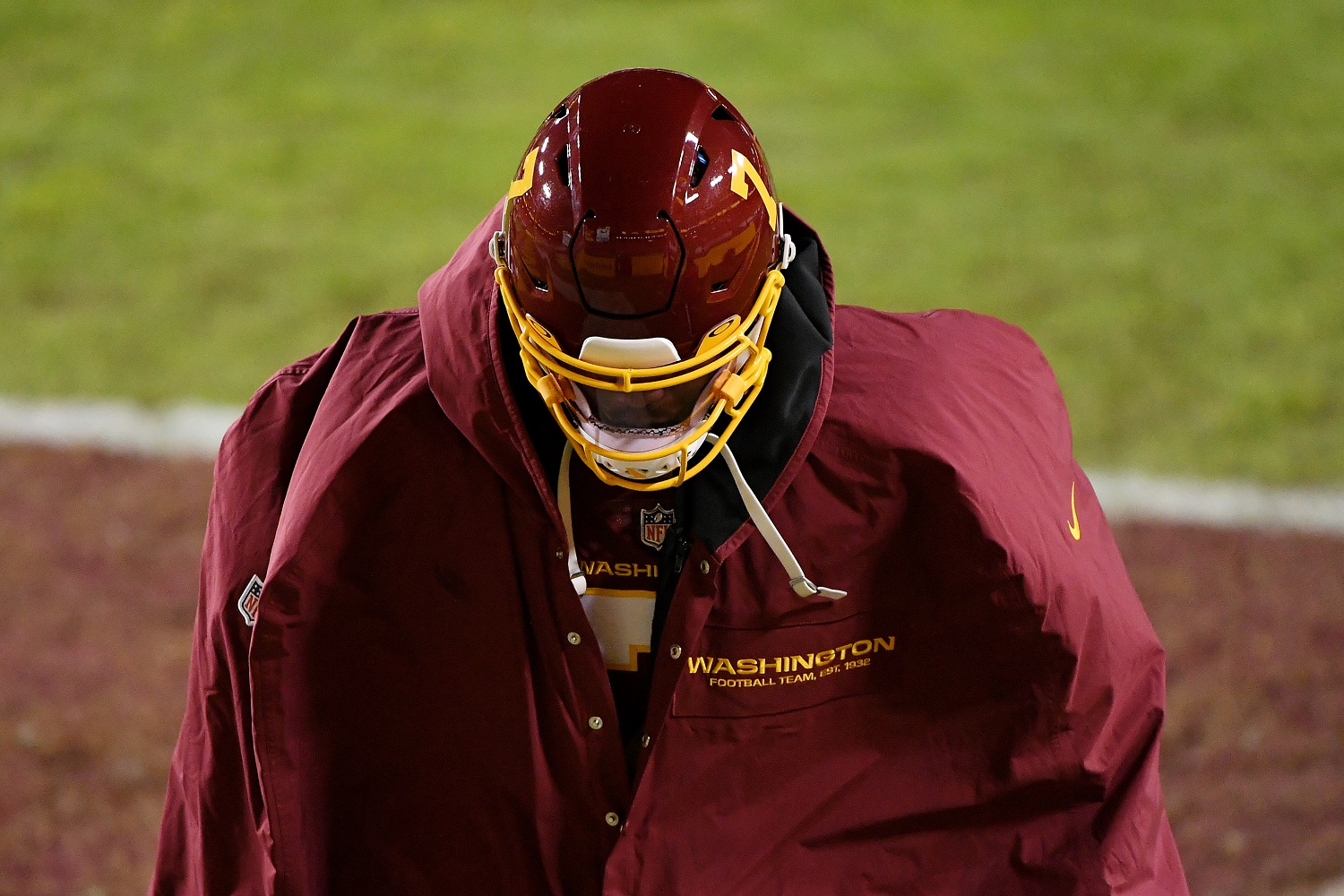 Dwayne Haskins Becomes the Latest in a Long Line of Ohio State QBs To Flop in the NFL (No, Joe Burrow Doesn't Count)
Recently-released Dwayne Haskins is just one more quarterback from Ohio State that has failed to produce at the NFL level.
If you haven't heard by now, former Ohio State Buckeyes quarterback Dwayne Haskins is no longer a member of the Washington Football Team.
After being benched in Sunday's loss to the Carolina Panthers in favor of Taylor Heinicke, who was a backup in the XFL and was just signed to Washington's practice squad 20 days ago (yeah, that's a big slap in the face), the 2019 first-round pick was waived by Washington on Monday, becoming the latest Ohio State quarterback to disappoint at the NFL level.
And just to get this out of the way…no, Joe Burrow doesn't count. Sure, he played two years in Columbus but completed just 29 passes for 287 yards in 10 mop-up appearances before truly making his name at LSU, where he won the Heisman Trophy and had arguably the greatest season a college quarterback has ever had. Sorry, nobody remembers him as an Ohio State quarterback. And he could end up being a disappointment anyway depending on how this injury plays out.
Sure, Haskins is just 23 years old and can certainly bounce back from this but he'll certainly need to change his attitude and preparation to be given another chance at this level, at least as a starter.
Dwayne Haskins was a Heisman Trophy finalist at Ohio State
Dwayne Haskins didn't have a long career at Ohio State but he certainly made the most of his time with the Buckeyes. After redshirting his first season in Columbus, he entered the 2017 season as the backup quarterback to J.T. Barrett (more on him in a minute) but still saw ample playing time, completing 40 of 57 passes in eight appearances for 565 yards and four touchdowns.
With Barrett gone to the NFL in 2018, Haskins had a phenomenal season as the starter, completing 70% of his throws for 4,831 yards with 50 touchdown passes against just eight interceptions, also adding 108 rushing yards and four additional scores. He was a Heisman Trophy finalist and finished third in the voting behind Kyler Murray and Tua Tagovailoa, which prompted him to declare for the 2019 NFL draft.
He went 3-10 as a starter with the Washington Football Team and has repeatedly gotten himself in trouble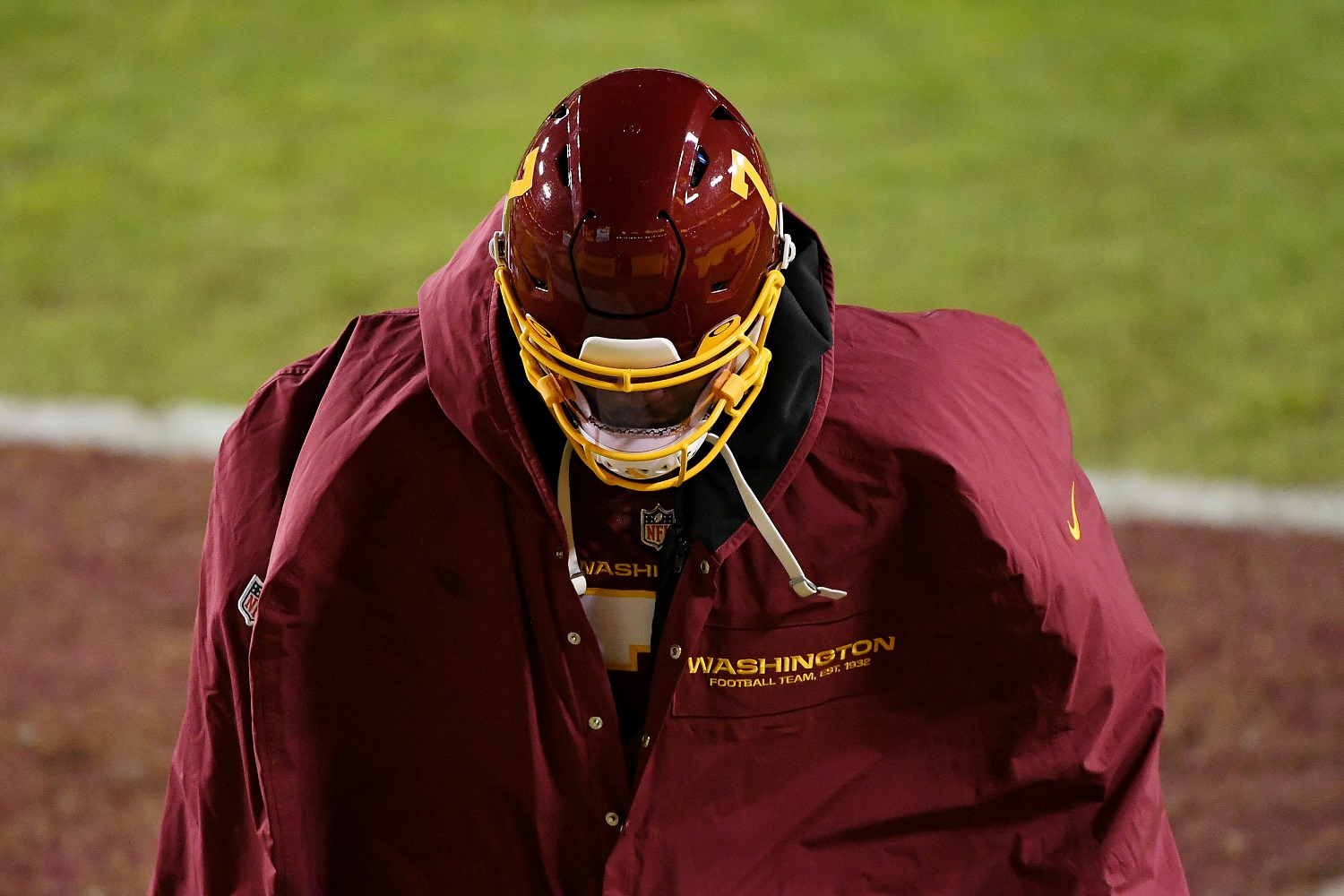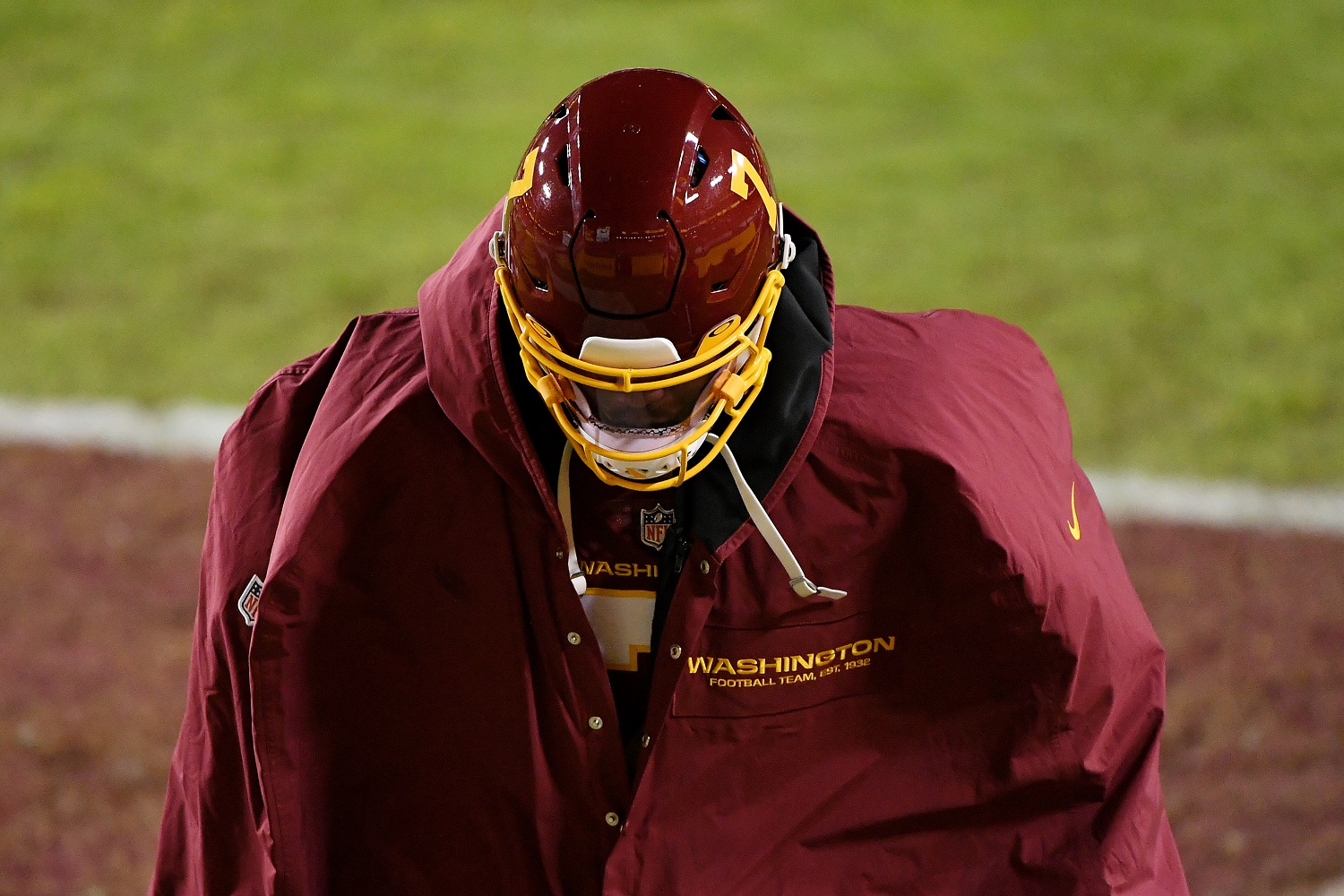 Taken with the 15th overall pick in the first round of the 2019 NFL draft by the Washington Football Team (still known then as the Redskins), Dwayne Haskins saw his first official NFL action in Week 4 of the 2019 campaign when Case Keenum was benched for poor play.
Haskins ended up starting seven games for Washington last season but went just 2-5 as a starter and was extremely inconsistent. He completed just 58.5% of his passes in nine total appearances and threw for 1,365 yards with seven touchdowns and seven interceptions.
Haskins was named the starter and a team captain ahead of the 2020 season but both of those titles yanked as the season rolled along. He was benched for Alex Smith in Week 5 and was soon after fined for breaking COVID-19 protocols, which he did again recently by not wearing a mask when attending his girlfriend's birthday party that included strippers just a few hours after Washington lost to the Seattle Seahawks.
Nevertheless, he still started Sunday's game against the Panthers but was benched after throwing two interceptions. Haskins appeared in seven games for Washington this season, starting six of them, and went 1-5 with five touchdown passes and seven interceptions, taking his career record as a starter to 3-10. His poor play and questionable decision-making have now cost him his job and millions of dollars in salary, leaving many to wonder what his future holds.
What he's also done is make many wonder just why Ohio State quarterbacks don't seem to work out in the NFL.
Dwayne Haskins is one of a number of Ohio State quarterbacks to disappoint in the NFL
Ohio State is easily one of the best college football programs in the country. There's certainly no denying that. Year after year, they send tons of players to the NFL, many of whom go on to have great careers. But for whatever reason, their quarterbacks just don't seem to pan out at the pro level.
Since 1980, the Buckeyes have had 12 quarterbacks drafted into the NFL. Sure, not all of them were supposed to be superstars and Tom Tupa ended up becoming more of a punter. But there were certainly some guys in there that were supposed to be much better than they were in the NFL, including Dwayne Haskins, although we still have to see how his career plays out as, again, he's just 23 years old.
Ohio State QB Art Schlichter was taken with the No. 4 overall pick in 1982 by the Baltimore Colts but threw just three touchdown passes in the NFL and didn't win any of his six starts in three seasons. He was also suspended for the entire 1983 season due to gambling issues that ultimately cost him his career and landed him in prison.
2006 Heisman Trophy winner Troy Smith's game just never translated to the NFL and he won just four games as a starter and threw just eight touchdown passes. Terrelle Pryor was an incredible talent and did find some success as a wide receiver in the NFL but dealt with a number of injuries and was seen as being somewhat problematic in the locker room.
Here's a quick look at the dozen quarterbacks drafted into the NFL since 1980 and how they fared in the league.
1982: Art Schlichter — 13 games, 0-6 as a starter, 1,006 yards, 3 TD, 11 INT
1987: Jim Karsatos — Never played an official down in the NFL
1988: Tom Tupa — 4-9 record as a starting QB, 3,420 yards, 12 TD, 25 INT — 873 career punts, 43.4-yard average
1992: Kent Graham — 81 games, 17-21 as a starter, 7,801 yards, 39 TD, 33 INT
1996: Bobby Hoying — 22 games, 3-9-1 as a starter, 2,544 yards, 11 TD, 15 INT
1999: Joe Germaine — 3 games, 0-0 as a starter, 136 yards, 1 TD, 2 INT
2002: Steve Bellisari — Never played an official down in the NFL
2004: Craig Krenzel — 5 games, 3-2 as a starter, 718 yards, 3 TD, 6 INT
2007: Troy Smith: 20 games, 4-4 as a starter, 1,734 yards, 8 TD, 5 INT
2012 (2011 supplemental draft pick): Terrelle Pryor — 3-7 record as a starting QB, 1,994 yards, 9 TD, 12 INT — 1,563 receiving yards, 7 TD
2016: Cardale Jones — 1 game, 0-0 as a starter, 96 yards, 0 TD, 1 INT
2019: Dwayne Haskins — 16 games, 3-10 as a starter, 2,804 yards, 12 TD, 14 INT
Over the last 40 years, the best NFL quarterback to come out of Ohio State was one that didn't even get drafted, Mike Tomczak, who signed with the Chicago Bears as an undrafted free agent just ahead of their historic 1985 season. Tomczak played 15 NFL seasons with the Bears, Packers, Browns, and Steelers and appeared in 185 games, throwing for 16,079 yards with 88 touchdowns and 106 interceptions, and went 42-31 as a starter, racking up more wins than the dozen quarterbacks listed above combined.
You're up, Justin Fields.
Stats courtesy of Sports Reference