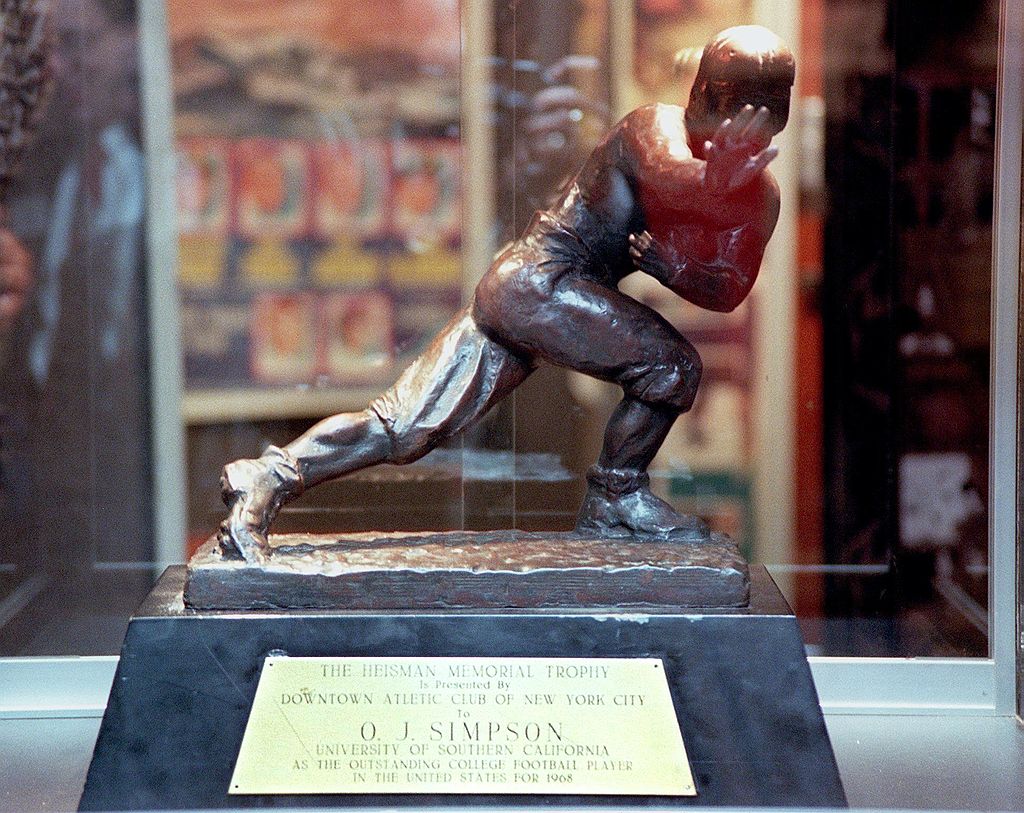 The Bizarre Tales of O.J. Simpson's Heisman Trophy Awards and Where They Are Today
A look at the bizarre stories surrounding the Heisman Trophy awards won by O.J. Simpson and where they are today.
Since the events that transpired 26 years ago today, it's hard to find any story involving O.J. Simpson that could be considered normal. Most dive into the territory of strange and unusual, which is exactly the case when discussing his Heisman Trophy awards. No, he didn't win the Heisman (the most prestigious award in college football) twice, only Archie Griffin has done that, but when someone wins the award, two trophies are commissioned with one going to the player and the other to the university for which he played.
So when O.J. Simpson won the Heisman Trophy in 1968, one was given to him and the other went to USC. In the first 26 years, things were normal. Simpson had his and USC had theirs. But after the events of June 17, 1994, things got crazy with these trophies. This is the story of what happened to them and where they are today.
O.J. Simpson won the Heisman Trophy in 1968
O.J. Simpson actually did come close to winning the Heisman Trophy on two occasions. In 1967, his first year at USC, he was the runner-up after rushing for 1,543 yards and 13 touchdowns, barely losing out to UCLA quarterback Gary Beban.
In 1968, however, he made things very easy on Heisman voters, rushing for 1,880 yards and 23 touchdowns and won the award by what at the time was the widest margin in history, a record that stood until just this past December when it was beaten by LSU's Joe Burrow.
Throughout his Hall of Fame NFL career with the Buffalo Bills and San Francisco 49ers, his trophy moved with him from house to house while the other was put in the trophy case at USC. But everything changed in June 1994.
What happened to O.J. Simpson's Heisman Trophy?
On June 12, 1994, the bodies of O.J. Simpson's ex-wife, Nicole Brown, and 25-year-old Ron Goldman were discovered outside Brown's condo in Brentwood. Simpson was named a person of interest and was scheduled to surrender himself to police on the morning of June 17. We all know what happened next. There was the low-speed "chase". There was the "Trial of the Century" in which Simpson was acquitted of the murders. There was then the civil trial in which he was found liable in the deaths and ordered to pay the Brown and Goldman families $33.5 million, which is where his Heisman Trophy comes into play.
O.J. Simpson's former agent, Mike Gilbert, was the first person besides Simpson himself to be in possession of the trophy, taking it from O.J.'s house before authorities could seize and auction it as part of the civil judgment. Ironically, he stashed it with numerous other pieces of O.J. memorabilia, the same pieces that Simpson later believed to be stolen, which caused him to break into a Las Vegas hotel room in 2007, which ended up costing him nine years of his life after he was convicted of armed robbery and kidnapping. The Heisman was eventually seized from Gilbert, although he fought the decision in court, and put up for auction in 1999.
It was purchased for $255,000 by a Pennsylvania sheet-metal wholesaler named Tom Kriessman, who later said he bought Simpson's Heisman to impress his girlfriend. Over the next 20 years, story after story came out about what had happened to it. Some said it had been melted down. Others said it had been broken up and sold off in pieces. None of it was true. For years, Kriessman had kept it locked up in a Philadelphia bank vault. Just last year, he told ESPN that he'd sold it to Reno businessman Rick Reviglio for an undisclosed amount in 2018. O.J. Simpson's Heisman Trophy is the centerpiece of his private memorabilia collection and remains in his possession to this day.
What happened to the one USC was given?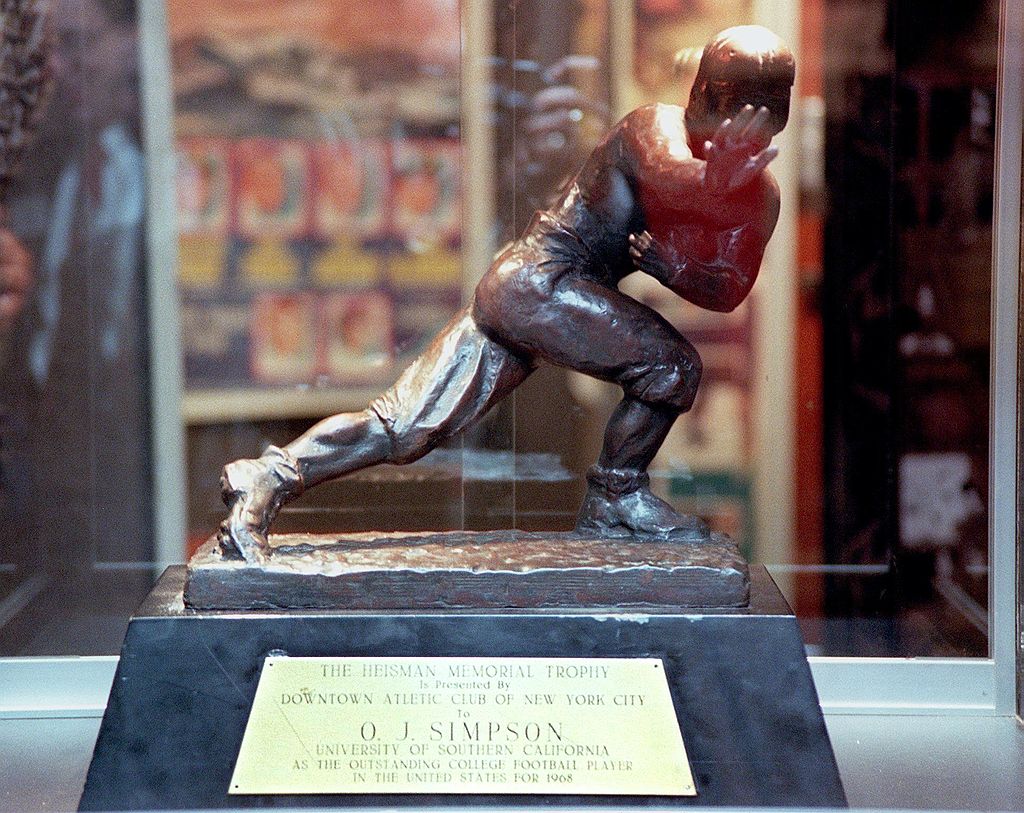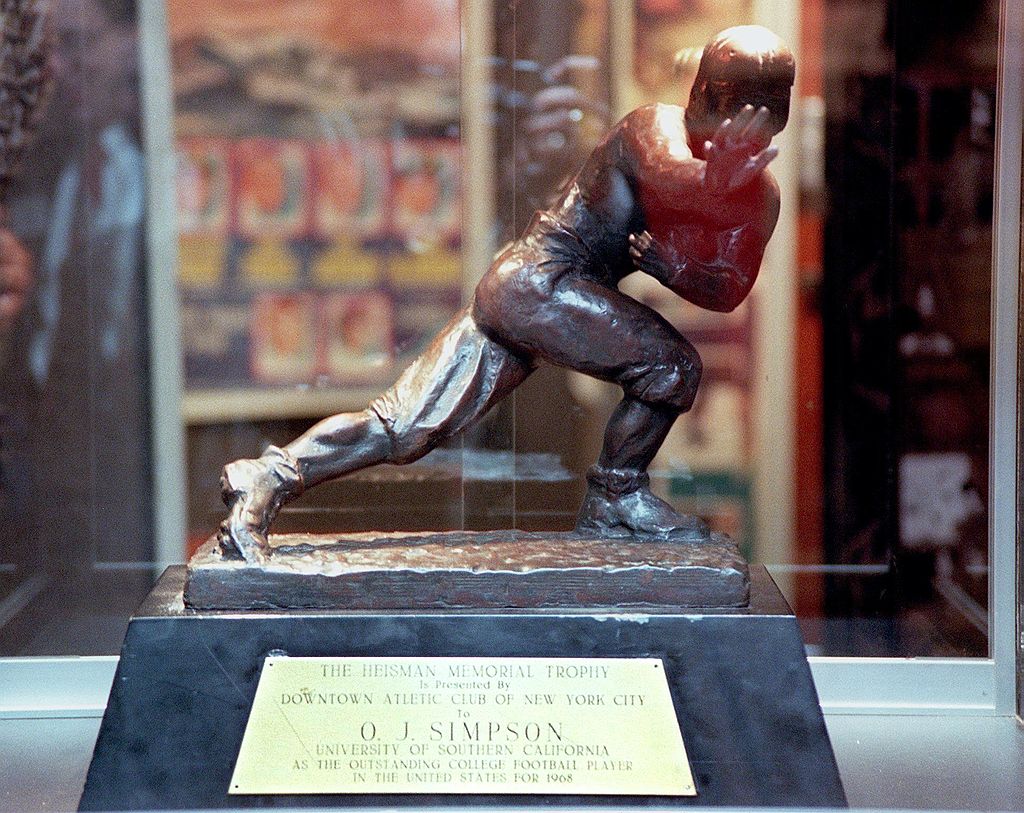 On July 28, 1994, a custodian at USC discovered that the university's version of O.J. Simpson's Heisman Trophy had been stolen. With no cameras and no fingerprints, nobody knew of its whereabouts for more than two decades. As it turns out, for the majority of that span, it was in the possession of Lewis Starks, who was 35 in 1994 and maintains to this day that he wasn't the person who stole it. Starks, who has a long rap sheet of drug and theft charges, claims that a friend of his took it and buried it in his backyard. He says the friend of his would constantly show it off to anyone who wanted to see it. Starks says he later bought it from his buddy for $600 and a used car.
Starks attempted to sell the Heisman on the street on numerous occasions but never found a buyer. He anonymously called USC to see if there was a reward being offered for it but he found no luck there either. When Starks was a free man, the trophy was with him. On the numerous occasions he went to jail, he left it with friends or in a garage or in a storage facility. When he became homeless, he slept with it in the streets of LA. When he tried to get a drug-related jail sentence reduced by promising to return it, the court didn't believe him.
When he was released from yet another jail term in 2014, he called USC again but wasn't believed. The university had received a replica version of O.J. Simpson's Heisman and the youngster that answered the phone that day, who wasn't even alive in 1994, saw that one and laughed him off. He then called the Heisman Trust in New York, determined to get this burden away from him. They asked Starks to send photos, which he did, and it was confirmed that this actually was the real deal. They got the LAPD involved, a sting was set up, and it was finally recovered more than 20 years after it was taken, although it was in three pieces.
After a lengthy legal process that took another two years, Starks was given three years probation. The Heisman Trophy is once again on display at USC, although nobody outside of the university knows if it's the original version or the replica.
Yet another mystery involving O.J. Simpson.