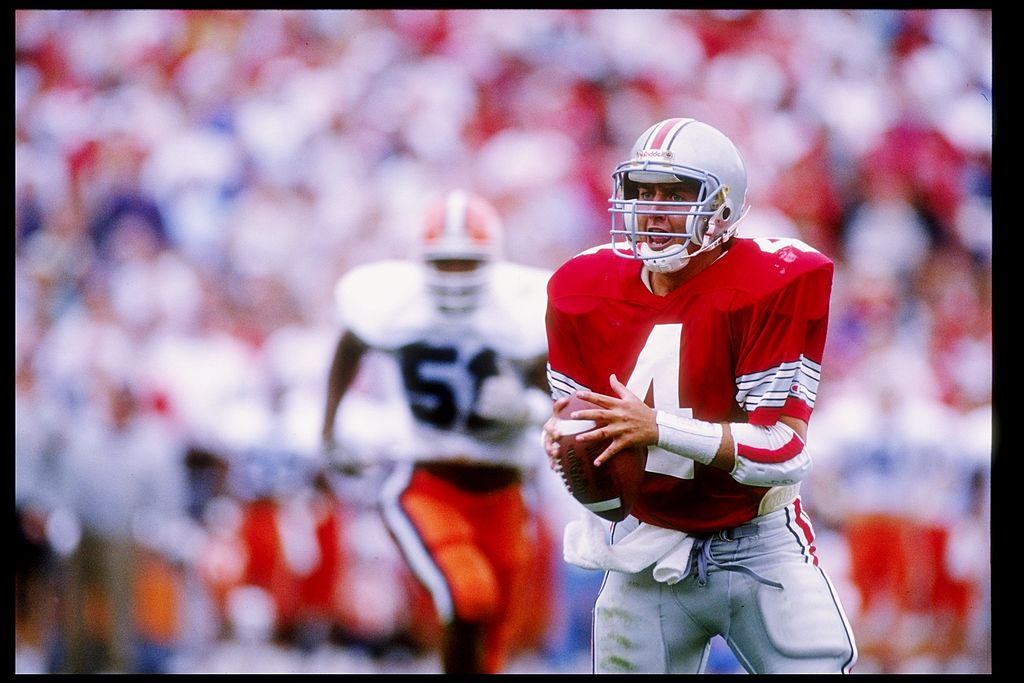 Was Kirk Herbstreit Any Good as a Quarterback at Ohio State?
You know Kirk Herbstreit from ESPN's College Gameday, but he also played quarterback for Ohio State in college. Was he any good as a Buckeye?
Kirk Herbstreit is one of the most recognizable and respected college football analysts in the media landscape today. You can hear him every Fall Saturday night calling play-by-play for ABC's game of the week. Herbstreit and Chris Fowler have become the premiere broadcasting crew in college football. The broadcaster also has a prominent roll on ESPN's "College Gameday." Herbstreit was actually an Ohio State quarterback back in his college days, but was he any good? He gets to talk about college athletes for a living, so let's see how his career stacks up with the current stars.
Kirk Herbstreit grew up a college football junkie
Herbstreit was raised to adore college football. His father, Jim, was an assistant coach at Ohio State for Woody Hayes and at Miami (Ohio) for Bo Schembechler.
"College football, for me, was sacred," Herbstreit told Sports Illustrated in 2018. "Right away, first time I watched it on TV, there was just something about the passion, the energy that was just different. It always just felt right when I watched it. And I was one of these guys from when I was a really young age, when I watched a game, I absorbed the broadcast. I actually listened to the broadcast."
Herbstreit became a star at Centerville High School in Ohio, and he was named Ohio Gatorade Player of the Year as a senior. There was no question where Herbstreit would continue his playing career.
Herbstreit was an underwhelming QB at Ohio State
Ohio State used a variety of quarterbacks while Herbstreit was in Columbus, but he was only the main starter for one season. Herbstreit didn't secure the starting role until his senior year.
Over his first two seasons as a Buckeye, Herbstreit threw just 10 passes in game action. He completed four attempts and threw two interceptions. Herbstreit threw just one pass in his sophomore season, and it was picked off. His QB rating of -200 in 1990 will never be beaten. It's the only school record Herbstreit holds.
Herbstreit vaulted into the first backup role in his junior year. It was the first season in which he received significant playing time. In 1991, Herbstreit played in all 12 games and completed 38 of his 75 passing attempts, but he was much more effective as a rusher. He ran for 153 yards and two touchdowns in his junior season.
Herbstreit finally became the starting QB heading into his senior year. He went 155-264 with four touchdowns and six interceptions in 1992, and Ohio State went 8-3-1 in Herbstreit's lone season as a starter.
Overall, Herbstreit threw just five touchdowns in four years at Ohio State. He threw more than twice as many interceptions — 11 — than touchdowns in his career.
Herbstreit has a far more successful broadcasting career
Herbstreit was far from a great passer as a college quarterback, but he is a great broadcaster in his post-football life. Three years after leaving Ohio State, Herbstreit was hired by ESPN as a college football sideline analyst.
He first appeared on "College Gameday" in 1996, and he's been an integral part of the show ever since. Herbstreit is joined by Desmond Howard, Lee Corso, and Rece Davis every college football Saturday morning to put on the iconic show.
After "College Gameday" wraps up, Herbsreit flies to the site of the Saturday Night Football game on ABC. He provides play-by-play next to Chris Fowler every Saturday night. Herbstreit is one of the busiest men in America on Saturdays in the fall.
Herbstreit has won three Sports Emmy Awards in his illustrious broadcasting career.