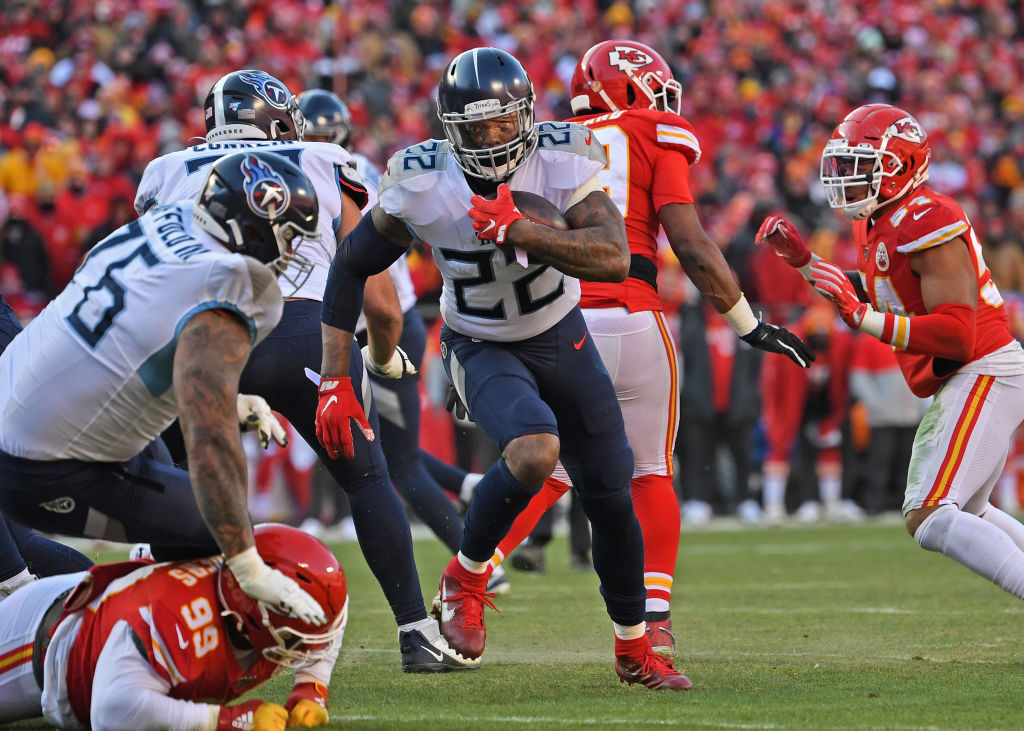 You Won't Believe How Insane Derrick Henry's High School Stats Were
Derrick Henry is known today as one of the best running backs in the NFL, but he might've been the best high school running back ever.
Derrick Henry has quickly become one of the most dominant running backs in the NFL. The 26-year-old has played only four years for the Tennessee Titans, but many consider him to be the best running back in the league today. Before he was stiff-arming NFL players and outrunning the world's fastest safeties, he was running over poor high schoolers in Yulee, Fla. Henry's high school stats are video game numbers. They're impossible, and yet they're somehow real.
Derrick Henry's high school stats don't seem possible
Derrick Henry is a freak of nature, and he hasn't even grown much since high school. According to Roman Stubbs of the Washington Post, Henry weighed 240 pounds as a senior in high school. He's listed today at 247 pounds. Henry could bench 365 pounds, squat 500 pounds, and run a 4.5 40-yard dash while in high school.
Basically, you could place 26-year-old Derrick Henry back in high school and he would be the same player he was as an 18-year-old. Henry was a different breed, and his stats reflected it.
Throughout his high school career, Henry rushed for 12,124 yards and 153 touchdowns in just 48 games. He averaged more than 250 yards and three rushing touchdowns per game.
Yulee High School didn't even have to throw the football. Opposing teams knew what Henry was going to do and he still ran for 8.7 yards per carry. He was gaining a first down on almost every touch.
Derrick Henry saved his best for his senior year
His high school stats as a whole are impressive alone, but Henry's senior year stats are jaw-dropping. Maybe he was taking it easy on teams his first three years.
As a senior, Henry rushed for 4,261 yards and 55 touchdowns in just 13 games. That's 327.8 yards and 4.2 touchdowns per game. Henry was putting up numbers in single games that NFL running backs dream of having in a single season.
In a game against Jackson, Henry went for 510 rushing yards, a Florida high school record, and six rushing touchdowns. Patrick Mahomes and the Kansas City Chiefs averaged 379.2 yards per game as a team last season. Henry bested that by himself in a single game by over 100 yards. He recorded four games with over 400 yards rushing in 2013.
Each game is more ridiculous than the last. Henry had four games in his senior year in which he scored six touchdowns. He tallied at least one 50-yard rush in 10 of Yulee's 13 games that season.
Henry's video game stats continued to Alabama and the Titans
Henry was a surefire prospect out of high school, and he ended up committing to The University of Alabama to continue his football career. T.J. Yeldon and Kenyan Drake took most of Henry's carries in his freshman and sophomore seasons, but Henry exploded in his junior year once he won the starting job.
Henry rushed for 2,219 yards and 28 touchdowns in 2015. He led the NCAA in both categories and went on to win the Heisman Trophy. It wasn't the eye-popping numbers he put up in high school, but Henry was still dominant in college. He put up four games of over 200 yards, including a 271-yard performance against Auburn. He scored at least one touchdown in every game in his junior year.
Henry was drafted in the second round by the Titans following his junior year. Just like at Alabama, it took him a few years to win the starting job, but once he did he exploded onto the NFL scene. Henry has rushed for over 1,000 yards and 12 touchdowns in each of the past two seasons. Last year, he led the league with 1,540 rushing yards and 16 rushing touchdowns.
Henry might be the best high school running back ever, and now he might be the best running back in the entire NFL.