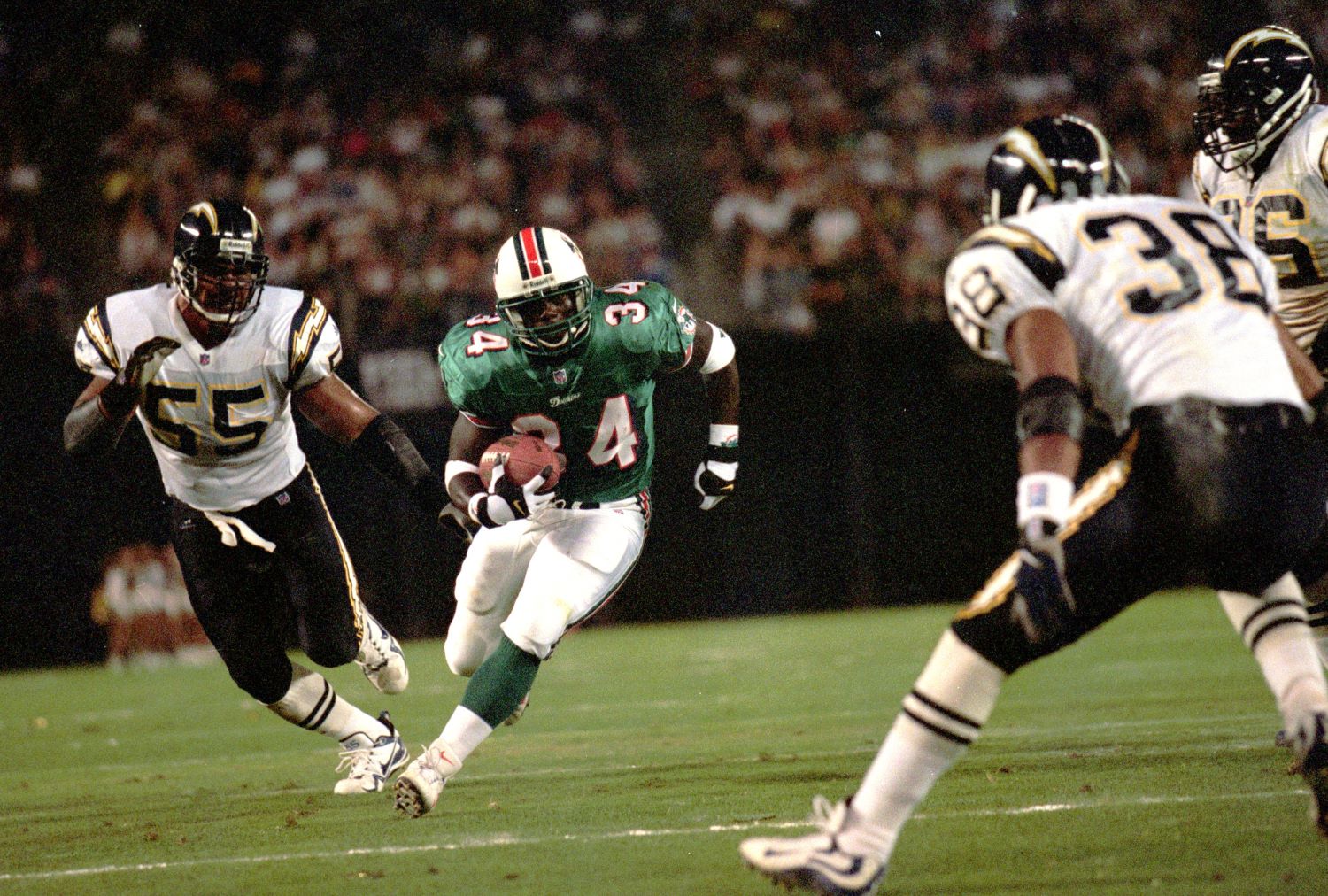 Former Dolphins RB Cecil Collins Went to Prison For 13 Years Because He Wanted to Watch a Woman Sleep
Former Dolphins RB Cecil Colllins lost 13 years of his freedom because of a bizarre crime that involved wanting to watch a woman sleep.
Three years after Lawrence Phillips got drafted sixth overall, another highly-hyped running back with well-documented legal issues entered the NFL. And while Cecil Collins still has his life, the former Miami Dolphins running back lost more than a decade of his freedom because he failed to stay out of trouble after getting kicked out of college.
In fact, the ex-LSU Tiger never played another down of pro football after he got arrested during his rookie season for his involvement in a bizarre incident that he claimed only occurred because he wanted to watch a woman sleep.
Cecil Collins got kicked out of LSU because of legal issues
Born in Kentucky, Cecil Collins became a recognizable name in the state of Louisiana.
During his amateur days, he starred on the football field as a physical running back for Leesville High School. After racking up more than 3,000 rushing yards in his senior season, Collins got selected as the state's first Mr. Football. To little surprise, Collins took his talents to LSU.
However, the transition from high school to college did not go smoothly.
Due to academic issues, the talented tailback had to sit out his first year at LSU. After serving a one-game suspension to start the 1997 season, the local star showcased scary ability. Collins racked up 596 rushing yards on just 72 carries. He found the end zone three times in four games.
Despite displaying NFL-caliber skills, Collins got the boot from LSU. On June 27, 1998, the New York Times reported that the then-junior got kicked off the team after he got arrested on charges of unauthorized entry and sexual battery. He eventually received probation as his sentence once the charges were lowered.
According to Sports Illustrated, Collins also tested positive for marijuana three times in college, which factored into the school's decision to cut ties with the talented football player.
His NFL career came to a swift end after he got arrested for a bizarre crime involving a sleeping woman
After a failed attempt to continue his college career at McNeese State University, Cecil Collins entered the 1999 NFL draft as a high-risk, high-reward prospect.
In fact, his former position coach at LSU put everything in context with a telling quote about the talented running back leading up to the draft.
"Cecil will need help making the transition to the NFL," Mike Haywood told SI back in 1999. "Whatever team takes him is going to need a doctor or a counselor or a psychiatrist to work with him, or it's going to need to surround him with strong players. Otherwise–and you can count on this–Cecil is going to have problems."
Unfortunately for the Dolphins, Haywood's words prediction proved correct.
Miami took a gamble on the former high-school standout in the fifth round. The 5-foot-10, 207-pound running back played eight games (six starts) as a rookie. He totaled 414 rushing yards and two touchdowns on 131 carries. Collins also caught six passes for 32 yards during his first (and only) year as an NFL player.
Because before the conclusion of his rookie campaign, Cecil Collins got released by the Dolphins. He never went on to play another NFL down following his bizarre arrest.
Instead, he spent more than a decade in prison for a crime that he claimed only occurred because he wanted to watch a woman sleep.
The former Dolphins RB lost more than 13 years of his freedom for his strange crime
On Sept. 9, 2005, Cecil Collins got sentenced to 15 years in prison just hours after he got convicted for felony burglary.
Back in December 1999, he got arrested after breaking into an apartment in in Davie, Fla. According to the Tampa Bay Times, Tina Nolte and her husband, Ron, were sleeping when Collins entered illegally into their residence. The man woke up and recognized the NFL player as his neighbor.
When Collins got arrested, he reportedly told police that he only wanted to watch Tina Nolte as she slept.
His defense attorney later tried to convince jurors that his client and Nolte had a sexual relationship and that she was only lying to save her marriage.
However, that theory obviously didn't hold water.
Ultimately, Cecil Collins lost more than a decade of his freedom because of a crime he claimed had everything to do with wanting to watch a woman sleep.
In 2013, the former Dolphins running back got released from prison after serving just over 13 years of his 15-year sentence.
Like Sportscasting on Facebook. Follow us on Twitter @sportscasting19.