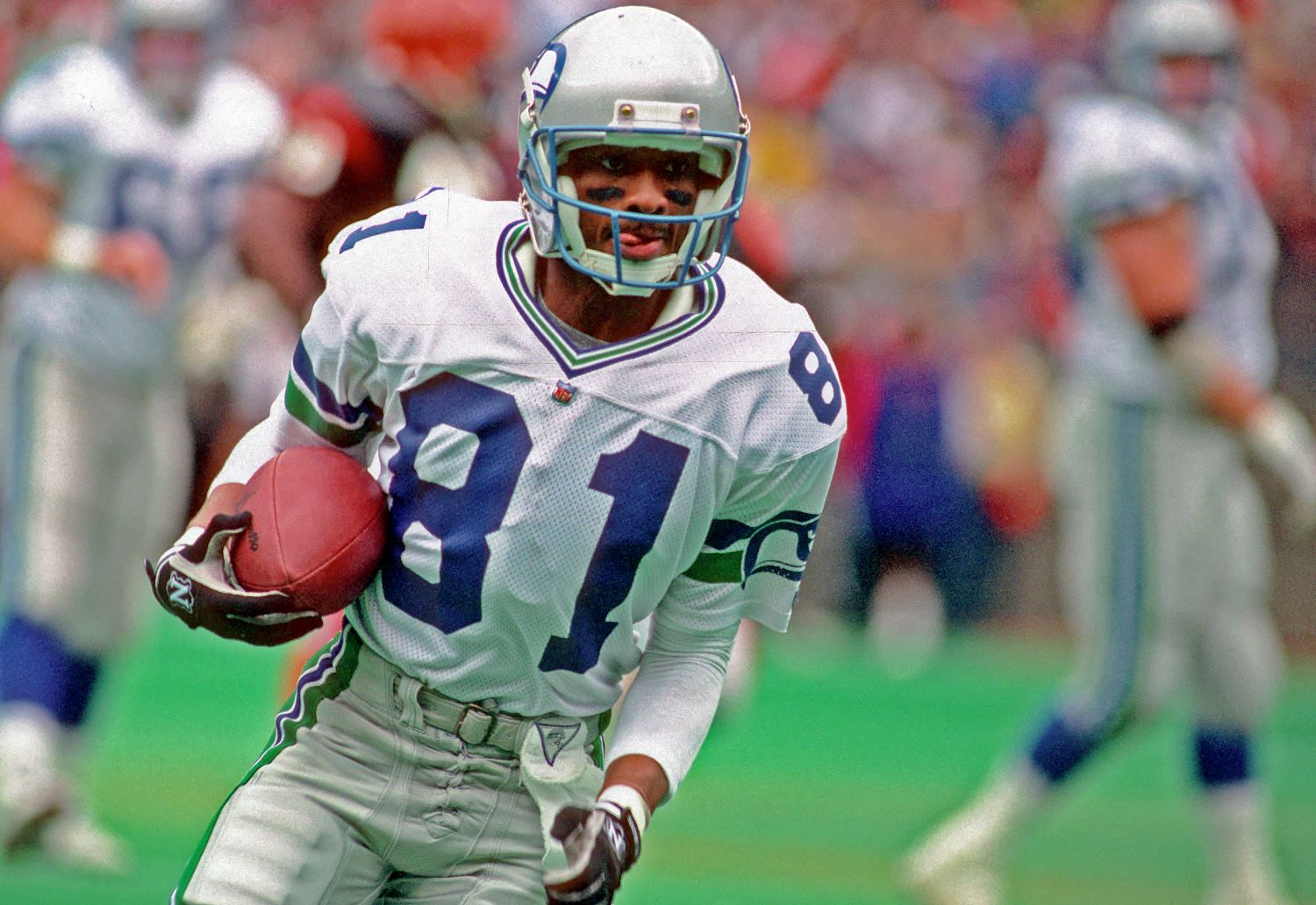 Former Seahawks WR Tommy Kane Brutally Murdered His Wife in Front of His Mother After She Tried to Save His Life
Former Seattle Seahawks WR Tommy Kane brutally killed his wife after she tried to save his life, but his legal troubles have continued.
"Till death do us part" took on an entirely different meaning on Nov. 30, 2003. On that fateful day, former Seattle Seahawks wide receiver Tommy Kane brutally murdered his wife in his mother's home…right in front of her.
What makes the story even more tragic is that the former NFL player took Tammy Shaikh's life after she came over to save his. And even after Kane committed a crime so horrific that it earned its own episode on a television documentary series, he found himself in trouble with the law again just a few years ago.
Tommy Kane played five seasons for the Seahawks
A Montreal native, Tommy Kane played his college ball at Syracuse University. After catching 44 passes for 968 yards and 14 touchdowns in his final year with the Orange, he got selected 75th overall in the 1988 NFL draft by the Seahawks.
The 5-foot-11, 180-pound receiver didn't make much of an impact in his first two years in the league. Kane entered his third NFL season with only 13 catches in 14 games.
However, he finally earned a more prominent role in the offense and started 11 of 16 games during the 1990 season. He far outproduced fellow former 1988 draft pick Brian Blades, who had a down year by his standards. Kane totaled 52 catches for 776 yards and four touchdowns, all of which ended up being career-highs.
That turned out to be the top of the mountain for the Canadian native.
Although Kane totaled 77 catches in 26 more starts, he never played another NFL snap after the 1992 season. Injuries derailed his progress and ultimately forced the Seahawks to cut him during training camp in 1993.
His football career officially came to an end just a year later. Kane played five games for the Toronto Argonauts in 1994 before he hung up his helmet and shoulder pads for good.
While he never became a star, he certainly had a respectable stint in the NFL. Kane seemingly should have been set to enjoy retirement. But his life, along with many others, changed forever less than a decade after he finished playing football.
Kane brutally murdered his wife in front of his own mother
On Nov. 30, 2003, Tommy Kane committed such a brutal crime that it later became the subject of an episode of a true crime documentary series called Fatal Vows. And when you learn the details of what occurred that day, you'll understand why.
According to The Globe and Mail, Tammy Shaikh, Kane's estranged wife, came by his mother's house to help the former NFL receiver get to a drug detoxification center since he had been dealing with depression and a cocaine habit.
Instead of leaving with Shaikh, Kane ended her life after she tried saving his.
He dragged the mother of his four children by her hair into the kitchen, banged her head on the floor, and "repeatedly pummeled her face."
Then, in the presence of his mother and a friend, he stabbed Shaikh in the throat. Although the 35-year-old got transported to the hospital, she did not survive.
Kane got charged with second-degree murder, but he did not end up going to prison for that charge. Instead, he struck a deal and plead guilty to manslaughter.
According to CBC, two psychiatric reports that detailed the former Seahawks receiver's struggles with depression factored into the Crown's decision to lower the charge from second-degree murder to manslaughter. In addition, Kane reportedly had drugs in his system days before the stabbing.
On Nov. 5, 2004, he got sentenced to 18 years in prison.
More legal troubles for the former NFL WR
In November 2016, Tommy Kane was granted statutory release, but he found himself in trouble with the law again just a few years later.
According to the Montreal Gazette, Kane got arrested in May 2019 after he refused to take part in a urine test and admitted to using cocaine. Both of those violated the conditions of his release.
The ex-NFL player had been instructed not to consume drugs and to avoid drinking establishments. Kane also had to follow psychological counselling and report any relationships with women.
However, he admitted to using cocaine in early 2019 after going through a series of stressful events that included participating in the NFL's Concussion Settlement program.
Later in August, the Parole Board of Canada lifted the suspension of his statutory release.
The summary of the board's decision included a note about Kane getting permission to travel to the United States to undergo testing related to the concussion settlement.
"This was an emotionally difficult period for you due to several events; including the death of your sister, positive reaction from community when you attended the funeral, seeing your four children, and the medical testing. You indicated that the testing brought back 'painful memories' of your time in the NFL," the author of the summary wrote.
Like Sportscasting on Facebook. Follow us on Twitter @sportscasting19.