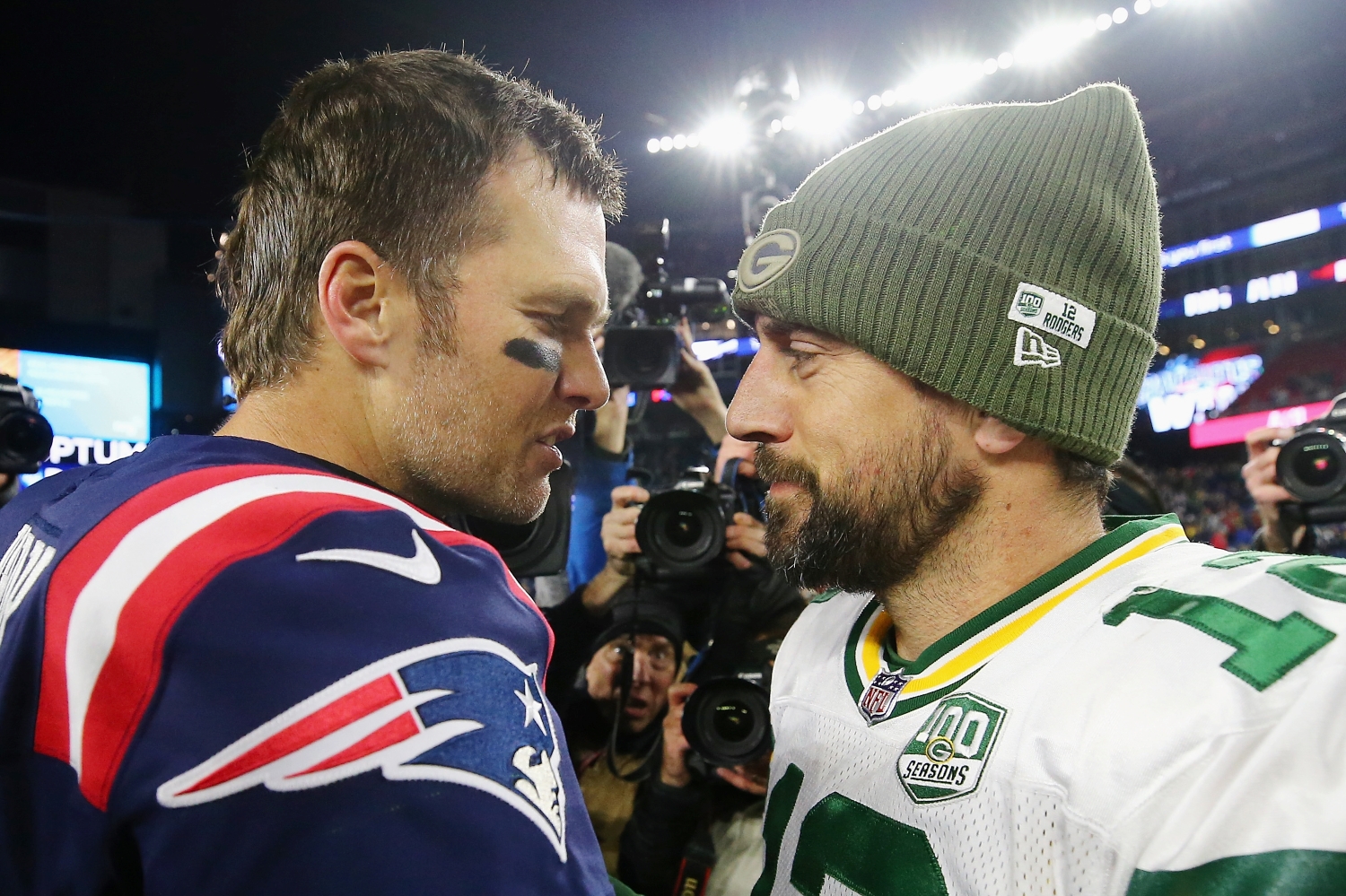 Tom Brady Refuses to Give Aaron Rodgers Advice on a Topic He Should Be Thrilled to Talk About
Don't expect Tom Brady to give Aaron Rodgers any career advice. And although Brady benefited from leaving New England for Tampa, it might not be such a great idea for Rodgers to leave Green Bay for another team based on all the factors involved.
Could Aaron Rodgers pull a Tom Brady and finish his career with another NFL team? That certainly looks like the outcome he wants, but there's only one problem.
The Green Bay Packers don't care to make that happen.
With Rodgers under contract through 2023, it makes sense that the team doesn't want to trade one of the best quarterbacks of all time. So unless one side budges, the standoff between the star signal-caller and one of the league's most historic franchises should continue.
Given his history with the New England Patriots, Brady should be able to give Rodgers guidance on how to handle his misgivings with management. As it turns out, though, the GOAT has no interest in giving the reigning NFL MVP advice about a topic he should be thrilled to discuss.
Aaron Rodgers continues to give the Packers the silent treatment
Actions speak louder than words, right?
In Rodgers' case, his inaction says everything about how he feels about the Packers. Instead of preparing for the upcoming season alongside his teammates, the reigning NFL MVP continues to stay away from Green Bay. After skipping voluntary organized team activities, he pulled an unprecedented move by not showing up to mandatory minicamp. Based on his prolonged absence, it's clear Rodgers has a big problem with Packers management.
And for anyone blaming his dissatisfaction on 2020 first-round pick Jordan Love, that's simply not the case.
"With my situation, look, it's never been about the draft pick, picking Jordan," Rodgers said during an appearance on ESPN last month. "I love Jordan. He's a great kid. Lot of fun to work together. I love the coaching staff, love my teammates, love the fan base in Green Bay. Incredible 16 years. It's just kind of about a philosophy. You know? And maybe forgetting that it is about the people that make the thing go."
By all accounts, the future Hall of Famer's discontent mostly has to do with general manager Brian Gutekunst, who chose not to inform Rodgers about the Love pick before it happened. Plus, the Packers haven't done their franchise quarterback any favors by refusing to use first-rounders on offensive skill players. It's difficult to excuse the front office for using a top-32 selection on a defender in eight straight drafts from 2012-19.
Tom Brady refuses to advise his peer on a topic he knows all too well
Although Brady won six Super Bowl titles with the Patriots, his two-decade run in New England didn't include only joyful moments. On the contrary, the legendary quarterback encountered challenges later in his career that had a lot to do with how Bill Belichick ran the team. From trying to get a contract extension to fighting for his trainer's privileges to be restored to having to overcome personnel deficiencies due to Belichick's mistakes as a GM, Brady dealt with plenty of issues during his Patriots career.
Yet, even with all that experience and insight, he refuses to get involved in Rodgers' business. In fact, the Packers star shouldn't expect to hear a single word of wisdom from Brady.
"I'm not one to give Aaron advice on certain things like that," Brady told USA TODAY Sports. "I mean, I respect Aaron a lot. Aaron's going to make the choices he feels are best for him. Everyone has different dynamics in their work."
The last point definitely holds true, especially considering Brady went from playing for Belichick for 20 years to working with an entirely different personality in Bruce Arians. If anything, though, that should give the seven-time Super Bowl champion more of a reason to give guidance to Rodgers. After setting himself up to leave New England as an unrestricted free agent, he could advise his peer on the pros and cons of moving on. And for all we know, a conversation between the two men could change Rodgers' outlook entirely.
Would Rodgers actually benefit by becoming the latest star quarterback to switch teams?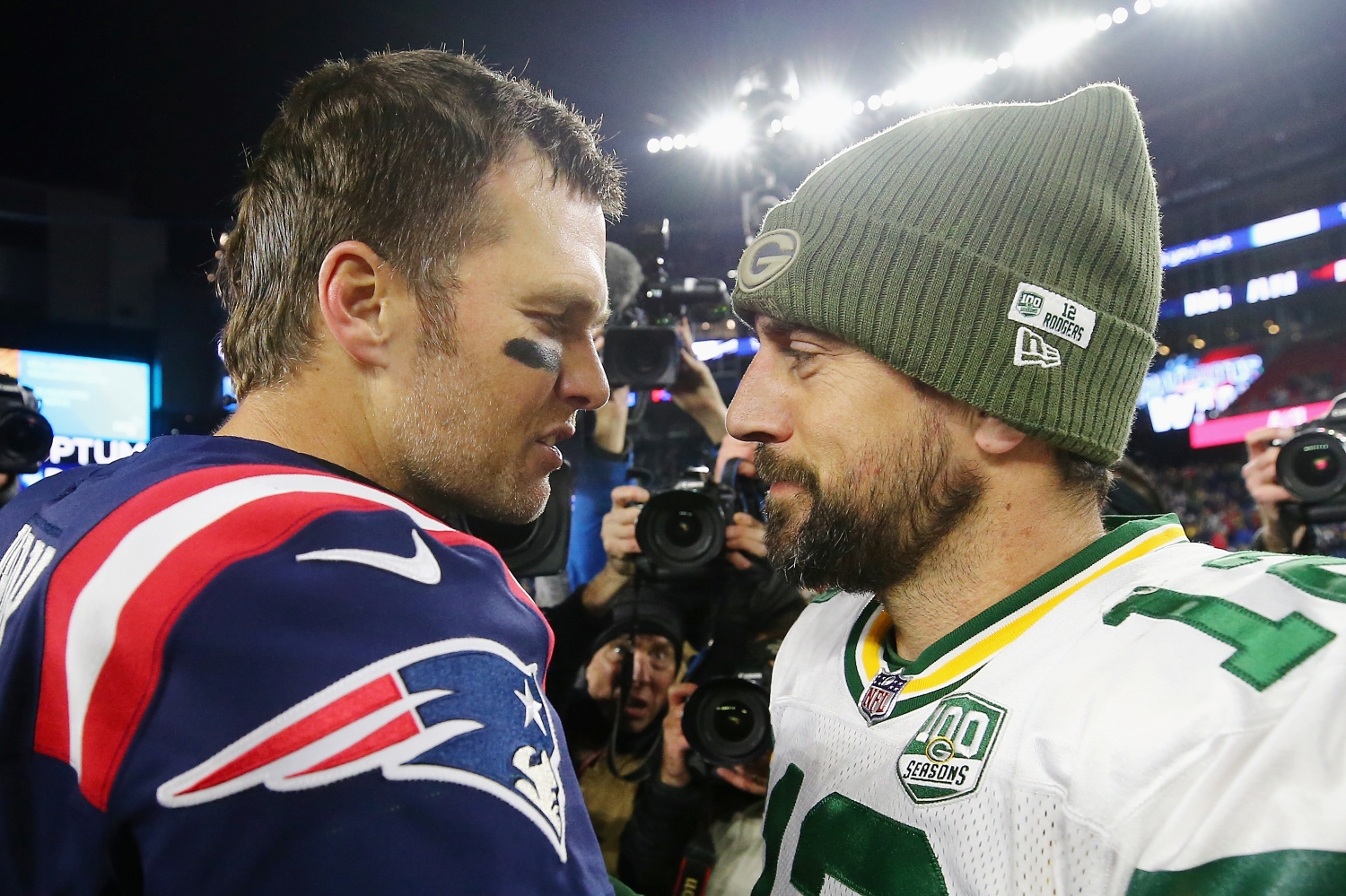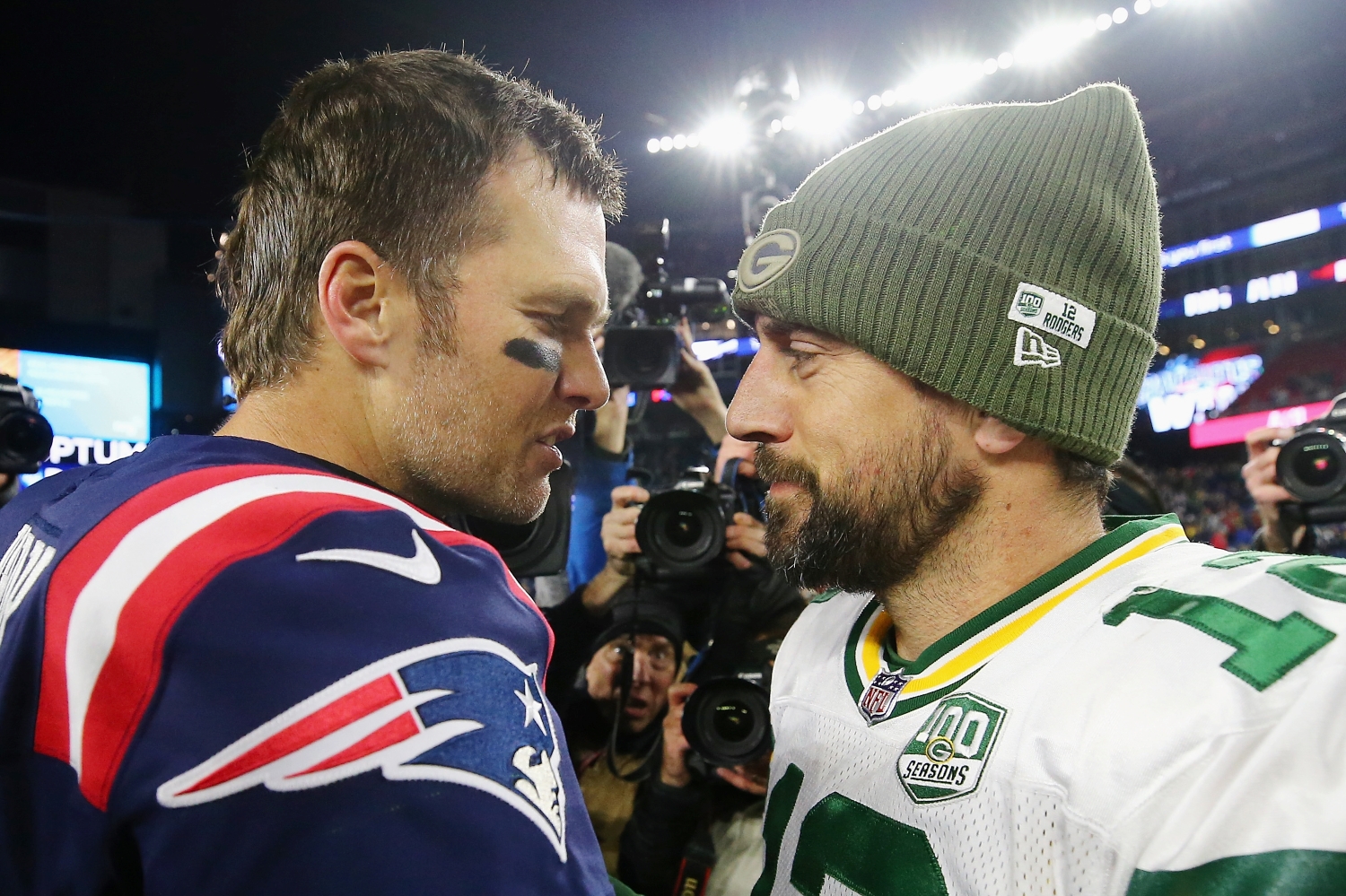 Taking his talents to Tampa made sense for Brady. He went from having an awful cast of "weapons" to throwing the ball to Mike Evans, Chris Godwin, Antonio Brown, and old pal Rob Gronkowski. He aligned himself with a player-friendly coach who treats veterans with more understanding than his old boss. And it couldn't have hurt to trade in the cold weathers of New England for the year-round sunshine of Florida.
Making that leap of faith obviously worked out for Brady.
But that doesn't mean Rodgers should follow in his footsteps. At least, not right now.
The Packers came agonizingly close to beating the Buccaneers in the NFC Championship. They possess established stars on both sides of the ball, play in a winnable division, and have a solid coaching staff. Rodgers' best chance of playing in a Super Bowl involves giving it one more go with Green Bay. He has familiarity with his teammates, and his competitive juices have to be boiling over right now.
The front office should consider giving him a raise for the 2021 season to make amends with the caveat that they will trade him next spring.
Seems like a win-win for all parties, right?