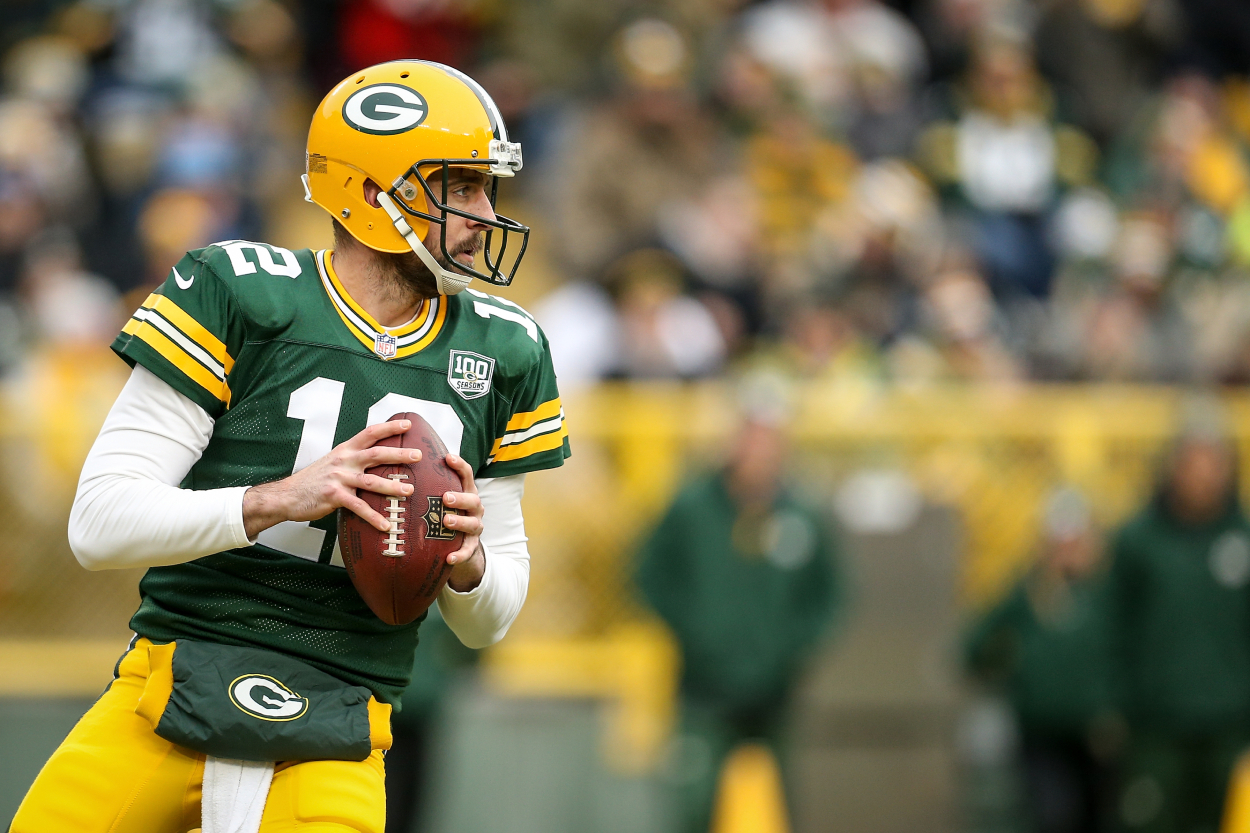 Aaron Rodgers Opens Up and Praises Almost Everyone in Green Bay, Including Jordan Love
Aaron Rodgers failed to single out the Packers front office when dishing out praise to everyone else in Green Bay.
Aaron Rodgers finally addressed his situation publicly. There was no earth-shattering revelation by the Green Bay Packers quarterback Monday during an interview with ESPN's Kenny Mayne, but at least it was recognized. Rodgers said he had no problems at all with quarterback Jordan Love. He also mentioned how much he's enjoyed his 16 years with the team. He rattled off praise for nearly everyone in Green Bay but left out one particular group.
Aaron Rodgers missed OTAs for the first time in his career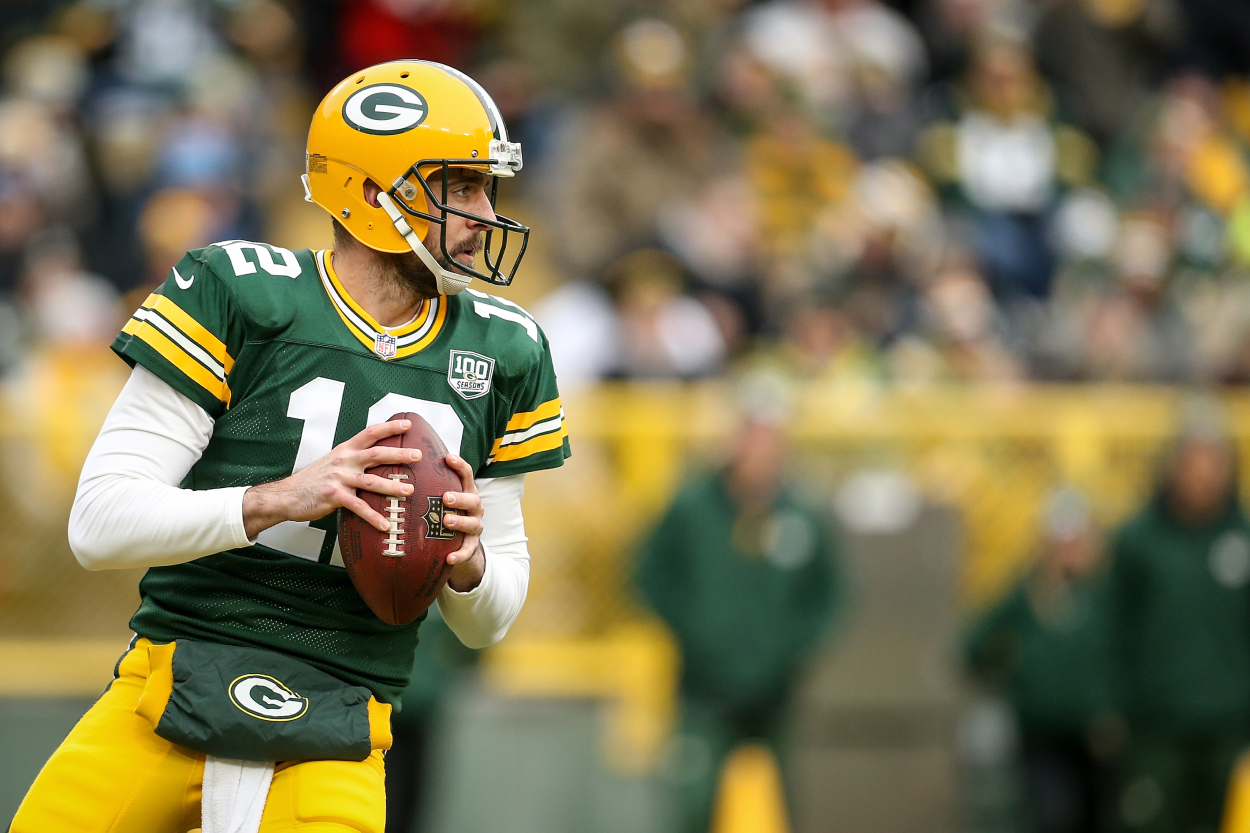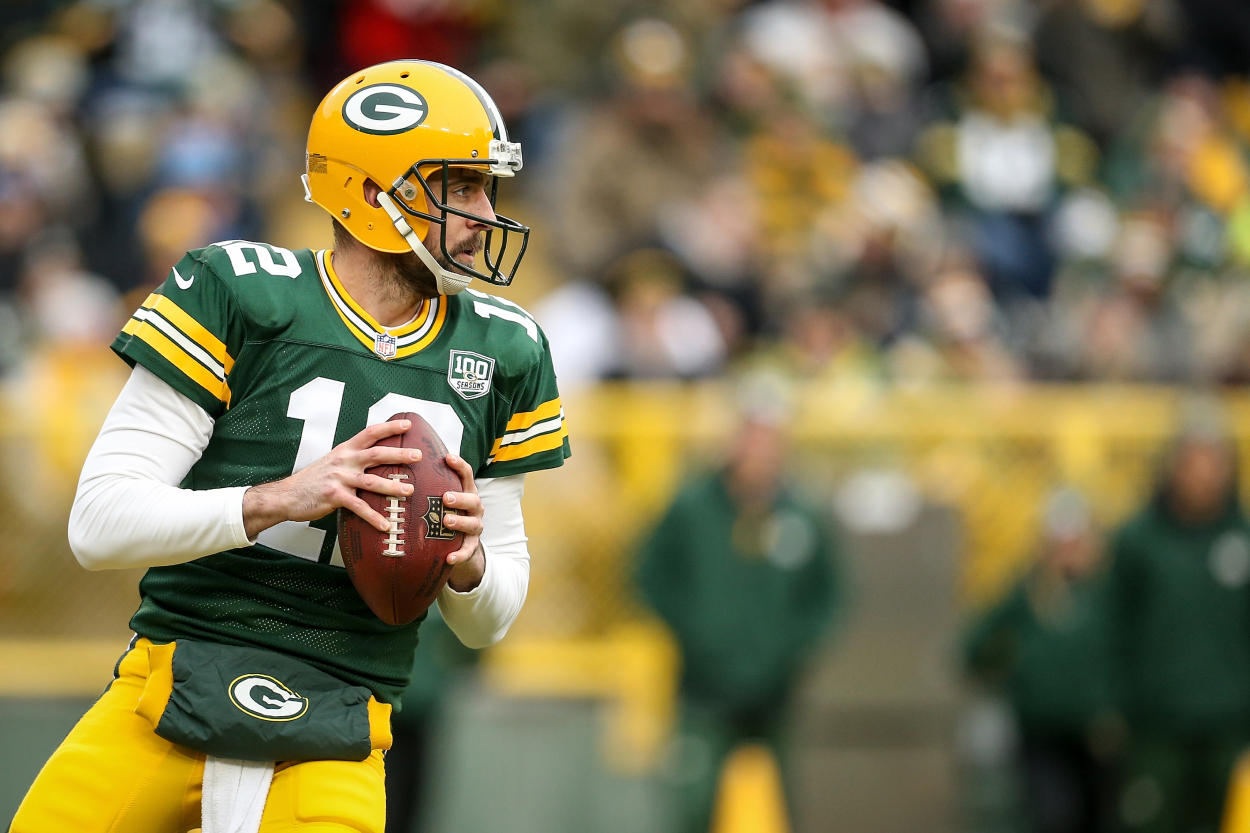 RELATED: The Green Bay Packers Haven't Botched a First-Round Pick Like This Since Taking Tony Mandarich
Rodgers was a no-show at Green Bay's organized team activity practices this week. The OTAs are voluntary, but he has always attended the sessions. Although he wasn't the only veteran to stay away, Rodgers' absence was a story because of his recent falling out with the team.
Rodgers and the Packers have been in the news since draft day when ESPN's Adam Schefter broke the news that the Packers quarterback was disgruntled. Schefter said the reigning MVP told some within the organization he did not want to return to the team. Since then, it's been drama and mystery for the Packers.
The falling out appears to have stemmed from the 2020 NFL draft when the Packers traded up in the first round to select quarterback Jordan Love. Rodgers was not aware the team was about to draft his eventual replacement. He still has three years remaining on his contract, but there is no more guaranteed money. That lack of security also appears to be playing a major part in the drama.
Aaron Rodgers insists he has no problem with Jordan Love
RELATED: Aaron Rodgers Could Cost the Green Bay Packers Millions of Dollars They Don't Have to Spend in Addition to Ruining their Super Bowl Chances
Rodgers may have an issue with the way the Packers went about that 2020 draft, but he made it clear there is nothing personal with Love. He mentioned Love during the interview with Mayne, saying he enjoyed working with him.
"With my situation, look, it's never been about the draft pick, picking Jordan," Rodgers said. "I love Jordan. He's a great kid. (We've had) a lot of fun to work together."
Love, who has kept quiet throughout the ordeal, never saw the field in his rookie season.  Most of that was by choice as the team wants to take time to develop him. The other part was that Rodgers went on to capture his third MVP. Love wasn't even the No. 2 quarterback on the roster. He never dressed for the 18 games the Packers played.
Rodgers dishes out praise but neglects to mention front office
Mayne did ask Rodgers if he we was demanding a trade, but the quarterback brushed the question off to the side. He then spoke about Love and spoke about how much he loved being in Green Bay. "I love the coaching staff, love my teammates, love the fan base in Green Bay," he said in the ESPN interview. '(It's been) an incredible 16 years."
While he never mentioned GM Brian Gutekunst and the front office, it appears he subtly was addressing them. "It's just kind of about a philosophy and maybe forgetting that it is about the people that make the thing go," he said. "It's about character, it's about culture, it's about doing things the right way.
"A lot of this was put in motion last year and the wrench was just kind of thrown into it when I won MVP and played the way I played last year. This (situation) is just kind of, I think, a spill-out of all that."
He stressed that it was people who make up an organization. "I think sometimes people forget what really makes an organization. History is important — the legacy of so many people who've come before you. But the people, that's the most important thing. People make an organization. People make a business. And sometimes, that gets forgotten."