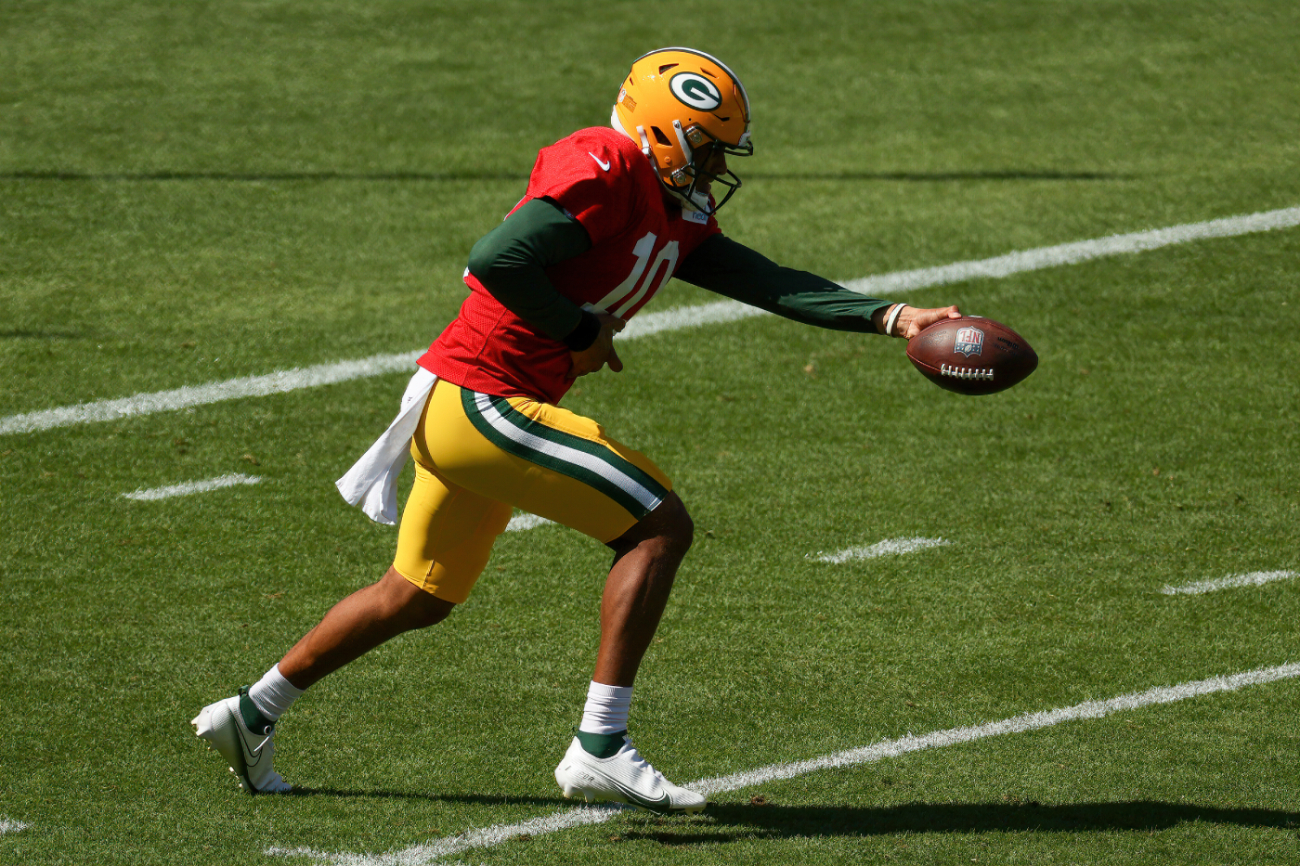 As Jordan Love Takes a Lot of Heat, a Green Bay Packers Legend Comes to His Defense
As Green Bay's rookie quarterback Jordan Love gets criticized for his early play, a Packers legend comes to his defense.
It's extremely early in Jordan Love's professional football career and he's already being heavily criticized. Through no fault of his own, Love was the subject of a heated debate on draft day this year when the Green Bay Packers traded up to secure him in the first round. With Aaron Rodgers still playing at a high level, many questioned the Packers' choice. Love has struggled during the early part of camp and had been taking some heat. One Green Bay Packers legend couldn't take the negativity anymore and came to his defense on Friday.
The Packers' selection of Jordan Love was a surprise
The Green Bay Packers were fresh off a season where they reached the NFC title game. They were just one game from the Super Bowl and had their future Hall-of-Fame quarterback Aaron Rodgers still playing at a very high level. On draft night, the team shocked most of the sports world when they traded up to select Utah State quarterback Jordan Love.
Love is a very athletic quarterback with good size and a strong arm. He's also raw and won't likely see the field for at least a couple of years if Rodgers remains healthy. The pick was questionable at best and it even surprised Rodgers.
"When they traded up, I definitely perked up a little bit," Rodgers said, according to The New York Post. "And then I got a text – because everything is so delayed. I got a text from my agent, my marketing agent who I love and he just texted 'quarterback.' I was like, 'Oh, wow. OK.'"
Love has been struggling at camp
According to ESPN, Jordan Love has been very indecisive during camp. It's still all new to Love as he's had less than two weeks to work out with the guys. Head coach Matt LaFleur said Love has to gain more confidence and his struggles are stemming from his indecisiveness.
"I just told him, 'Hey, you can't play hesitant; you can't play tentative,'" LaFleur said Tuesday. "We tell the quarterbacks, 'Indecisive equals ineffective.' I know there's a lot going through his mind right now, but sometimes you've just got to shut it off and let your instincts take over and really go out and rip the ball. That's kind of the challenge to him right now."
One offensive assistant with another team, according to ESPN, said it sounds like he's thinking too much. "That tells me he's thinking too much and he's struggling to find a rhythm," he said. "Every position's timing is just not the same right now. You can't panic over this, it's not fair.
LeRoy Butler comes to Love's defense
Former Green Bay Packers safety LeRoy Butler, a four-time Pro Bowler who spent all 12 of his seasons in Green Bay, came to Love's defense. Butler is considered a legend with the Packers not only for his play but because he's credited for inventing the Lambeau Leap. Butler took to Twitter on Friday to come to the aid of Love.
"I'm shocked and surprised people are giving @jordan3love so much negative coverage," Butler tweeted. "WELP NO YOUNG QB HAS HAD TO PREPARE IN A PANDEMIC!!,NO MINI CAMPS,THROWING DIFFERENT FOOTBALL THAN COLLEGE,NO PRE SEASON GAMES,LEARN NEW PLAYBOOK VIRTUALLY, GET CHEMISTRY WITH NEW WRs."
Butler's right. Love can't be expected to jump right in and be a star. But when a team trades up for you to eventually replace a legend, the stakes are much higher.