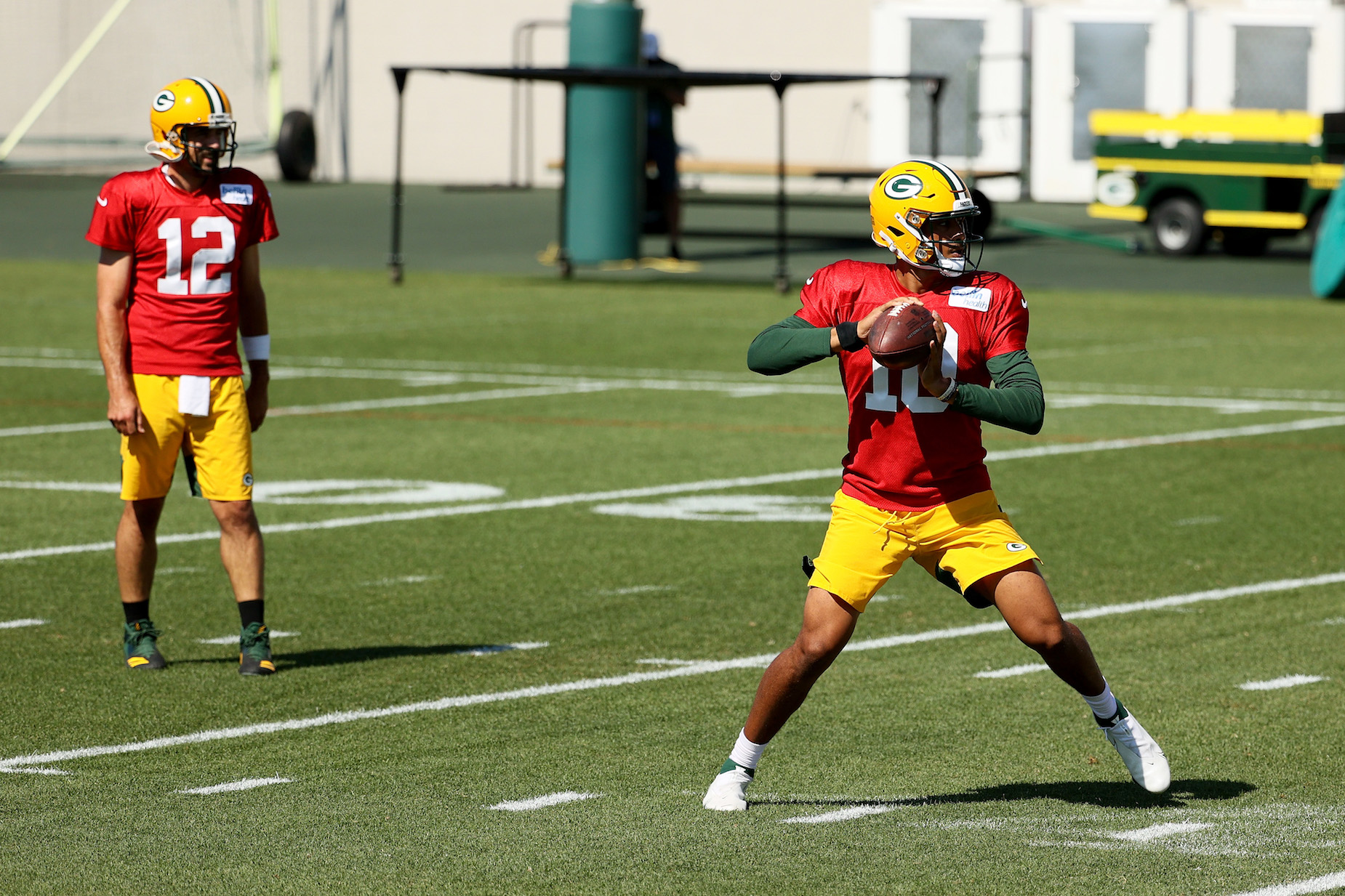 Jordan Love Isn't Even the Second-Best Quarterback in Packers Camp Right Now, Let Alone Aaron Rogers' Replacement
When the Green Bay Packers drafted Jordan Love, some thought Aaron Rodgers' days were numbered. Now, the rookie might not even be the backup QB.
Ever since he replaced Brett Favre under center, Aaron Rodgers has been the main man in Green Bay. That reality explains why fans were so shocked when the Packers selected a new quarterback, Jordan Love, in the first round of the 2020 NFL draft. While that led to speculation that Rodgers' time in Wisconsin could be coming to an immediate end, it looks like that won't be the case.
Although Jordan Love will probably replace Aaron Rodgers at some point down the line, the incumbent's job doesn't seem to be in any pressing danger. As of now, the rookie isn't even the second-best quarterback on the Packers' roster.
Drafting Jordan Love seemed to put Aaron Rodgers on the clock
In the world of sports, certain positions, like goaltender and quarterback, and only have one starter at a time. That caused fans to stand up and take notice when the Green Bay Packers drafted Jordan Love, presumably as a replacement for Aaron Rodgers.
In case you need a quick refresher, the Packers traded up to select Love, a quarterback out of Utah State, late in the first round of the 2020 NFL draft. That move seemed to put Rodgers on the hot seat; you don't trade up to select any player, let alone a quarterback, and fully guarantee his contract if you don't feel strongly about their potential.
Rodgers' comments only added more fuel to the 'quarterback controversy' fire. While the veteran signal-caller said all the right things, he also made it clear that he wasn't expecting the Packers to select his successor on draft night.
"I think the general reaction at first was surprise, like many people," Rodgers explained. "Obviously I'm not going to say that I was, you know, thrilled by the pick necessarily, but the organization is thinking not only about the present but about the future. And I respect that.''
Jordan Love might not even be the Green Bay Packers backup in 2020
Even after the Packers traded up to select Jordan Love, few fans, if any, expected the rookie to challenge for Aaron Rodgers' job immediately. Now, it seems like he might not even be the backup quarterback when the 2020 season begins.
In his recent post about training camp winners and losers, NFL.com's Gregg Rosenthal placed Love in the latter category. "It's not that Love has done anything wrong in camp," he explained. "It's just that he's not the second-best quarterback. Tim Boyle, who flashed in the preseason last year, showed up to camp with a full understanding of Matt LaFleur's offense."
That meshes well with what LaFleur himself has previously said about Jordan Love.
"He's very natural," the second-year coach said earlier in August, as documented on NFL.com. "There's a lot to clean up right now. He's a young quarterback that is learning a new system, and just how specific we are with the footwork. I think that takes time. But I am pleased at how he attacks it on a daily basis. I think he's a really intelligent kid. And he's very athletic. So, I think it's a matter of time before he can pick up the mechanics. But, our challenge to him each and everyday, is just you gotta get that one percent better."
Ultimately, the Green Bay Packers are getting exactly what they want
While stories from either extreme—Jordan Love immediately replacing Aaron Rodgers or being a complete bust—will make better headlines, the Green Bay Packers won't lose any sweat about their current quarterback situation. If anything, it's probably exactly how they drew it up.
Due to financial reasons, if nothing else, Rodgers isn't going anywhere right away; that gives Love, who, by all accounts, is a raw prospect, time to develop. If development is the ultimate goal, there's no need to rush him into the backup quarterback role.
The unusual nature of the 2020 campaign also adds another wrinkle to Love's situation. Without preseason games, his learning experiences will be limited to the practice field; given that reality, it's not unreasonable to want a more seasoned backup so that, in the event of an Aaron Rodgers injury, the fate of the team doesn't fall on a 21-year-old's shoulders.
At this point, there's no reason to believe that Jordan Love won't be the future of the Green Bay Packers franchise. Just don't expect to see him in action anytime soon.