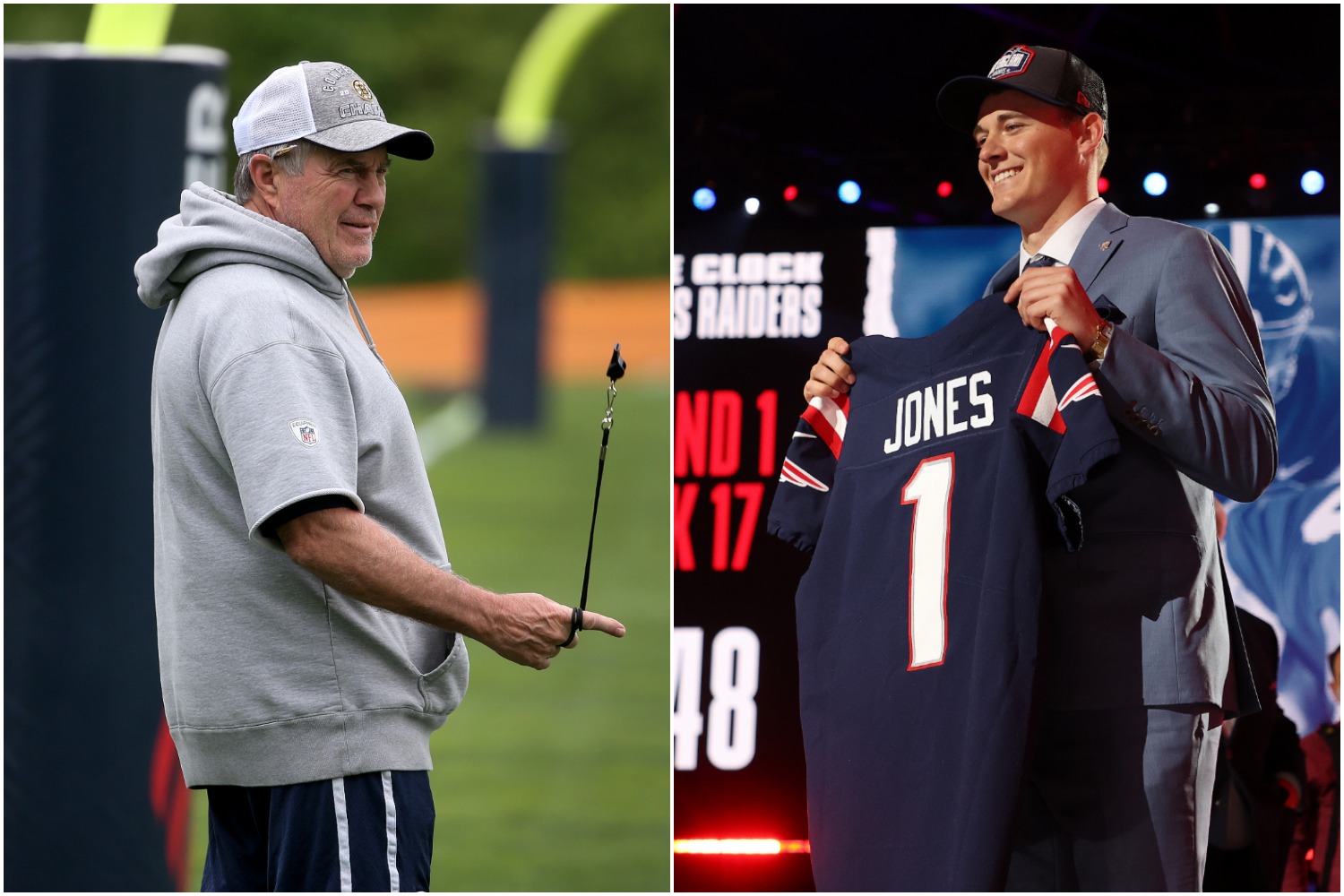 Mac Jones Has Already Earned Bill Belichick's Respect by Pulling a Page Out of Tom Brady's Playbook
Bill Belichick already admitted Mac Jones earned his respect. Will the rookie continue his strong start and win the Patriots' starting quarterback job over Cam Newton?
Tom Brady may have entered the league as a sixth-round pick, but it didn't take long to see the New England Patriots stumbled upon something special in the 2000 NFL draft.
Still, it took a rather large leap of faith by Bill Belichick to send Drew Bledsoe to the bench in favor of a younger, unproven version of TB12.
While Mac Jones has much to prove before he can officially be anointed Brady's true heir, the rookie quarterback has already earned the respect of the person who matters most in New England. And by pulling a page out of the GOAT's playbook, Jones has put himself on a path that could lead to a tough conversation between Belichick and Cam Newton.
The Patriots hope they found Tom Brady's successor in the 2021 NFL draft
Out of all the potential first-round quarterbacks in the 2021 NFL draft, none profiled as a more picture-perfect fit for the Patriots than Jones. Highly regarded for his intelligence, accuracy, and ability to read defenses, the All-American signal-caller seemed like the ideal player to run Josh McDaniels' system.
In fact, Jones generated pre-draft comparisons to Brady because of his pro-style skill set and demeanor on the field. Plus, it's hard not to see shades of TB12 when watching Jones' college game film.
Luckily for Belichick, he didn't have to make a single move up the board to fill the Patriots' most glaring roster hole. After getting passed over by 14 teams, Jones' draft-day slide ended when New England made him the 15th player taken in the first round.
Securing a potential franchise quarterback without having to give up draft capital represented a major win for Belichick and the front office. However, considering Jones was the fifth quarterback selected, he obviously comes with question marks. But based on his production in college, his mental makeup, and his arm talent, the 22-year-old looks like a strong candidate to fill the void left by Brady when he took his talents to Tampa after the 2019 season.
Mac Jones has already earned Belichick's respect by pulling a page out of the TB12 playbook
Since the Patriots selected Jones, Belichick has largely shied away from showering the rookie with any public praise. A week ago, he barely mentioned the team's top pick when discussing New England's quarterback situation.
"Mac dove into the playbook and continues to do that, like everybody out there," Belichick said during a pre-practice media session. "We all have a lot of things we've got to work on. That includes everybody. So that's what he's doing. That's what everybody's doing."
However, he struck an entirely different tone when talking about Jones on Friday.
"He's working hard; he puts in a lot of time," Belichick said during a videoconference with reporters. "Certainly giving his very best effort to do everything we've asked him to do and do it the way we've asked him to do it, which is a great place to start. He's earned a lot of respect for that."
While Belichick also said Jones "has a long way to go," the fact he openly acknowledged the rookie has earned respect for his work ethic and effort stands out. After all, that's exactly how Brady worked his way up the depth chart two decades ago. He became known for showing up early, staying late, and doing everything possible to prepare himself for a more prominent role. That type of dedication and commitment to his craft put Brady in a position to earn Belichick's trust, and most importantly, the Patriots' starting quarterback job.
By taking the same approach, Jones clearly understands the importance of preparation. And the fact he's earned Belichick's respect suggests all the pre-draft chatter about his maturity and character were spot-on. But just because Jones has some of the same qualities as Brady doesn't mean he's a lock to start right away.
Does Jones have a legitimate shot at beating out Cam Newton for the starting job?
This summer promises to be an exciting one for Patriots fans. With the starting quarterback job up for grabs, it will be critical for Jones to continue building on a strong start to his NFL career. If he picks up the Patriots' playbook quickly, it's hard to imagine him not outshining Newton as a passer. And if Jones proves more capable of leading the offense, Belichick shouldn't stick with the veteran simply out of principle.
Thanks to an expensive free-agent shopping spree, New England has a Super Bowl-caliber roster. With Nelson Agholor, Kendrick Bourne, Jonnu Smith, and Hunter Henry in the mix, the Patriots have legitimate weapons on offense. Plus, the defense boasts top-five potential with the additions of Matthew Judon, Kyle Van Noy, and Davon Godchaux. In reality, that puts New England in "win-now" mode.
So if Jones steps up over the next few months, the Patriots need to go all-in on 2021 and make him their starter.
After all, benching an underperforming veteran for a young up-and-comer worked out pretty well for Belichick 20 years ago.