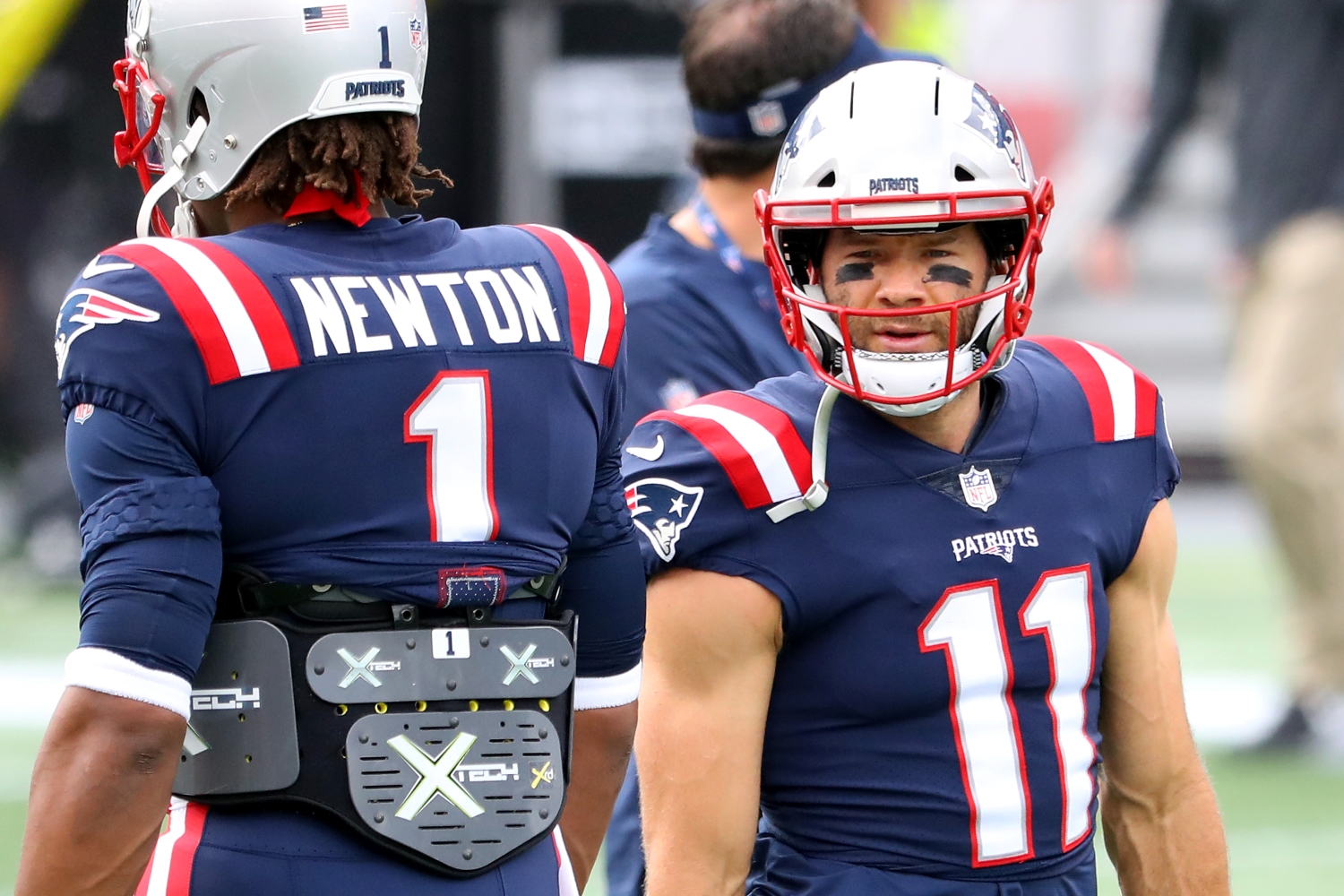 Cam Newton Should Be Highly Motivated by Julian Edelman's Comments About Mac Jones and the Patriots' Starting Quarterback Battle
Mac Jones may be a rookie, but it sure sounds like Julian Edelman expects the Patriots' top draft pick to challenge Cam Newton for the starting job.
It's no secret Cam Newton struggled in his first season with the New England Patriots. However, he routinely got praised by Bill Belichick and others for his strong work ethic and leadership. That may have bought him some cache in the locker room, but he has to step up in a big way in his second year with the team.
After all, he can't afford to have a bad summer now that Mac Jones is a Patriot.
As if he needed any reminder of the pressure on his shoulders, Newton received a friendly nudge from Julian Edelman during a recent podcast appearance.
The Patriots have a crowded quarterback room at the moment
The Patriots entered the offseason with Jarrett Stidham as the only quarterback under contract. Considering he didn't earn a single start in 2020, that did little to make fans feel optimistic about the future of the most important position on the field.
So how did Belichick respond?
By bringing back Newton, of course.
Despite showing frustrating displays of inaccuracy and an inability to diagnose defenses quickly, the veteran still received another contract from the Patriots. However, Belichick made sure to tie the majority of Newton's money to incentives based on snap percentages and performance goals. If the former Carolina Panthers star rediscovers his vintage form, New England will gladly pay him millions. Otherwise, Robert Kraft won't have to dig deep into his pockets to compensate Newton.
The Patriots finally brought in some fresh blood via the 2021 NFL draft. And if all goes to plan, Jones will become the face of the franchise in the not-so-distant future. He put himself in the first-round conversation by completing 77.4% of his passes for 4,500 yards and 41 touchdowns in his final season at Alabama. Oh, he also led the Crimson Tide to a national title.
To little surprise, Belichick brought back a familiar face to help tutor Jones.
By re-signing Brian Hoyer to a one-year contract, the Patriots now have an ideal mentor for the exciting rookie. They should enter training camp with four quarterbacks, all of whom have questions to answer.
Cam Newton should be highly motivated by Julian Edelman's comments about Mac Jones and the battle for the starting job in New England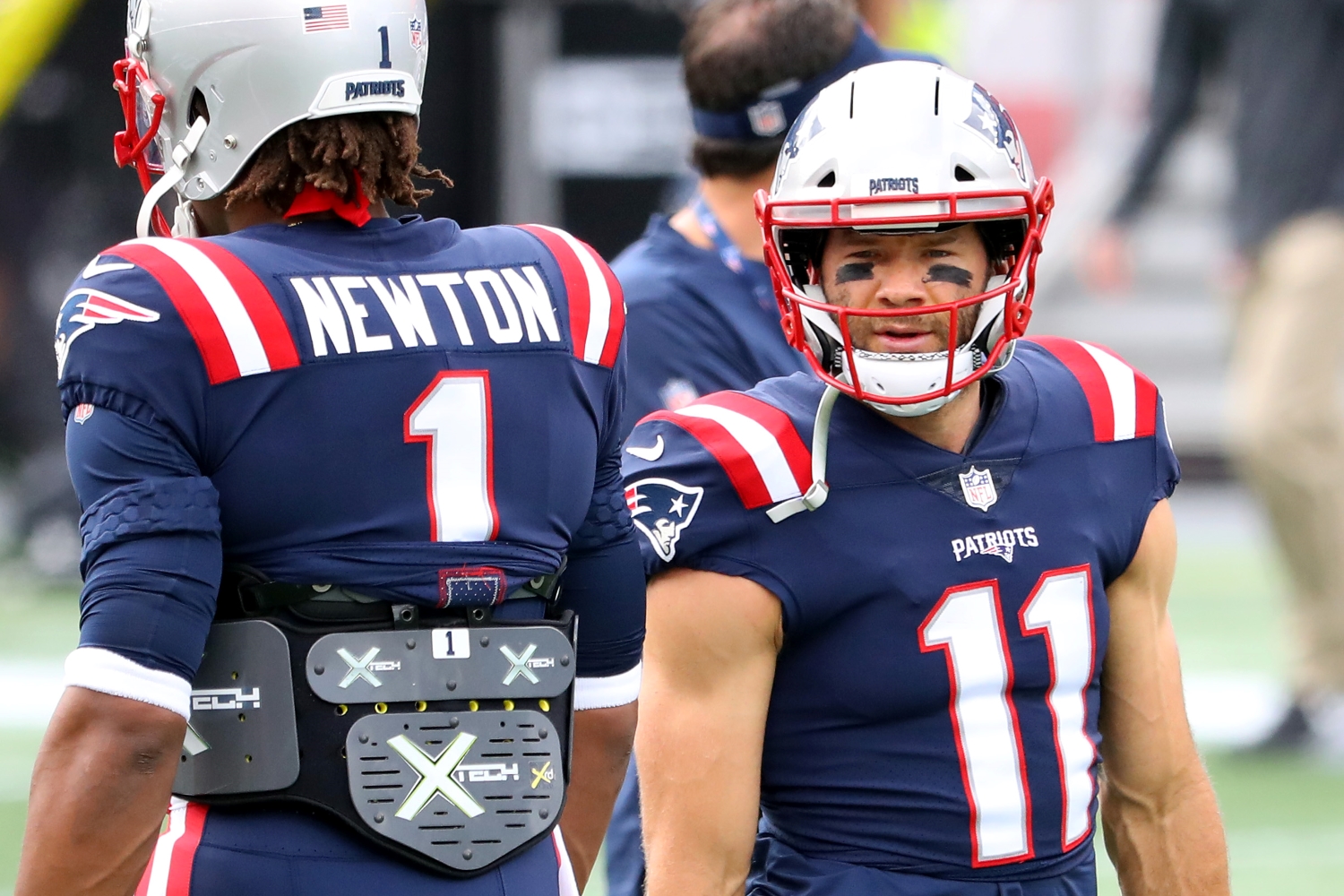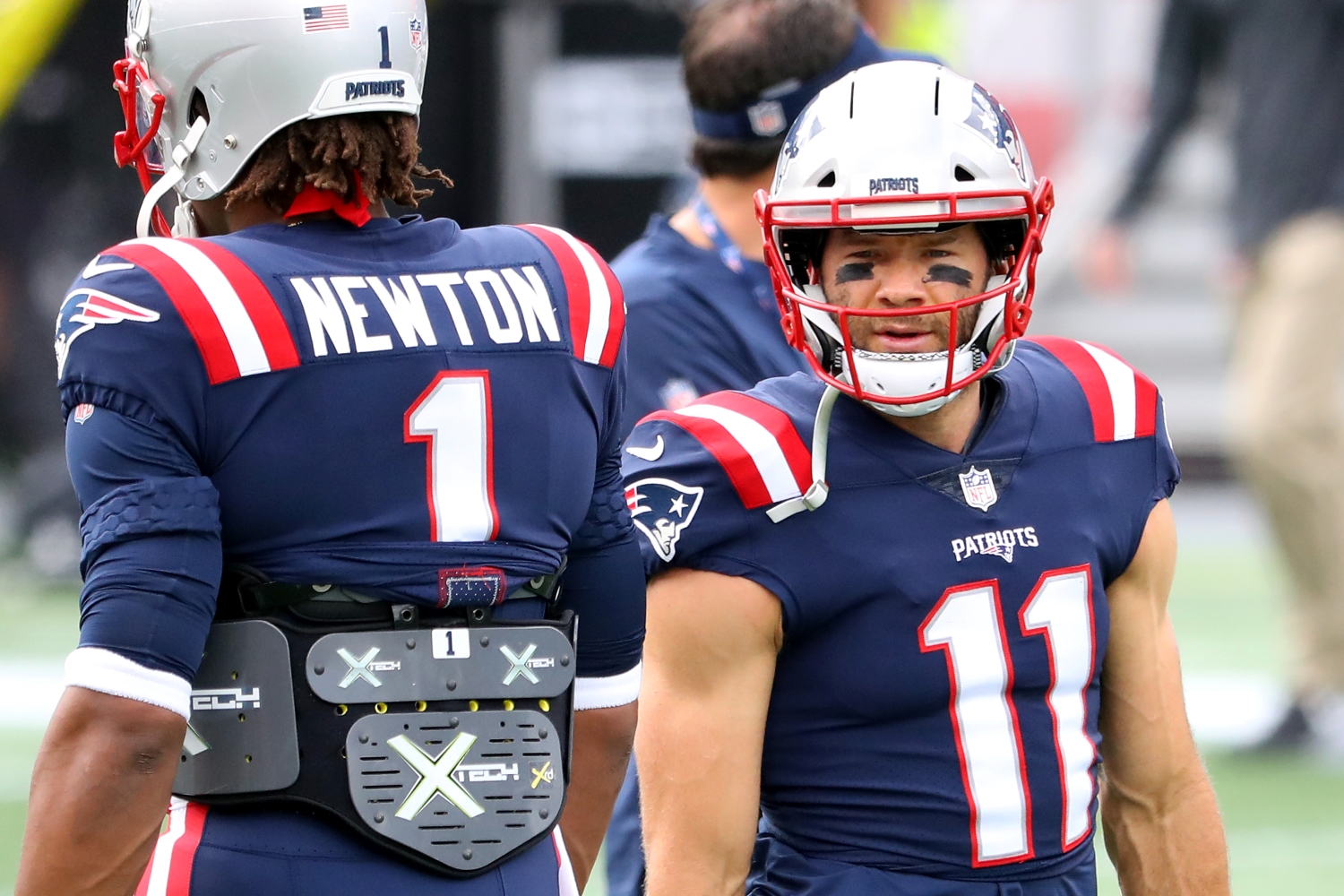 As someone with intimate knowledge of how things work in New England, Edelman's outlook on the Patriots' quarterback situation should be taken seriously. After all, he understands the importance of having to prove yourself to Belichick to earn a role within the team.
So even though he spent last season (or part of it, at least) catching passes from Newton, the retired wideout stayed fairly objective when discussing what lies ahead this summer on The Michael Irvin Podcast.
"Cam works hard. Now we've got to see if he can work smart in the right areas, and if he does that, he's going to give himself an opportunity to do well," Edelman explained.
However, Newton won't be too pleased with what his former teammate said about the player vying for his job. Reading between the lines, it sure sounds like Edelman expects big things from Jones.
"But he's also going to have to beat out the young gun," the 35-year-old said. "Because the young guy is there—little Mac Attack. This kid, that's a first-round draft pick. That's, like, a real first-round draft pick."
As if that didn't put things in perspective, Edelman took it a step further by highlighting the stark difference to Belichick's draft approach this year.
"We usually have the 28th pick or something; we're getting a defensive player. That's how Bill builds a team," he explained. "But if you come in and you're a quarterback drafted by Bill Belichick, I mean, let's go, buddy."
Don't sleep on Newton beating out the rookie
Will Belichick stick by Newton? Or will Jones impress the Patriots enough this summer to win the job outright?
It certainly will be interesting to watch how New England's starting quarterback battle shakes out. If Newton struggles to make plays in the passing game on a consistent basis with an upgraded cast of weapons, Belichick shouldn't hesitate to pull the plug. The team has enough talent to compete for a Super Bowl title this season, so it would be silly to continue rolling with the veteran if he can't execute the offense.
However, Newton should have ample motivation to make Patriots fans forget about his uninspiring 2020 campaign. Not only does he have a rookie nipping at his heels but he also has millions of dollars on the line. With only $3.5 million guaranteed in his contract, he quite literally has to stay on the field (and play well) to maximize his payday.
Newton's strong work ethic—which Edelman attested to—clearly won people over. But if he needs more inspiration to prove his doubters wrong, he shouldn't forget the wideout's words about having to "work smart in the right areas" and "beat out the young gun." After all, those remarks didn't exactly strike an optimistic tone about Newton's abilities or future in New England.
At the end of the day, Belichick will have to decide whether Newton deserves to open the 2021 season as New England's starting quarterback.
The next few months should sure be interesting up in Foxborough.
All statistics courtesy of Sports Reference and Pro Football Reference.