New England Patriots Add Another QB, Re-signing Tom Brady's Old Backup
New England Patriots coach and GM Bill Belichick likes players he's comfortable with.
The six-time Super Bowl head coach has a history of letting players go and bringing them back again when needed. Deion Branch, Aqib Talib, LeGarrette Blount, and Jamie Collins all have played for the Patriots in separate stretches.
Quarterback Brian Hoyer, who started his career as Tom Brady's backup, will return to the Patriots for a fourth stint and seventh season overall.
His arrival makes the team's quarterback room even more crowded than it already was.
Brian Hoyer has spent six seasons in New England in four different stints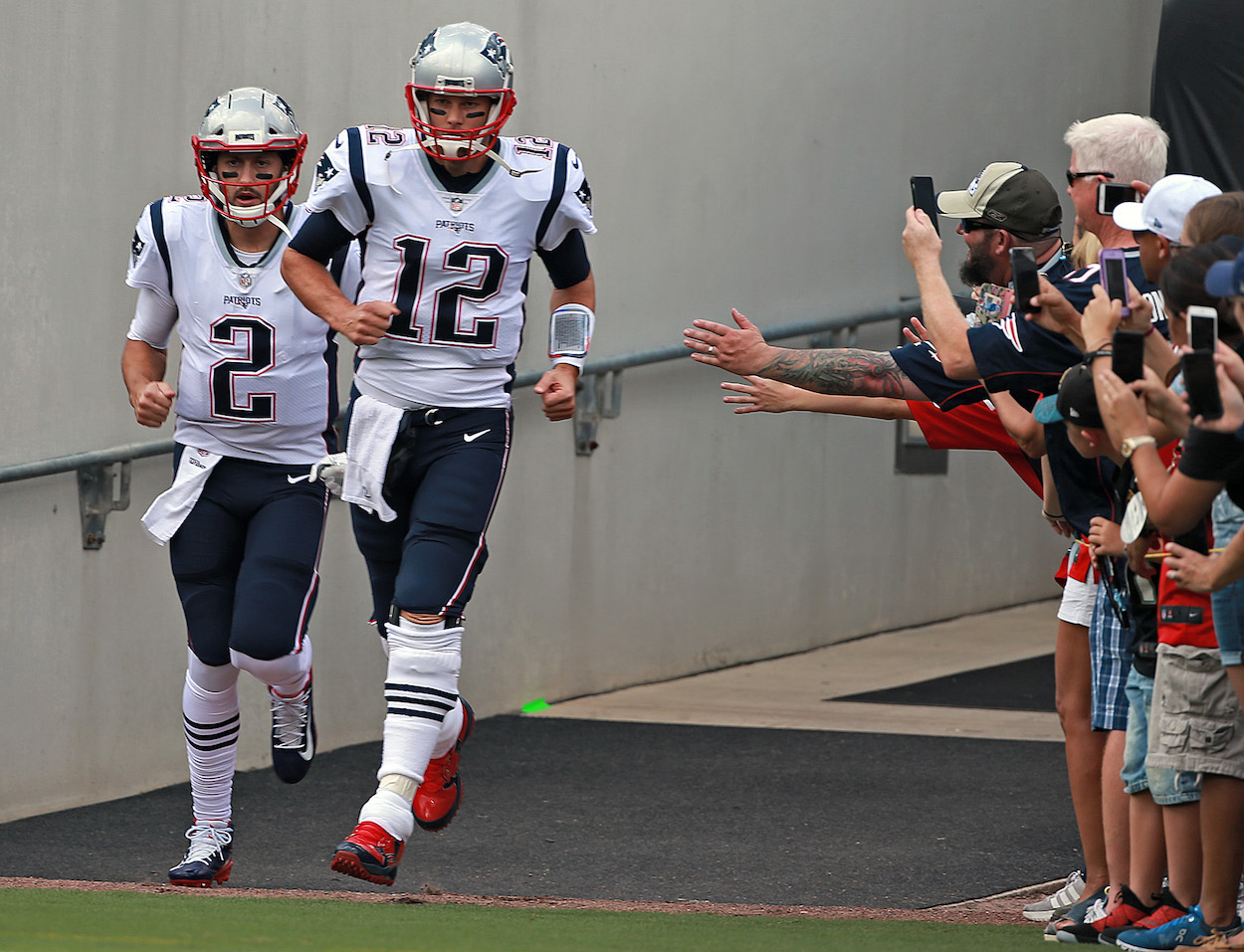 Hoyer, now 35, went undrafted in the 2009 NFL draft after starting games all four years at Michigan State. Following the draft, the quarterback quickly signed with the New England Patriots. In his first three seasons in New England, he served as Tom Brady's primary backup.
The team released Hoyer a season after drafting Arkansas quarterback Ryan Mallett. Hoyer spent time after his release with the Arizona Cardinals, Cleveland Browns, Houston Texans, and Chicago Bears.
Hoyer returned to Belichick and the Pats in 2017 before the coach cut him and he signed with the San Francisco 49ers. He came back again for 2018 before playing with the Indianapolis Colts in 2019. In 2020, Hoyer signed with the Pats for the fourth time. 
All told, Hoyer's career with the Patriots encompasses 24 appearances, one start, 465 passing yards, a touchdown, and two interceptions.
New England has a crowded quarterback room now
The Patriots started the offseason with two quarterbacks, Cam Newton and Jarrett Stidham. That number has since doubled with the addition of Hoyer and first-round draft pick, Alabama quarterback Mac Jones.
Unless Stidham moves to the practice squad, which is unlikely, there will be an odd man out when the 2021 season begins. Jones will be on the roster, but there is no guarantee for the others.
Newton is the presumed started, but on a one-year deal. If Jones outperforms him in training camp and secures the job, he could be gone. The most likely scenario is that Hoyer and Stidham fight it out for the No. 3 role, and the loser gets cut.
The real story is the QB battle between Cam Newton and Mac Jones
The Hoyer/Stidham battle will be fun to watch for hardcore Patriot heads, but most fans won't care all that much. What is of interest to a broader range of fans is how the Newton/Jones competition shakes out.
Most teams like to have a veteran in place when they draft a quarterback high. This is precisely what Belichick acomplished when he re-signed Newton for another year before selecting Jones. If Jones wins the starting job convincingly, it could be bad for Newton.
However, what is more likely is that Newton starts the season, and Jones comes in as the weeks progress.
One interesting note is that New England faces three of the top 2020 pass defenses in the first four weeks of 2021. After that, their next eight games are against teams that finished in the bottom half of the league in this category last season.
If you're interested in (or even betting on) when Jones may replace Newton, Week 5 at Houston or Week 6 home against Dallas are good ones to circle.
All stats courtesy of Pro Football Reference