Robert Kraft Makes His Stance Clear on Tom Brady's Return to New England and the Patriots' Starting Quarterback Battle
Robert Kraft treated Tom Brady differently than any other player who's ever worn a New England Patriots uniform. Then again, when your starting quarterback leads your franchise to six Super Bowl titles in an 18-year span, it's easy to understand why. Even though TB12 now resides in Tampa, he can still count on one fan rooting for him back in New England.
With the Buccaneers coming to Gillette Stadium in Week 4, Kraft shared his thoughts on Brady's return to Foxborough. Plus, the longtime NFL owner also touched upon a subject that will surely generate plenty of buzz throughout the summer: Who should start at quarterback for the Patriots?
New England fans have a few new reasons to look forward to the 2021 season
The Patriots simply didn't do many things well in 2019. A Cam Newton-led offense struggled to move the ball and score points on a consistent basis. On the other side of the ball, an undersized front seven routinely got run over. And the absence of a consistent pass rush didn't give New England's talented secondary many chances to make plays on the ball.
However, Bill Belichick attacked the offseason with a vengeance to improve a roster that lacked high-impact players. By spending significant financial resources to sign established veterans, he filled critical holes at tight end, wide receiver, defensive line, and linebacker.
Fueled with optimism by the team's aggressive approach to free agency, Patriots fans got a much-needed confidence boost during the first round of the 2021 NFL draft when New England took Mac Jones with the 15th overall pick. Touted as an intelligent, accurate quarterback capable of reading defenses and making adjustments on the fly, the former Alabama star seemingly has all the tools to succeed at the pro level.
The future also got a little more exciting with the release of the 2021 season schedule. The Patriots will host the reigning Super Bowl champions in Week 4 in what should be one of the most highly anticipated games of the year.
Tom Brady still has Robert Kraft in his corner
The Kraft family owes at least a decent chunk of their financial success to the greatest quarterback of all time. After all, the Patriots had never tasted championship glory prior to Brady taking over as the team's full-time starter. His surprising ascent changed everything in New England.
While Belichick took a business-like approach with his relationship with his most important player, New England's owner treated Brady almost like a son. So it should be no surprise that Kraft showered the seven-time Super Bowl champion with praise when discussing his impending return to Foxborough.
"Excited to have him," the 79-year-old told TMZ Sports. "He's a great guy and he did so much for us. I love him."
As for the matchup itself? Kraft looks forward to the star-studded affair, but he won't get ahead of himself at this stage of the game.
"We should have a fun night! But, I'm excited for Week 1…and we play Miami," he said.
Kraft makes his stance clear on the Patriots' starting quarterback competition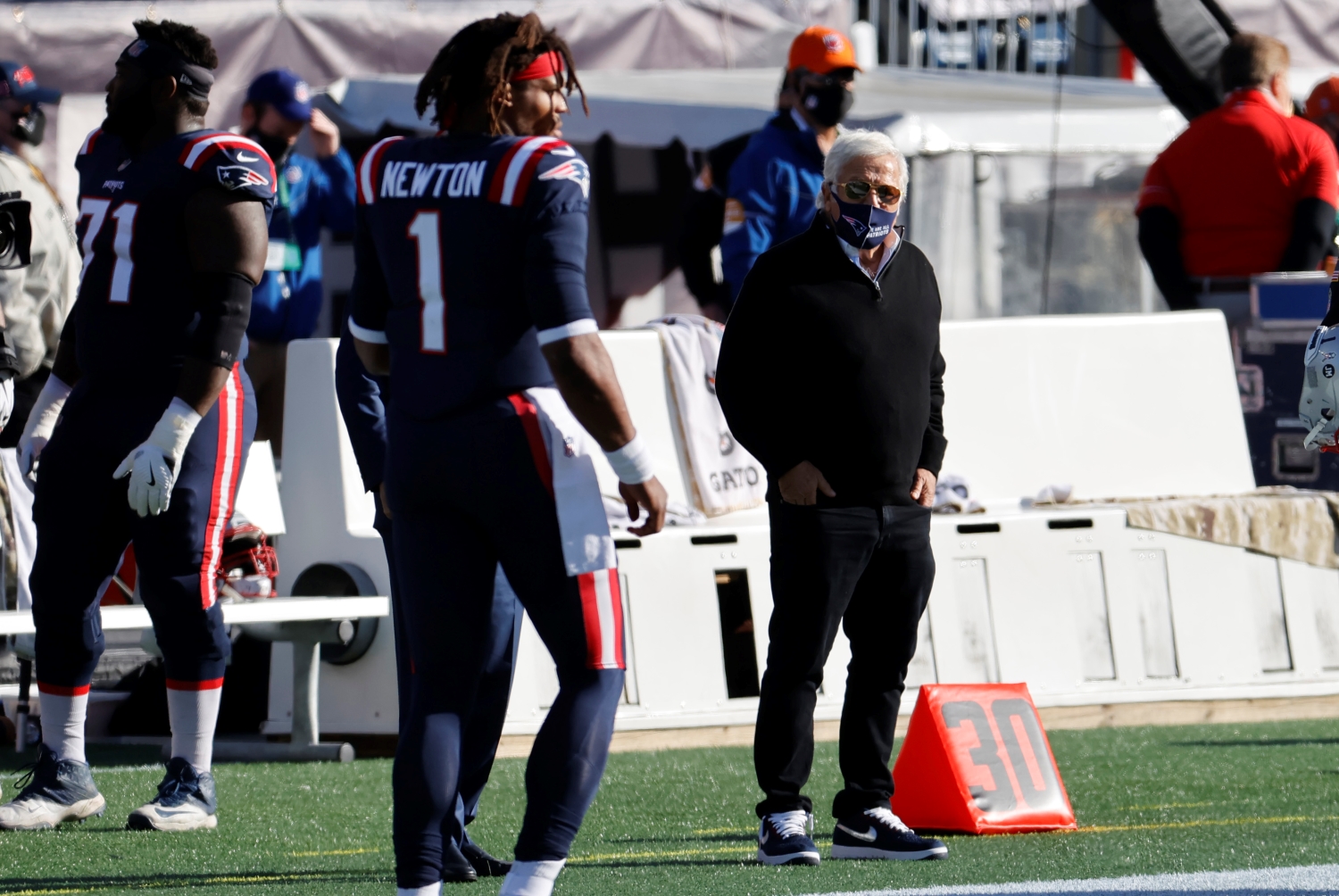 With Jones in the fold, the Patriots may have found the ultimate heir to Brady. Still, nobody knows exactly when (or if) he will take over for Newton. Belichick brought the veteran back on another one-year, incentive-laden deal, and he made it clear Newton still remains New England's starter.
Training camp should help answer any questions about which signal-caller deserves to start the year atop the depth chart. Just don't expect Kraft to get involved in the matter.
"We're excited to have [Mac Jones], but I'm excited to have Cam Newton, too," he told TMZ. "I pay Bill Belichick a lot of money. He can decide that."
It certainly will be interesting to see how both quarterbacks perform over the summer. If Jones lives up to his first-round billing, he should shine in an offense that added significant firepower this offseason. In that case, Belichick should move forward with the rookie.
After all, who doesn't want to see Brady vs. Jones at Gillette Stadium?
Like Sportscasting on Facebook. Follow us on Twitter @sportscasting19.