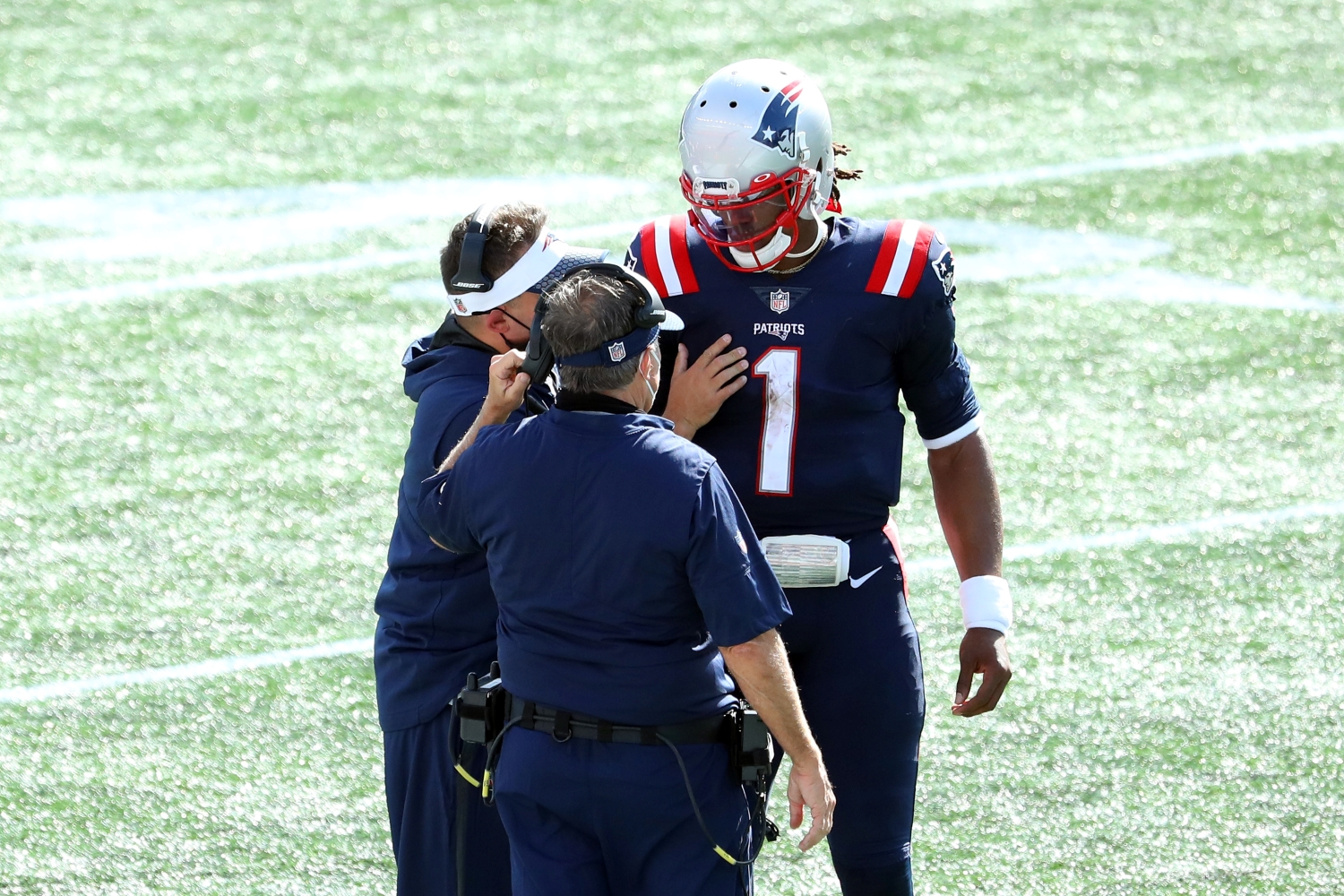 Bill Belichick Sends Clear Message About What Lies Ahead for Cam Newton and Mac Jones
Bill Belichick sent a clear message about what lies ahead for Cam Newton and the newest member of the New England Patriots, Mac Jones.
Bill Belichick finally secured the most valuable asset in football Thursday night. And it didn't cost him anything extra to do it.
In the end, the New England Patriots didn't need to make a move up the board to land the quarterback many pegged as a picture-perfect fit for Josh McDaniels' offense. Of course, Mac Jones joins a Patriots team that re-signed Cam Newton to another one-year, incentive-laden deal. So after betting big on the former Alabama star, Belichick sent a clear message about what lies ahead for the two quarterbacks.
The Patriots watched make Mac Jones fall right into their lap
Expected to go as high as No. 3 to the San Francisco 49ers, John Lynch and Kyle Shanahan went with Trey Lance instead of Jones. That set the stage for Belichick to land a potential star at a more-than-reasonable price. The board fell New England's way, and the team wasted little time turning in its pick.
That shouldn't have been a surprise given all the pre-draft discussion on Jones. Earning top marks for his intelligence, accuracy, and leadership, he looked like the ideal candidate to land with the Patriots. Plus, he surely got a firm stamp of approval from Belichick's trusted confidant, Nick Saban. In many ways, the Jones pick seemed destined to happen.
Based on his game film, he has the opportunity to shine in New England's system. And it definitely helps that Belichick went on an expensive shopping spree to bring in Jonnu Smith, Hunter Henry, Nelson Agholor, and Kendrick Bourne to bolster the passing attack. If Jones lives up to his first-round billing, the Patriots can quickly rise back to the top of the AFC East.
Bill Belichick sends a clear message about what lies ahead for Cam Newton and his newest teammate
Belichick's decision to use the 15th overall pick on a quarterback sent a clear message that change is coming in Foxborough. But that doesn't necessarily mean Patriots fans should expect to see Jones line up under center in Week 1. It's also not totally out of the picture for the rookie to make an appearance at some point.
With speculation already starting about what Jones' arrival means for Newton's own future, Belichick discussed the quarterback situation in his post-draft press conference.
"Cam's our quarterback," he said. "Whatever time Jarrett or Mac are ready to challenge and compete, we'll see how that goes. But right now for Mac, he's just got a lot of learning in front of him. I know he's very anxious to get going and get started on it."
While Belichick made it clear Newton is still the team's starting quarterback, the veteran can't afford a repeat of his 2020 season if he hopes to maintain his spot atop the depth chart.
Asked about how long he expects Newton to remain the starter, Belichick responded, "I don't know. Somebody will have to play better than he does."
Which quarterback will win the starting job in New England?
The battle for the Patriots' starting quarterback job will be fascinating to watch this summer. Will Jones step in right away and look like a seasoned pro? Or will the rookie show some struggles?
On the other hand, Newton has questions to answer, too. Can he take advantage of a new set of weapons? Or has he already fallen off the proverbial cliff?
If Jones plays well in training camp and preseason games, Belichick shouldn't hesitate to send Newton to the bench. The All-American quarterback has the physical and mental tools needed to run a system that places a heavy emphasis on diagnosing coverages, making adjustments, and getting the ball out on time accurately. And just like he did at Alabama, Jones will play behind an elite offensive line, which should make his job much easier.
However, Newton could surprise everyone and look like a different quarterback now that he has better players around him. In that case, Belichick will have a good problem on his hands.
Ultimately, though, Jones fits the system better and has way more upside. So as long as he doesn't stumble, he should rise to the top and prove he deserves the starting job.
Like Sportscasting on Facebook. Follow us on Twitter @sportscasting19.