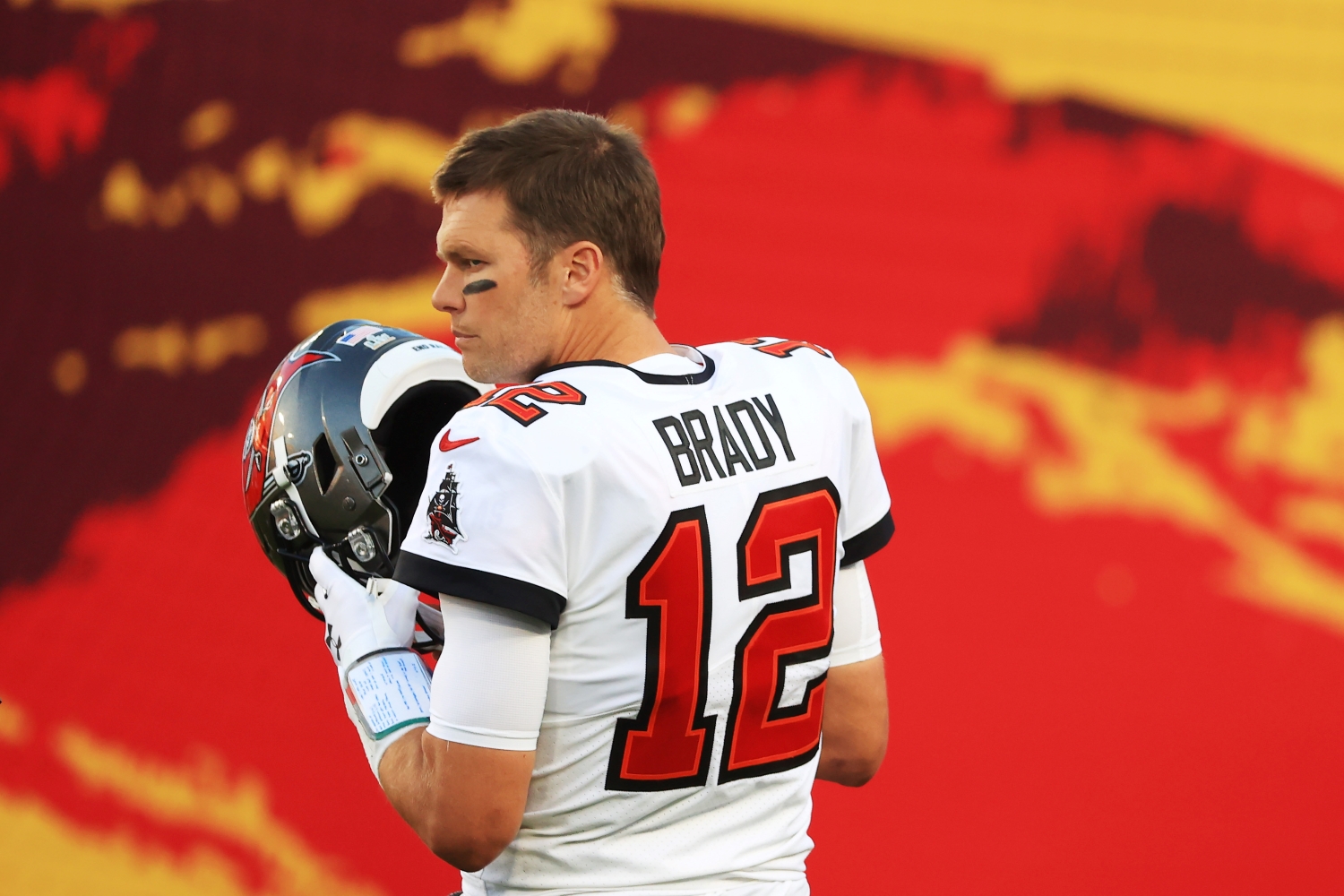 Tom Brady Rips NFL for 'Dumb' Decision That He Predicts Will 'Make for a Lot of Bad Football'
Tom Brady went off on social media about the NFL's latest rule change. But the only number he needs to worry about is getting ring No. 8.
Tom Brady has seen the NFL change in so many ways during the course of his legendary career. After all, the New England Patriots played such a physical style of defense that the league eventually shifted the rules to make life easier for receivers.
Although an increased emphasis on pass-interference penalties benefitted Brady in some key moments, the seven-time Super Bowl champion clearly has a problem with the NFL's latest rule change. And TB12 made sure to let everyone know about it on social media.
NFL players officially have more freedom with their jersey numbers
For years, NFL fans could easily identify players simply by looking at their jersey numbers. But that will change this season.
On Wednesday, league owners approved a series of new rules. While one directly benefitted coaches—replay officials now have the authority to consult with referees in certain situations—another went in the players' direction.
Kevin Seifert of ESPN reported the league will relax the rules for the numbers players can wear due to expanded practice squads. Running backs, tight ends, receivers, defensive backs, and linebackers can don a single-digit number. The move gives a select group of players the opportunity to completely change their image. In some cases, players can even go back to wearing the number they did in college.
But in order to switch their jersey number for the 2021 season, players will have to follow a preexisting league rule that stipulates they must purchase the remaining inventory of the NFL's manufacturing partners. Seifert reported this wouldn't apply to players who provide notice this season about a change for the 2022 campaign.
Tom Brady blasts the NFL about the new uniform policy
While some of his teammates might be excited about the chance to change their look, Tom Brady has an entirely different outlook on the NFL's latest rule change. And the 43-year-old quarterback showed no hesitation in airing his frustration about a policy change that does have on-field ramifications.
Brady posted an image on his Instagram story of the approved jersey numbers players can wear, and he made sure to include his thoughts about how the rule change will affect what goes on between the hashes.
"Good luck trying to block the right people now! Going to make for a lot of bad football!"
His caption sounds light-heartedly on the surface, but Brady raised a valid point about the impact of the new jersey number policy. Offensive linemen could get mixed up trying to identify who to block now that both teammates and opponents can wear new numbers as soon as this season. And a pocket passer like Brady certainly can't afford any protection issues.
Brady then tagged the NFL and NFL Players Association in a second Instagram post about the rule change in which he wrote "DUMB" and "What not let the lineman wear whatever they want too? Why have numbers? Just colored jerseys…why not wear the same number?…DUMB."
There's only one number Tom Brady needs to worry about
Tom Brady clearly doesn't approve of the NFL relaxing its rules about what numbers players can wear. However, even if it is an inconvenience, the only number he should focus on is eight.
By winning a Super Bowl title in his first season outside of New England, Brady has seven championship rings. And after winning the first battle in his war against Bill Belichick, he has outstanding odds of hoisting the Lombardi Trophy for the eighth time. It also wouldn't be surprising if another number enters the mix along the way.
With the league expanding its schedule, Brady can accomplish the first 17-0 season of all time. He has a bevy of weapons, a fantastic offensive line, and the support of a dominant defense. Plus, Jason Licht and Bruce Arians will do just about anything to keep the legendary quarterback happy.
If Brady does manage to take Tampa to the playoffs without losing a single game, he better hope his team doesn't suffer the same fate as the one that faced the New York Giants at the end of the 2007 season.
All statistics courtesy of Pro Football Reference.