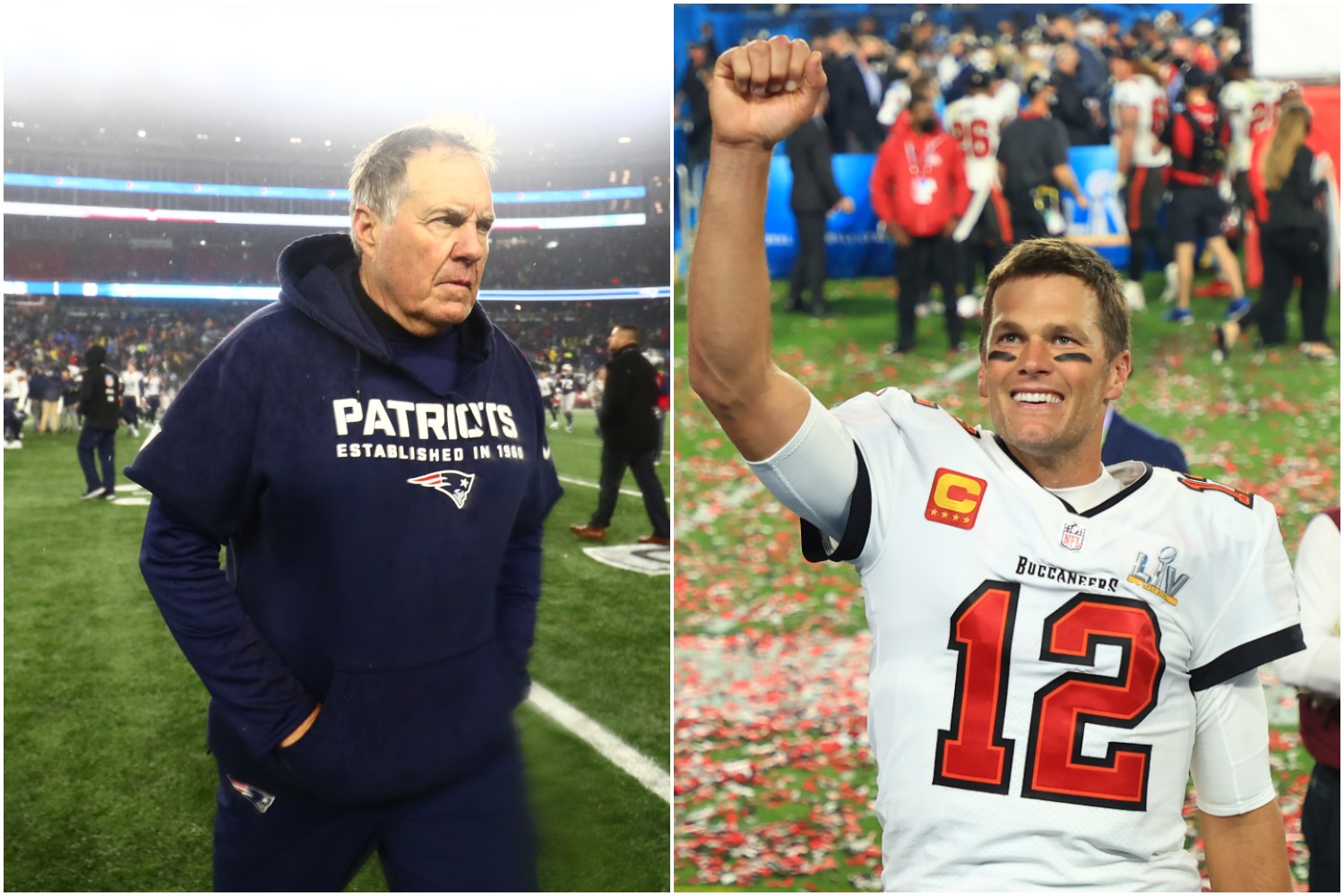 Tom Brady Just Earned $500,000 to Make Bill Belichick's Worst Nightmare Come True
Tom Brady not only made Bill Belichick's worst nightmare come true in Super Bowl 55 but he also earned a $500,000 bonus in the process.
If Bill Belichick had simply signed Tom Brady to a contract extension after the New England Patriots defeated the Atlanta Falcons in Super Bowl 51, the legendary quarterback would likely have finished his career in Foxborough. Of course, the architect of the greatest dynasty in pro sports refused to show his longtime partner the respect he wanted in the form of a multi-year deal.
Instead, Belichick let Brady walk and suffered the consequences of not having a capable replacement. Meanwhile, the Tampa Bay Buccaneers went from being a 7-9 squad to Super Bowl champions in the first year of the TB12 era.
Ultimately, Brady got the last laugh over his old boss on Sunday. And by making Belichick's worst nightmare come true, he just earned $500,000.
Tom Brady proved he's far from finished in his first season in Tampa
Tom Brady accomplished everything he possibly could during his two-decade run with the Patriots. Yet, despite winning six Super Bowl titles (and four Super Bowl MVP awards) between 2001-2018, he never received the long-term financial and job security he rightfully earned. Bill Belichick's inability to surround the NFL legend with adequate weapons also played a significant factor in the quarterback's decision to finally leave Foxborough.
Although bolting to the Buccaneers brought concerns about whether Brady could achieve success with a franchise known for losing, his age-43 season ranks right up there as one of the most impressive of his decorated career.
During the regular season, the 14-time Pro Bowler shattered expectations by throwing 40 touchdown passes. His leadership and big-game experience helped Tampa finish with an 11-5 record, which put them in the postseason for the first time since 2007. Ironically, that was the year in which the Patriots finished one game shy of achieving a 19-0 record.
Once the playoffs arrived, TB12 and an aggressive Buccaneers defense teamed up to take down Drew Brees and Aaron Rodgers. That set up a showdown between Brady and Patrick Mahomes in Super Bowl 55.
To little surprise, the battle-tested legend rose to the occasion in his 10th appearance in the league's championship game. Brady completed 21-of-29 attempts for 201 yards and three touchdowns in Tampa's convincing 31-9 victory against the Kansas City Chiefs. In doing so, he added a fifth Super Bowl MVP trophy to his collection.
And his bank account also got a big boost, too.
TB12 just earned $500,000 to make Bill Belichick's worst nightmare come true
Although he earned the GOAT title with the Patriots, Tom Brady didn't exactly get paid like the best player in football during his time in New England. Bill Belichick's method of conducting business often resulted in his quarterback taking less money than he could have asked for.
Luckily for Brady, the Buccaneers took a much different approach with his contract.
Tampa signed him to a two-year, $50 million deal that also included several playoff-related incentives. By taking down the Saints and the Packers, the seemingly-ageless NFL star secured $1.75 million.
On Sunday, he bumped that figure up by $500,000 by leading the Bucs to their first Super Bowl title since 2002.
For Belichick, watching Brady win a championship in his first season without him has to sting. After all, the man who's widely considered the GOAT at his own position watched his team go 7-9 and miss the playoffs entirely. Plus, the fact Rob Gronkowski scored two touchdowns and looked more energetic than ever had to add another layer of pain to Belichick's Super Bowl experience.
Clearly, both future Hall of Famers still have the ability to make plays in the biggest moments. Yet, Belichick played hardball with Brady and Gronkowski over the years, which made them far less committed to finishing their careers in New England. But with the dynamic duo reaching the top of the mountain without him, the Patriots head coach suddenly looks even worse for doubting his two biggest stars.
What does the future hold for both the Buccaneers and the Patriots?
Tom Brady just checked off the final box by winning a Super Bowl title without Bill Belichick. But could he add another ring before he finally retires?
Based on Tampa's personnel, that certainly seems like a realistic possibility. The Buccaneers feature a terrific mix of young stars and proven veterans. Of course, with Brady only under contract for one more year, it will be interesting to see if Jason Licht signs him to an extension this offseason to keep the NFL legend in Tampa for at least a few more years.
As for Belichick?
He faces an uphill climb to rebuild a roster that doesn't appear close to championship-caliber. Even with all of their COVID-19 opt-out players expected to return, the Patriots desperately need an infusion of talent at wide receiver, tight end, and linebacker.
Of course, the quarterback position remains the most pressing need in New England.
But if Belichick had just taken care of business years ago, that wouldn't be the case.
All statistics courtesy of Pro Football Reference.