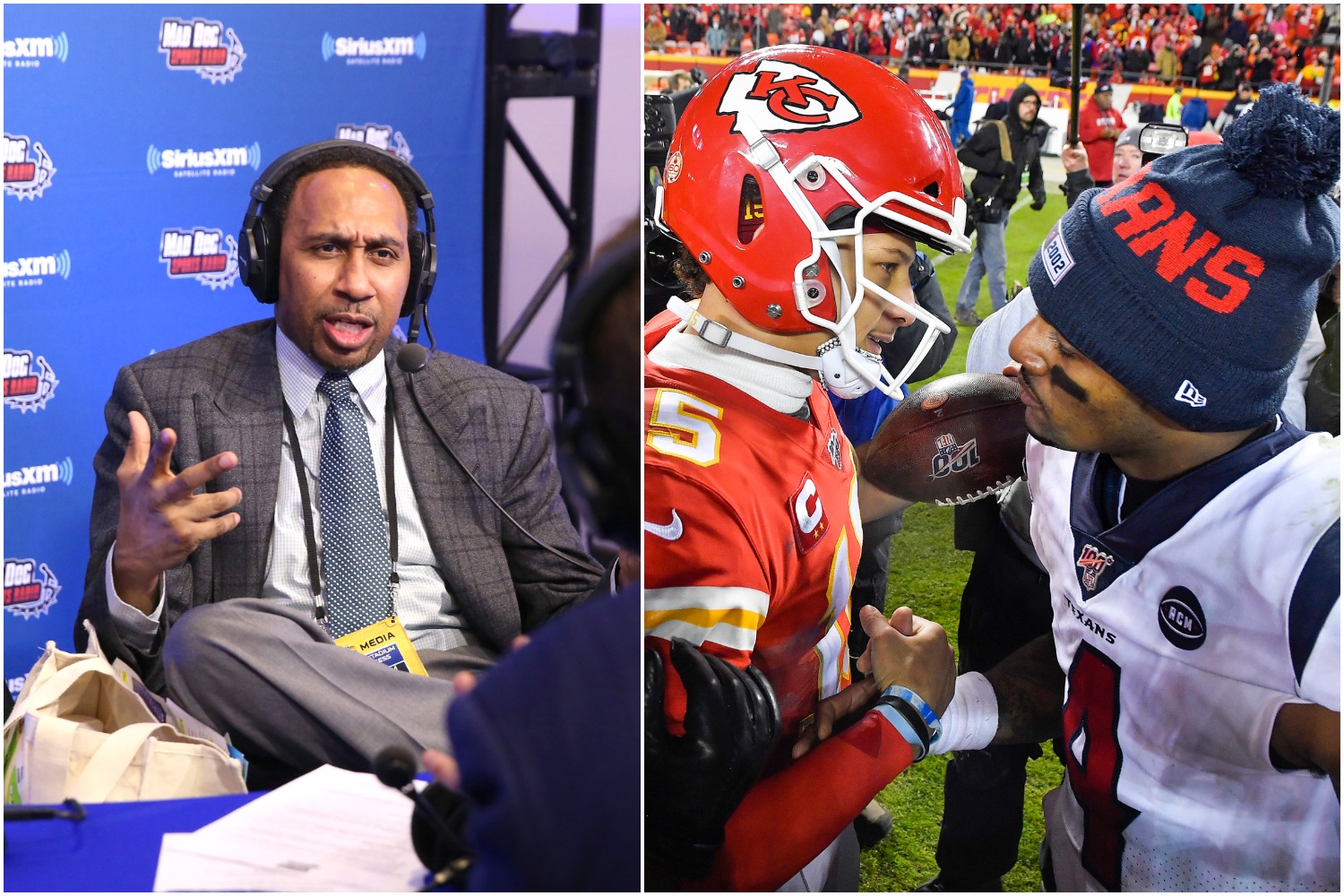 Stephen A. Smith Got Called Out By an NFL Legend For His Disrespectful Comment About Patrick Mahomes
Stephen A. Smith got called out by a legendary NFL quarterback on Twitter after he made a disrespectful comment about Patrick Mahomes.
Stephen A. Smith has never been shy about speaking his mind. But even the outspoken ESPN personality couldn't get away with a disrespectful comment about Patrick Mahomes.
Luckily for the Kansas City Chiefs superstar, an NFL legend came to his defense. And considering Kurt Warner made millions of dollars to throw touchdowns for a living, it's safe to say he knows what it takes to succeed on Sundays.
So after hearing Smith fire a shot at the most talented quarterback to ever step foot on an NFL field, the Hall of Famer called out one of the most recognizable sports media figures in very public fashion.
Kurt Warner knows a thing or two about playing quarterback
Before he joined Stephen A. Smith on the media side of things, Kurt Warner got paid handsomely to complete passes.
And thanks to his incredible accuracy, leadership, and production, the 49-year-old earned plenty of money during his legendary NFL career.
Although he didn't become a starting quarterback until he was 28, Warner made up for lost time by putting together one of the most dominant three-year runs in league history.
In 1999, the Iowa native won his first MVP award after leading the NFL in completion percentage (65.1), touchdowns (41), and quarterback rating (109.2). Of course, he led the Rams to a Super Bowl title in his first season as a starter.
Two years later, Warner captured his second MVP trophy. However, The Greatest Show on Turf ran into Bill Belichick and the hard-nosed New England Patriots in Super Bowl 36. Despite throwing for 365 yards, Warner failed to add a second Super Bowl ring to his collection thanks to a physical Patriots defense and a clutch game-winning drive by a much younger version of Tom Brady.
Warner surprisingly spent the next few years as a part-time starter before he finished his career on a high note with the Arizona Cardinals. He threw 100 touchdowns in 61 games (57 starts) with the NFC West franchise.
Even though his peak may have been short, Warner still earned a spot in the Pro Football Hall of Fame. He got inducted in 2017 as part of a class that also featured Jerry Jones, LaDainian Tomlinson, and Jason Taylor.
Stephen A. Smith gets called out by the NFL legend for his disrespectful Patrick Mahomes comment
Given his experience of playing on Sundays, Kurt Warner obviously brings a wealth of knowledge about the quarterback position.
Stephen A. Smith, on the other hand, does not exactly qualify as an expert in that field.
Still, the ESPN star apparently thinks that Patrick Mahomes isn't quite as special as he's made out to be. During his appearance on ESPN's First Take on Monday, Smith made a ridiculous comment about the Chiefs star that should be taken as a sign of disrespect.
"Give me Tyreek Hill and Travis Kelce, I tell you that Deshaun Watson could be his equal," Smith said of Mahomes. "I tell you that Aaron Rodgers could be his equal. Hell, in two weeks from now, I might tell you Tom Brady could be his equal. If you talking to me about those weapons, I'm sick and tired of people ignoring those weapons."
After hearing his sports media peer fire a disrespectful shot at Mahomes, Kurt Warner came to the rescue on Twitter. And in doing so he, he made sure to call out Smith, as well as anyone else who doubts just how talented Mahomes truly is.
"Please please don't be a part of the "Anybody could be great with those guys" crowd… just don't! Kid is special & yes he has great players around him, but HE makes them just as great as they make him… don't be that guy!" Warner tweeted in response to Smith's ridiculous rant.
While it's true that Kansas City boasts a boatload of talented skill players, that doesn't mean any quarterback can do what Mahomes does. After all, he possesses a truly rare skillset to go along with a competitive edge that makes him an absolute nightmare to defend on Sundays.
But does Smith have a fair point? Or should the rest of the world take Warner's side?
Is the Kansas City Chiefs star truly that much better than his peers?
Stephen A. Smith clearly thinks that other NFL quarterbacks could replicate Patrick Mahomes' success if they lined up under center for the Chiefs.
He's dead wrong.
Sure, Aaron Rodgers and Tom Brady are two all-time greats. But did Stephen A. watch both quarterbacks in the NFC championship?
Rodgers once again lost a home playoff game. He threw an interception and didn't exactly do a great job managing the game down the stretch in the Packers' crushing defeat at the hands of Brady's Bucs.
Meanwhile, the GOAT went from throwing three first-half touchdowns to tossing three interceptions in the final two quarters.
As for Mahomes?
He didn't commit a single turnover against the Buffalo Bills. He only had nine incompletions and threw three touchdowns. And for the second straight year, he has his team back in the Super Bowl after a stellar regular season that should put him in the MVP conversation.
Could younger quarterbacks like Deshaun Watson or Josh Allen succeed in Andy Reid's system? Absolutely.
But even those two players—who many regard as two of the NFL's brightest young stars—have never come close to replicating anything Mahomes does on Sundays (or any day for that matter). And unlike essentially every other quarterback, the reigning Super Bowl MVP does not have any discernible flaws in his game.
Having the Chiefs' weapons would surely help Watson (or any other star quarterback) put up better numbers. But it takes more than a talented supporting cast to smash records and win championships.
Because beyond his freakish physical gifts, Mahomes also has the drive and focus to be the best player of all time.
And with the way Kansas City has built an infrastructure around him, there's no doubt that he will hoist the Lombardi Trophy several more times before he retires.
All statistics courtesy of Pro Football Reference.