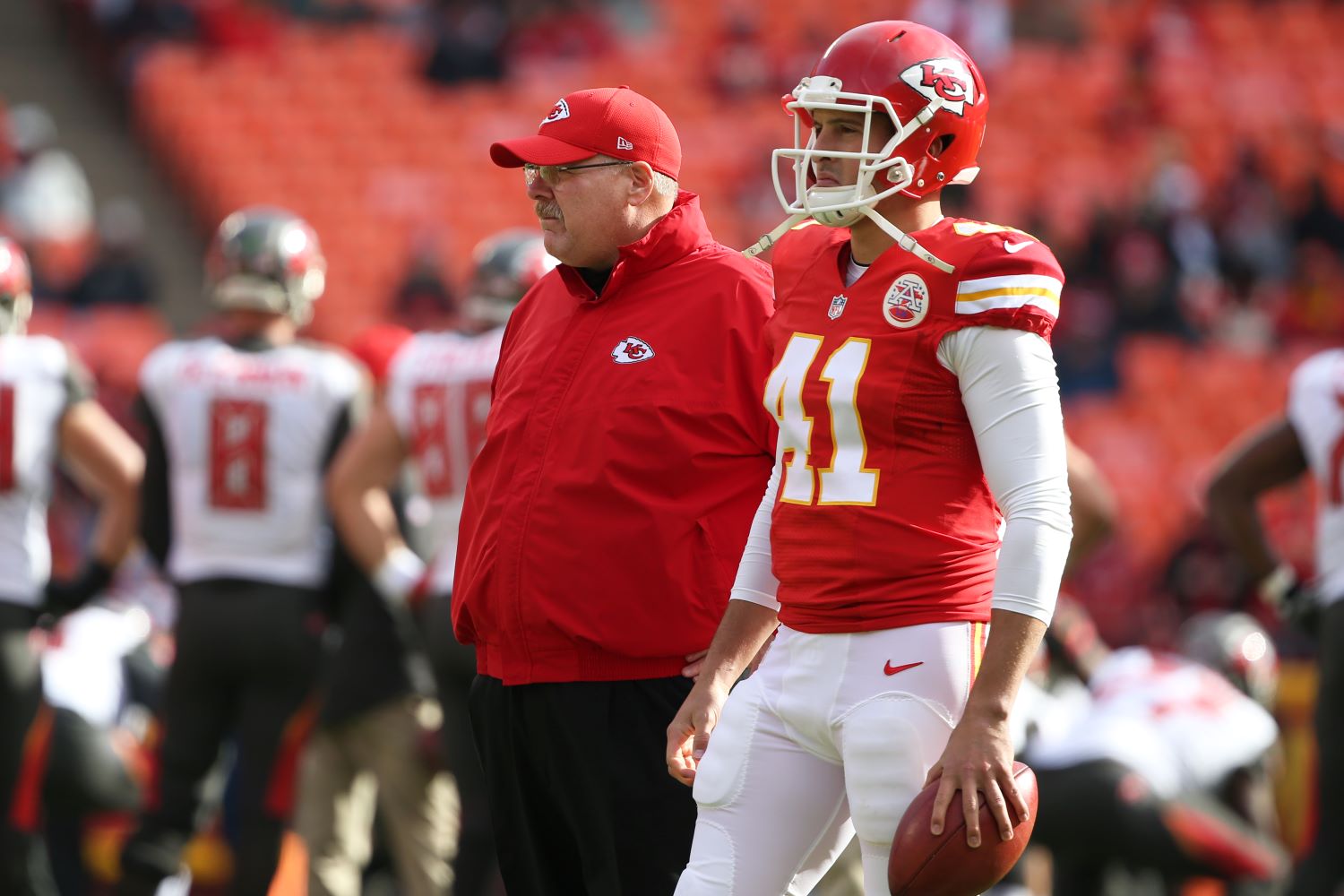 Chiefs Long Snapper James Winchester's Father Was Brutally Murdered by a Former Army Marksman in an Airport Parking Lot
Kansas City Chiefs long snapper James Winchester tragically lost his father in a bizarre murder story involving a former Army marksman.
When the Kansas City Chiefs kick an extra point after a Patrick Mahomes touchdown pass, it gives James Winchester a chance to get on the field. Luckily for the 31-year-old long snapper, that happens quite often when your team has one of the league's most explosive offenses.
Unfortunately for Winchester, he suffered a devastating loss early in his NFL career when his father was brutally murdered by a former Army marksman in an airport parking lot.
And as it turns out, the death of Mike Winchester may have been a case of an ex-employee carrying out his revenge in the most brutal way possible.
James Winchester's journey to the Chiefs
An Oklahoma native, James Winchester has football in genes. His father, Michael Winchester, was a punter for the University of Oklahoma football team from 1984-85.
His son also played his college ball for the Sooners.
However, James Winchester didn't get blessed with the ability to kick a football. Instead, he played a key role as the team's long snapper.
Although the 6-foot-3, 240-pound special-teamer did not get selected in the 2013 NFL draft, that didn't stop him from pursuing his dream of becoming a professional long snapper.
It just took a little longer than expected for Winchester to finally find the right fit for his services.
Since signing with the Chiefs in March 2015, he has held down the long snapper position. In 2017, he signed a five-year, $4.45 million contract extension. With nearly 100 games under his belt, the veteran has provided stability and consistency at a quietly critical position.
But in the middle of his second season with the Chiefs, Winchester tragically lost his father in a fatal shooting incident that occurred at an airport.
Kansas City's long snapper suffered a tragic loss when his father was murdered
On Nov. 15, 2016, James Winchester's life changed forever.
Unfortunately for the Chiefs long snapper, that day represented the end of his father's time on Earth.
Michael Winchester, an employee of Southwest Airlines, got shot in a parking lot around 1 p.m. at Will Rogers World Airport. He later died at a hospital, according to Terez Paylor of The Kansas City Star.
Immediately, questions arose about why someone would kill the 52-year-old, who seemingly had no reason to be a victim of gun violence.
Capt. Paco Balderrama of the Oklahoma City police said a white male suspect was found dead with an apparent self-inflicted gunshot wound to the head inside of a red pickup truck on the second level of an airport parking garage.
"We do believe this was a premeditated act," Balderrama said in the aftermath of Winchester's murder. "This was not random. Obviously the investigation is ongoing, in relation to the details."
Mike Winchester's killer was a former Army marksman
Almost immediately after Mike Winchester got fatally shot, key details about his killer emerged.
On Nov. 16, 2016, Rick Jervis of USA Today reported that Lloyd Dean Buie previously worked for Southwest Airlines before he resigned in April 2015. The 45-year-old filed for bankruptcy just a few months before he committed a brutal murder from the fourth floor of the airport parking garage.
"We do not know if Mr. Winchester was the intended victim," Balderrama said. "But it is possible the suspect acted in retaliation against the circumstances leading up to his resignation."
Buie fired the fatal shot from about 50 yards away before he took his own life.
"You don't have to be an expert marksman to hit a 50-yard shot, but it's not an easy shot either," Balderrama said.
As it turns out though, Buie actually did have expertise in handling a high-powered weapon.
On Nov. 21, 2016, the Associated Press reported that federal records showed that Buie was a decorated marksman during his four-year career in the U.S. Army. He received an expert marksmanship badge while he served as an infantryman from 1991-95.
Ultimately, the Winchester family suffered a completely unexpected blow likely because Buie wanted revenge over his exit from Southwest Airlines.
So when Father's Day came around seven months after their dad's senseless murder, it only magnified the tragic loss of life that took place.
"There's not a day that goes by that we don't think about him," James Winchester told Tulsa World. "We think about all the things he taught us and told us. We hear his words. We all have text messages saved from Dad during the last couple of years."
Like Sportscasting on Facebook. Follow us on Twitter @sportscasting19.