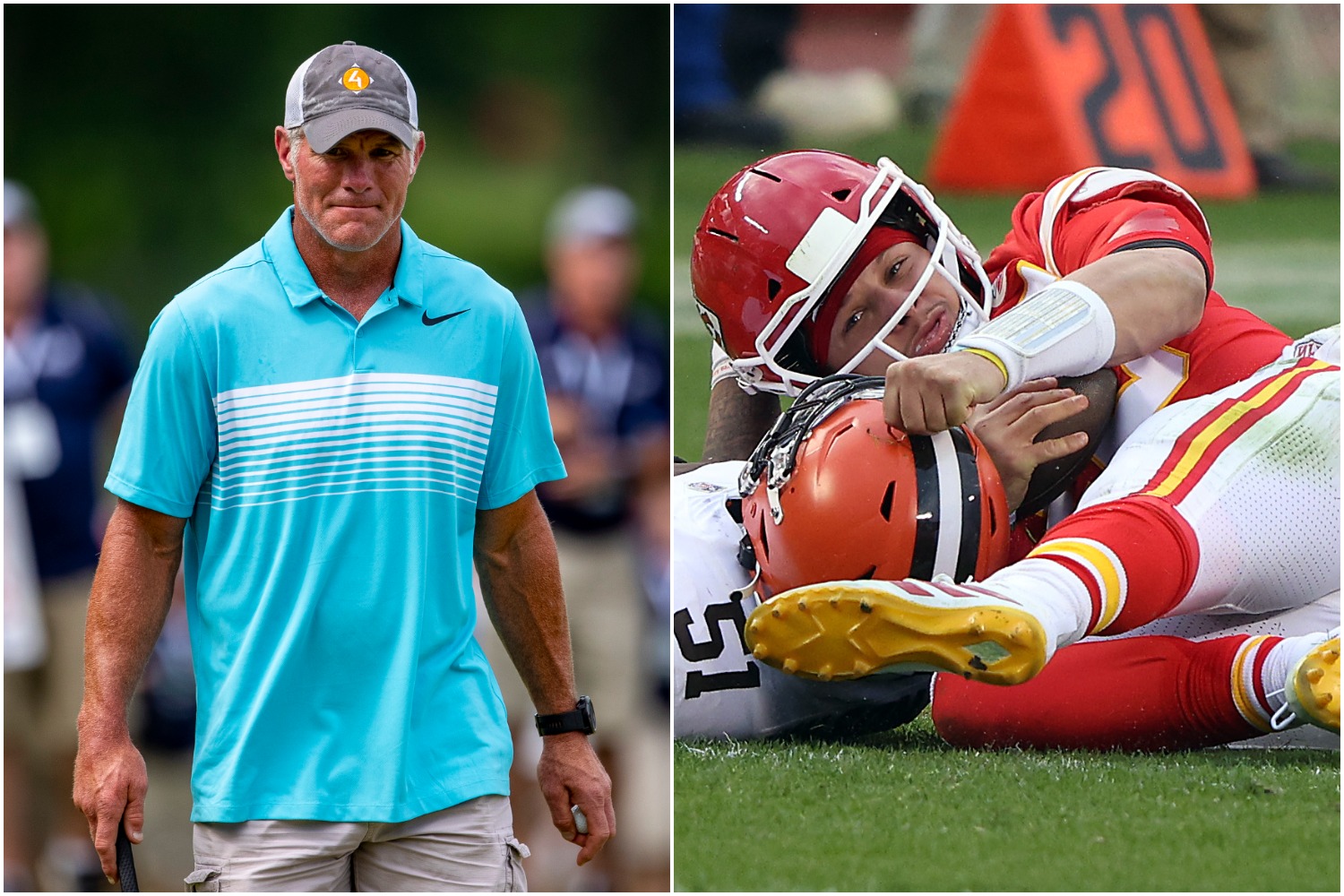 Patrick Mahomes Just Received a Stern Warning From NFL Legend Brett Favre
In light of his scary injury he suffered against the Browns, Patrick Mahomes just received a stern warning from NFL legend Brett Favre.
No player in NFL history has ever started more consecutive games than Brett Favre. Yet, even the Green Bay Packers legend refuses to stay silent about the long-term health and safety of the league's biggest star.
After all, after watching Patrick Mahomes suffer a scary hit against the Cleveland Browns, it's impossible to ignore the fact that players can sustain injuries with significant life-altering effects that may not appear until later down the line.
And while it would be a massive surprise if Mahomes doesn't start for the Kansas City Chiefs in the AFC championship, he may think twice about rushing back onto the field now that he's received a stern warning from an NFL legend he's often been compared to.
Brett Favre became an NFL legend by starting 297 straight games
Although Tom Brady has set a new standard by dominating at age 43, Brett Favre's 2009 season still stands out as a truly special campaign. At age 40, he completed 68.4% of his passes for 4,202 yards, 33 touchdowns, and a career-low seven interceptions.
Oh, that came in his first year playing for the Minnesota Vikings.
Despite his advanced age, Favre started all 16 games for the 17th straight season. His consecutive games streak eventually ended at 297 when a shoulder injury rendered him unavailable for a December 13, 2010 matchup between the Vikings and Giants. That number actually jumps to 321 if you include Favre's playoff appearances.
Of course, his longevity also came at a price.
Renowned for his toughness, the 2016 Pro Football Hall of Fame inductee persevered through countless bumps, bruises, broken bones, and much more throughout an NFL career that spanned two decades.
According to ESPN, Favre's injuries included:
First-degree left-shoulder separation
Right-elbow tendinitis
Broken right thumb
Torn right biceps
Stress fracture in his heel area
He also suffered concussions during the course of his time in the NFL.
Patrick Mahomes suffered a scary injury against Cleveland
While the Chiefs escaped with a win against the Browns in the divisional round, their victory came at a cost.
Patrick Mahomes did not return to the game after he took a brutal shot to the head and neck area from Cleveland linebacker Mack Wilson.
The way the reigning Super Bowl MVP looked in the immediate aftermath of the play certainly seemed scary. And Chiefs fans had to feel even worse when their beloved star didn't come back on the field after leaving midway through the third quarter.
Ultimately, though, it seems like Kansas City avoided a disaster.
On Monday, Carrington Harrison of CBS Sports Radio delivered an update about Mahomes' injury via Twitter.
"Patrick passed all of his tests last night. He didn't actually hit his head; there was a nerve in his neck that got tweaked that made him out of it. He's getting testing done on his neck/nerve today but did clear all tests last night," Harrison's source told him.
Still, even though the short-term damage doesn't seem too severe, an injury to the head/neck area can still have long-term health implications.
And considering the number of violent hits he absorbed during his legendary NFL career, Brett Favre certainly knows what he's talking about when it comes to the dangers of playing through injuries.
Favre issues a stern warning to Mahomes
Patrick Mahomes still has a long career ahead of him…if he stays healthy.
Fittingly, the topic of his long-term health came up during a recent interview TMZ Sports conducted with Brett Favre. Specifically, the NFL Hall of Famer spoke about concussions in the aftermath of the hit Mahomes took a few days ago.
"We're just scraping the surface of what it does to the brain, and it's not good," Favre said. "I hate it for Patrick. The protocol's in place. Let's see if they follow it."
He continued, "Who knows what level of concussion he had? Was it extreme? It didn't look good at all. You hate to see it because the long-term damage can be very awful for any player."
Ultimately, most expect the Chiefs' most important player to get cleared for the AFC championship. But Mahomes may want to listen closely to the stern warning Favre issued during his interview with TMZ Sports.
"I played 321 straight games. It kind of goes against everything I stood for when I played, but you got to be smart," Favre said. "When you're in the moment, and you're young, you're bulletproof, man. But, I'm 51 years old, and I'm wondering what tomorrow will bring because of concussions, more than anything.
"What is Patrick? 24? 25? I had it all figured out, so I urge him, and all players, to be extremely smart."
All statistics courtesy of Pro Football Reference.