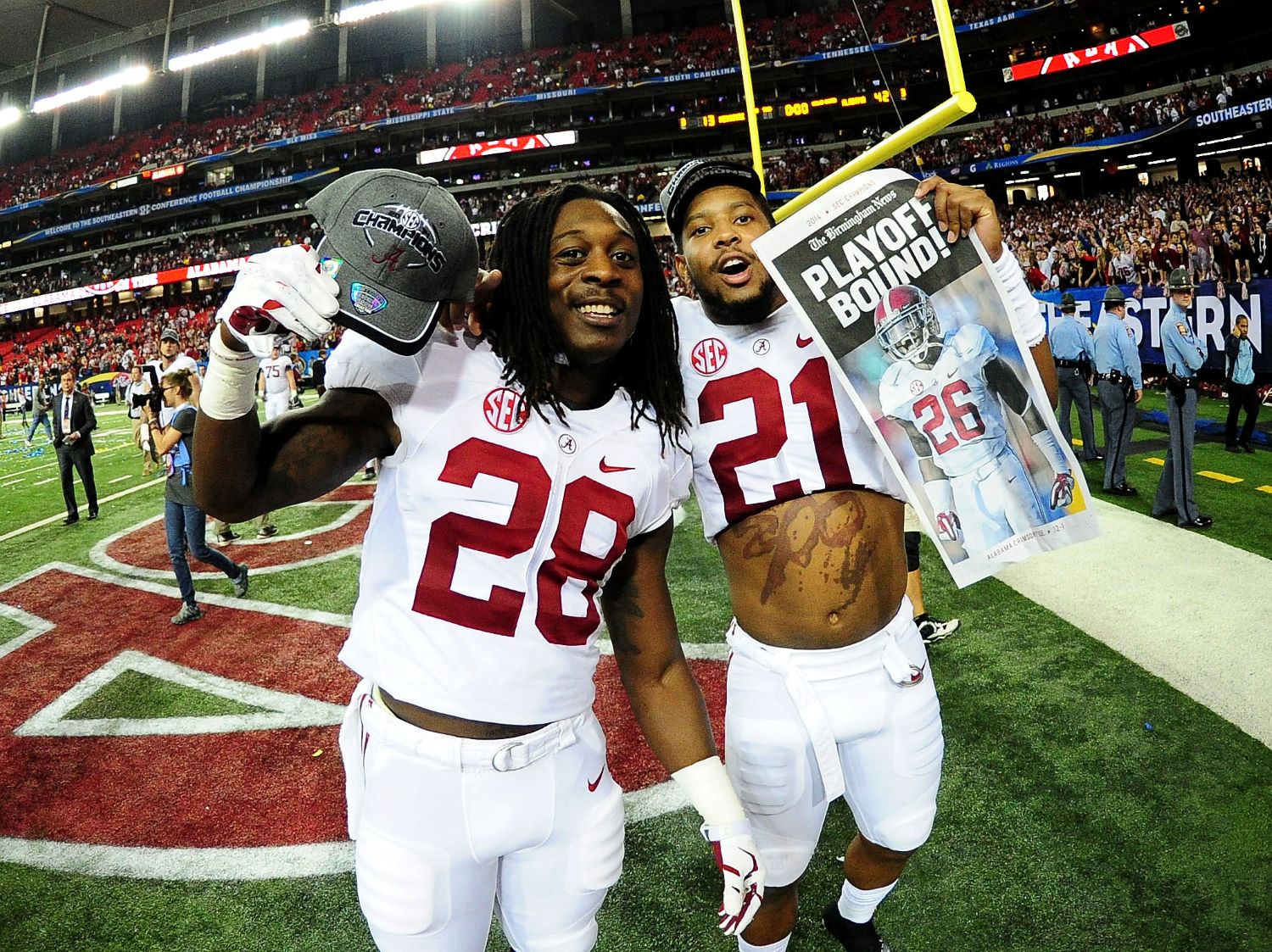 Former Alabama RB Altee Tenpenny Tragically Died After He Got Arrested For a Scary Incident Involving a Loaded Gun and an Oncoming Truck
Former Alabama RB Altee Tenpenny died just days after he got arrested in a scary incident that involved a loaded gun and an oncoming truck.
During the Nick Saban era, the University of Alabama has produced a number of star running backs. From Mark Ingram to Derrick Henry to Josh Jacobs, the program has rightfully earned the reputation as "RB U" thanks to its ability to churn out future NFL tailbacks.
However, Altee Tenpenny never became one of them.
In fact, he didn't even finish his college career.
Just days after he got arrested in a scary incident involving a loaded gun and an oncoming truck, Tenpenny took his last breath. The tragic death of the 20-year-old running back sent shockwaves through the college football community.
And while Tenpenny didn't make his NFL dream come true, his former Alabama teammate found a way to honor his fallen friend once he made it to the league.
Altee Tenpenny was stuck behind future NFL stars at Alabama
Altee Tenpenny played alongside future NFL stars during his time at Alabama. However, he spent most of his two seasons with the Crimson Tide watching from the sidelines.
As a freshman, the 6-foot, 218-pound running back only carried the ball 22 times for 82 yards and one touchdown. Meanwhile, T.J. Yeldon led the team with 1,235 rushing yards and 14 touchdowns on 207 carries.
Kenyan Drake finished second with 694 yards on 92 carries. Future NFL rushing champion Derrick Henry flashed superstar potential by averaging nearly 11 yards on just 35 attempts. Needless to say, Tenpenny didn't have much of a role in Alabama's loaded offense.
In his second year on campus, Tenpenny only received four more carries than he did as a freshman. Still, he did well to turn 26 attempts into 136 yards for a Crimson Tide team that finished 12-2.
But after being buried down the depth chart for two straight seasons, Tenpenny took his talents elsewhere.
After he got dismissed from UNLV for a violation of team rules, he ended up at Nicholl State. However, his time with the Colonels came to a swift end before it really began.
A scary incident led to his arrest and swift dismissal from Nicholls State
On Oct. 19, 2015, Altee Tenpenny got suspended indefinitely by Nicholls State just one day after he got arrested in a scary incident that involved a loaded gun and an oncoming truck.
According to AL.com, Tenpenny walked into oncoming traffic with a loaded handgun right outside of a police administration building. He reportedly had "a strong odor of an alcoholic beverage" and responded to a question if he had any weapons on him with, "Yes, ma'am."
Tenpenny told police he walked in the middle of the road to find an officer to let them know he had a weapon on his person. He claimed he took the gun from teammate Kaleb Kador after the fellow football player got in trouble.
Although Tenpenny told police he didn't know how to shoot a gun, he later stated that he fired the weapon to see if it had "one shot in the head."
He got arrested for illegal carrying of weapons, illegal use of weapons or dangerous instrumentalities, and obstructing public passages at the detention center at which he was held.
Tenpenny got released the next day after posting a $2,100 bond.
Tenpenny tragically died the day after he got released
Losing his spot on the Nicholls State football team represented a tough blow for Altee Tenpenny. Unfortunately for the former Alabama running back, he lost his life not long after his bizarre arrest.
The day after he got released, Tenpenny died in a car accident in Mississippi.
According to the Associated Press, a Mississippi Highway Patrol officer told Washington County Coroner Methel Johnson that Tenpenny's 2008 Dodge Charger hit several road signs before flipping over. The 20-year-old got transported to the hospital after he got thrown from his vehicle in the one-car crash.
Tenpenny was pronounced dead at 6:57 p.m. at Delta Regional Medical Center in Greenville, Miss.
Nick Saban spoke about his former player following his unexpected passing.
"Our thoughts and prayers are with Altee and his family," Saban said. "This is obviously a tragedy. This is a guy that was in our program and was good friends with a lot of our players. We're going to be as supportive as possible to all the people that are affected by this."
Altee Tenpenny's football career and life got cut short more than five years ago, but his spirit still lives on in a very visible way today.
During his rookie season, Derrick Henry changed his number to 22 to honor his late teammate.
After leading the NFL in rushing in 2019, the Tennessee Titans star signed a $50 million contract extension last summer and finished the 2020 season with a league-high 2,027 rushing yards.
All statistics courtesy of Sports Reference.