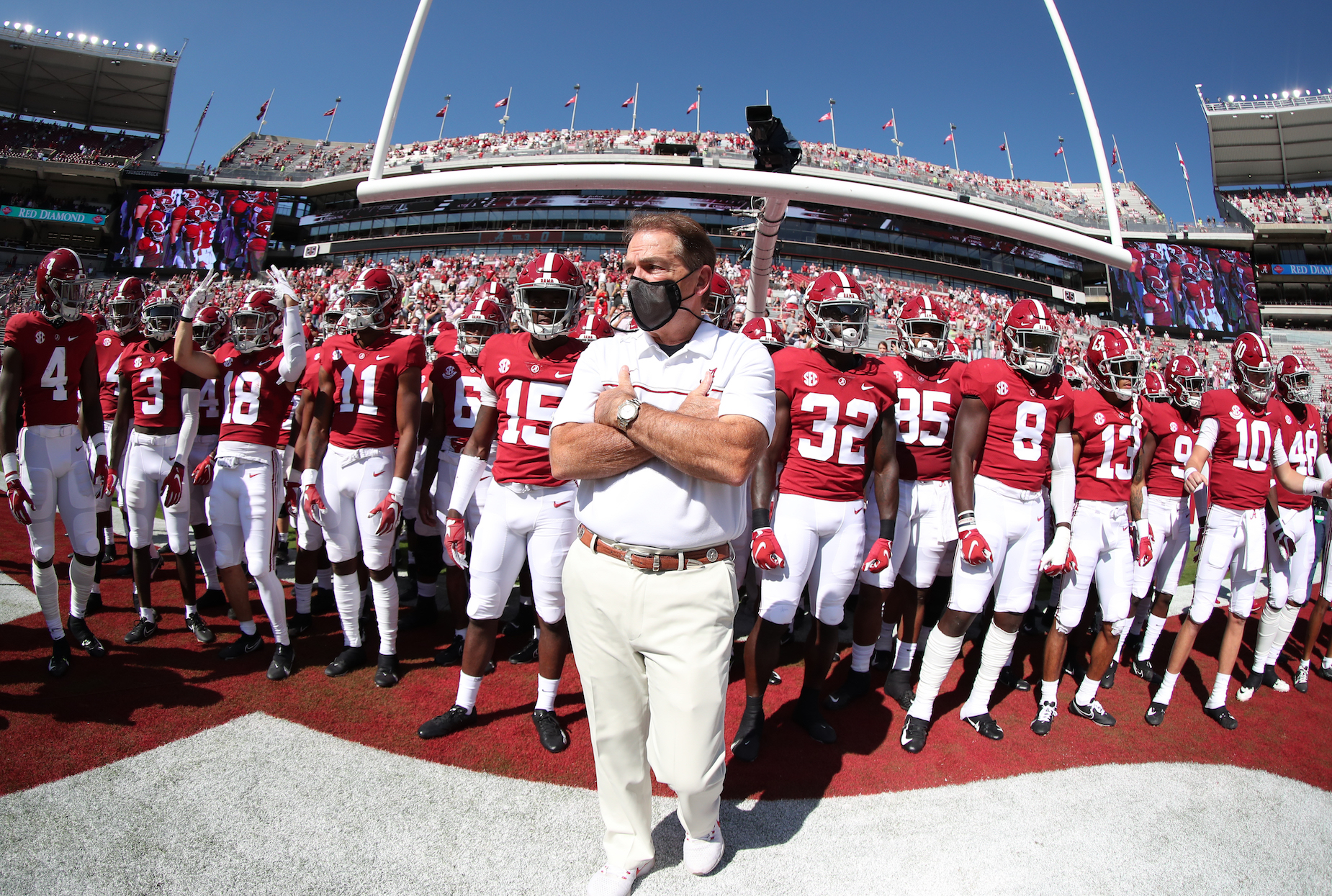 Nick Saban's Massive Salary Makes Him 2020's Highest-Paid NCAA Football Coach
While it's not unexpected that Nick Saban earns a sizable salary, the Alabama bench boss is college football's highest-paid coach.
While the NFL may seem like the top dog in American sports, college football can also make a legitimate claim for the crown. In certain parts of the country, NCAA action is like a civil religion; everyone stops what they're doing on Saturday and cheers for the home team. That reality has made men like Alabama Crimson Tide head coach Nick Saban very wealthy.
Although it's not surprising that a big-name coach at a big-time program would command a massive salary, the 2020 numbers are still something to behold. As the top dog at the University of Alabama, Nick Saban takes home more than any other college football coach.
Nick Saban's rise to national prominence
These days, Nick Saban is simply part of the football landscape; it's almost impossible to imagine a fall weekend going by without seeing him hit the sidelines. The coach, however, wasn't always the big man on campus.
Saban played his college football at Kent State and got into the coaching business by chance. As Andy Staples once explained for Sports Illustrated, Saban planned on heading into the car business, but wanted to stay on campus waiting for his wife to graduate; he joined the football team as a graduate assistant, hoping to kill a year's worth of time before moving on to greener pastures.
That, of course, never happened. Saban was hooked. He spent another season at Kent State, serving as the linebackers coach, before striking out on his own; he began bouncing around the country, taking assistant coaching jobs at schools like Syracuse and Navy.
Eventually, the jobs started getting bigger and bigger. Saban first became a head coach in 1989, taking over the Toldeo football program; after a year, he left to join Bill Belichick's Cleveland Browns staff. Saban eventually returned to the college ranks, coaching Michigan State to a 34-24-1 record.
Winning national championships at LSU and Alabama
By the end of his tenure at Michigan State, Nick Saban had made a name for himself as a talented football coach. Two of his next three jobs, however, would make him a star.
At the end of the 1999 season, Saban took over LSU's football program and became the Tigers' head coach. After an inconstant first campaign, he led the 2001 SEC title and, more importantly, the 2003 BCS championship.
After a brief and, for the most part, disappointing stint at the helm of the Miami Dolphins, Saban returned to the SEC. This time, he headed to Alabama, taking over the Crimson Tide.
It's safe to say that that move was an unmitigated success. Saban is entering his 14th season at Alabama this fall; he's lost a grand total of 23 games during that time, with six of them coming in his first year on the job. He has also led the Crimson Tide to three BSC championships and two College Football Playoff titles.
Nick Saban's $9.1 million salary leads the NCAA coaching ranks
Based on his track record, Nick Saban is one of the big men on the collective college football campus. Unsurprisingly, that helps him take a sizable salary each season.
According to USA Today's list of NCAA salaries, Saban is scheduled $9.1 million for the 2020 college football season; his total pay, however, clocks in at $9.3 million. Both of those numbers are the highest in all of college football, just beating out LSU's Ed Orgeron for the top spot.
While that number may seem massive in isolation, it's even more impressive when you consider professional football coaches, too. According to a January 2020 report from CBS Sports, only five professional coaches—Bill Belichick, Pete Carroll, Jon Gruden, Sean Payton, and John Harbaugh— make more than $9 million per season. Those numbers have probably changed since, as Andy Reid signed a contract extension, but the underlying point still stands: Nick Saban earns a great deal of money, even though he's not coaching at the game's highest level.