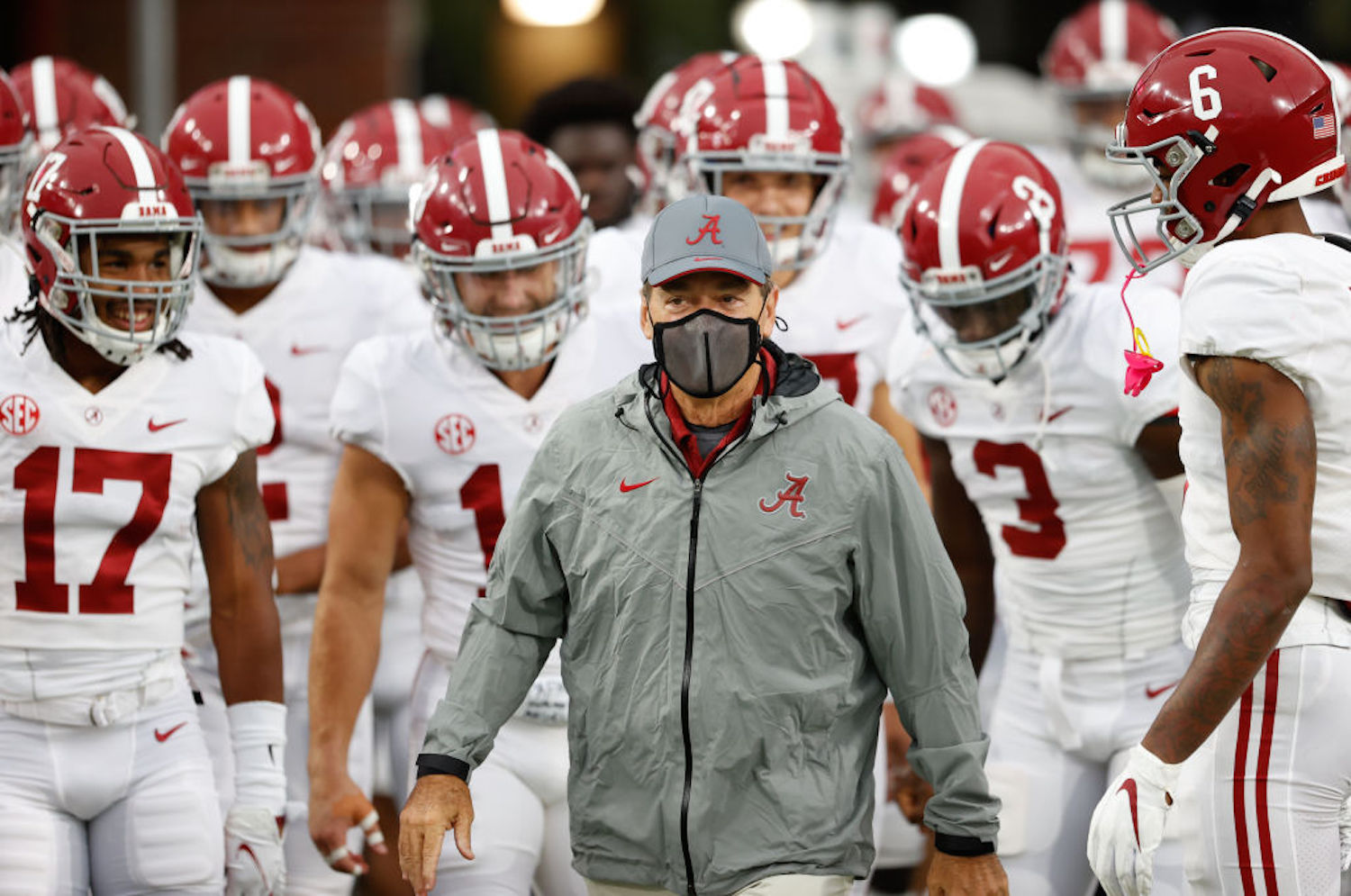 Nick Saban Has a Serious Problem at Alabama He Has to Fix Soon
Alabama and Clemson have been the college football powerhouses in recent years, but the Crimson Tide can't hang with the Tigers this season.
When you think of Nick Saban and Alabama in their prime, you think of hard-nosed defense and a run-first offensive attack. Well, that's completely flipped this year.
The Crimson Tide can air it out with the best of them, but their defense has struggled mightily so far. Alabama's once-vaunted defense just surrendered 48 points to a mediocre Ole Miss team, all while Clemson flexed its muscles and shut down Miami's potent offense. Saturday's games proved Alabama won't be able to hang with Clemson this season if they meet in the College Football Playoff.
Alabama had an embarrassing defensive showing against Ole Miss
Alabama used to pride itself on swarming defense and old-school football, but Saban has changed his coaching style to keep up with the times in recent years. The spread offense has overtaken the college game, and Saban has tailored his recruiting to focus on speed, speed, and more speed on offense.
The Crimson Tide morphed from the best defensive team in the country in 2016 to maybe one of the worst in the SEC this season. On Saturday, Alabama gave up 647 yards and 48 points to Ole Miss. The offense saved the day with 724 yards and 63 points of their own, but that's not a sustainable pattern come playoff time.
Alabama gave up 450 yards a week ago to Texas A&M, so it wasn't just one bad week. This team needs to make some serious changes defensively, but that can't be said about their CFP rivals.
Meanwhile, Clemson showed they might have the best defense in the country
While Alabama was watching Ole Miss sling the ball over their heads all day, Clemson was stuffing Miami into a locker like a high school bully. The Tigers held the Hurricanes to 210 yards of offense and 17 points in an easy 42-17 win on Saturday. Seven of those points came off a blocked field goal, so the defense really gave up just 10.
D'Eriq King and company were averaging 43.3 points per game heading into their matchup with Clemson, but they could barely get a first down in Death Valley on Saturday night.
Trevor Lawrence and the offense got what they wanted all day, and the Tigers cruised to the easy victory. Alabama might have a more potent offense, but Clemson proved it has the more balanced roster this year, and it's not particularly close.
Alabama won't be able to beat Clemson in the CFP
It might be cliche, but defense does win championships. Dabo Swinney knows that just as much as Saban does, and he's built a dominant defense in Death Valley.
Meanwhile, Saban is dealing with possibly the worst defensive unit he's ever coached. They have no playmakers like in years past, and they're surprisingly undisciplined for a Saban-coached group.
That's not to say they can't improve throughout the season, but things don't look great in Tuscaloosa right now. If Alabama and Clemson played tomorrow, Clemson's defense would be the difference in the game. They could get stops in a high-scoring affair, but Alabama's unit might not get off the field.
We're still hoping for another rematch in the CFP later this season, but it might not be as close this time.