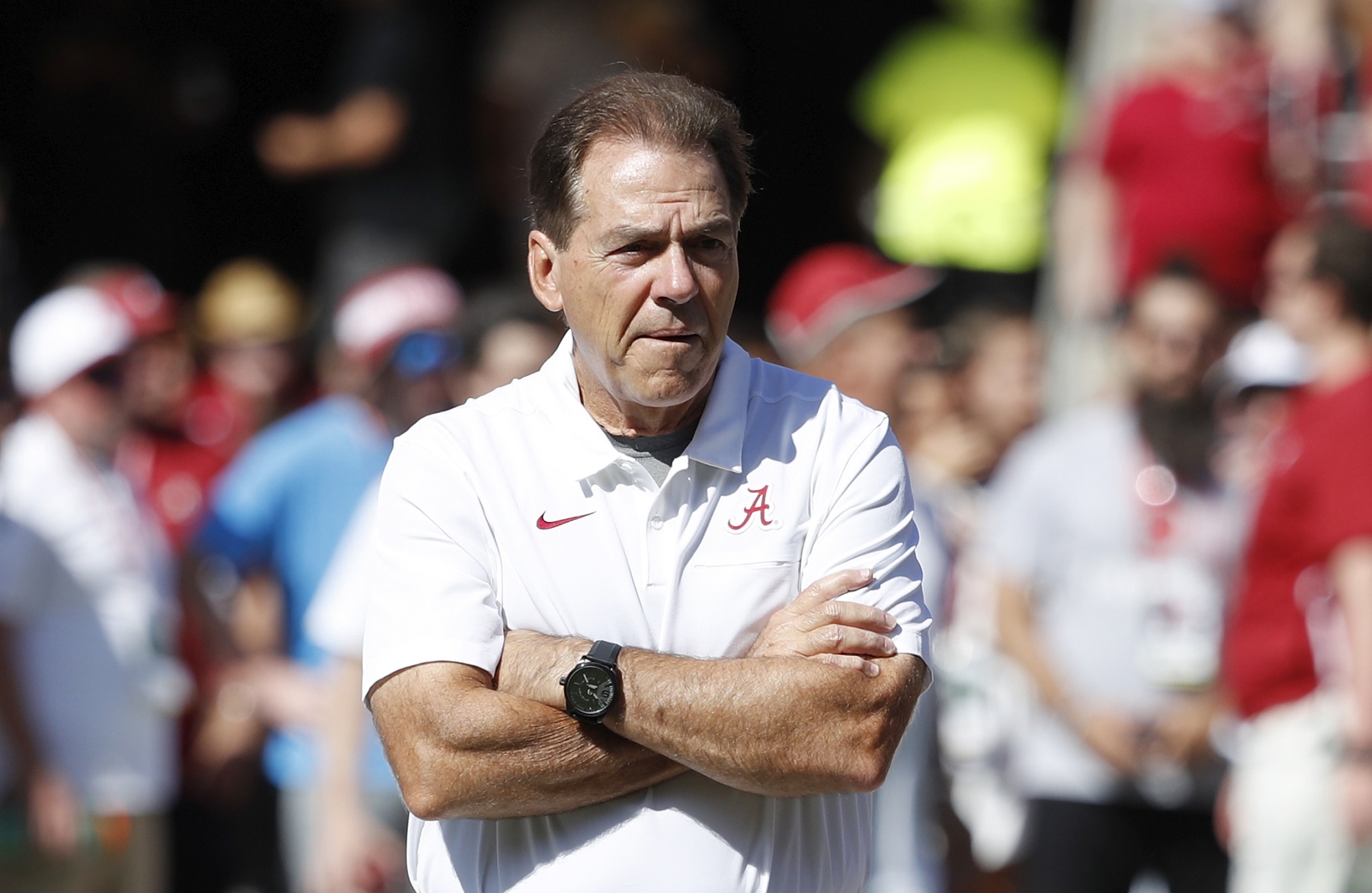 Nick Saban Fires off 2 Words at Fans Clamoring for Spring Football
Alabama coach Nick Saban stands to lose a lot if the Crimson Tide are forced to play a spring college football schedule.
No one on the planet is more qualified to identify what it takes to win in college football than Alabama coach Nick Saban. After all, his Crimson Tide teams have won five national championships in the past decade.
That makes Saban an expert on what does and doesn't constitute high-quality football. His thoughts on the possibility of playing spring football will be disheartening to fans whose schools are pinning their hopes to that option.
Nick Saban is preparing for the fall season, for now
The Big Ten and Pac-12 have given up on the idea of playing football this fall, viewing the COVID-19 pandemic as an insurmountable obstacle. Their reasoning is sound because keeping 120 players and other personnel virus-free in a campus environment is a seemingly impossible challenge.
Just a few positive tests on the eve of a game has the potential to trigger problems in a sport that operates on a once-a-week schedule. Unlike Major League Baseball, postponements aren't going to be made up as doubleheaders.
While the SEC, ACC, and Big 12 all maintain that they will start play in September, the others are focusing on trying to play football and other school-sponsored sports in the spring.
Longtime Alabama coach Nick Saban doesn't want to see it come down to that for the Southeastern Conference, which has dominated the FBS for a number of years. That's because a problem that is already rearing its head now figures to get worse if schools have to wait until February or March to start playing.
Nick Saban recognizes the problem with spring football
Observers have been pointing out since early spring that FBS programs have a lot of money at stake if they cannot play football. A spring season could potentially recoup some of the money currently at risk, but playing in the fall – largely out of the shadow of MLB, NBA, and NHL action – would be optimal when it comes to TV contracts.
Either way, schools will miss out on gameday revenue if they have to play in stadiums that are empty or limited to 25% or even 50% of capacity.
Until recently, the discussion has focused on what the schools have at risk. Alabama coach Nick Saban recognizes that the discussion should also be including what's at stake for the players. During an appearance on ESPN's Get Up, Saban pointed out that pro prospects have a lot to lose if they're injured while playing spring football so close to the NFL draft.
He anticipates that numerous potential pros would skip a spring season and that some college teams would be stripped down to something more closely resembling a junior varsity roster.
"I think one of the real consequences of this is, if you're a junior or a senior and you have an NFL grade, are you going to play in the spring?" Saban asked. "Or is that going to become sort of a JV season with a lot of these juniors and seniors opting out?"
Alabama would be among the most vulnerable schools
The junior varsity remark may sound harsh, but consider it in terms of a powerful program like the one that Nick Saban coaches at Alabama.
NFL teams drafted nine Crimson Tide players this past April, with Tua Tagovailoa, Jedrick Wills, Henry Ruggs, and Jerry Jeudy all flying off the board in the first round. There were three-first-rounders and 10 players in 2019, and four first-rounders and 12 players overall in the preceding year.
Now, Alabama is never hurting for talent on its roster. But picture this chain of events:
The SEC determines it will play a spring schedule.
Most or all of Saban's top pro prospects in the junior and senior classes decide to sit.
Alabama is left to replace all of last year's departed players from the two-deep plus possibly a dozen (or more) opt-outs.
Remember, too, that the guys who would be choosing to sit out would have been getting mostly first-team reps this summer and fall. Their replacements could consist largely of freshmen and sophomores with minimal game experience.
Other schools would have similar problems, though only a handful face the widespread defections that Saban could face. Already, a smattering of players across the country declared that they won't try to play.
"Everybody's circumstances and situation is a little bit different," Saban said. "I actually hate it for the players who won't get the opportunity to play and compete and create value for themselves."
Saban has not said whether he has lost any players over COVID-19 concerns up to this point.