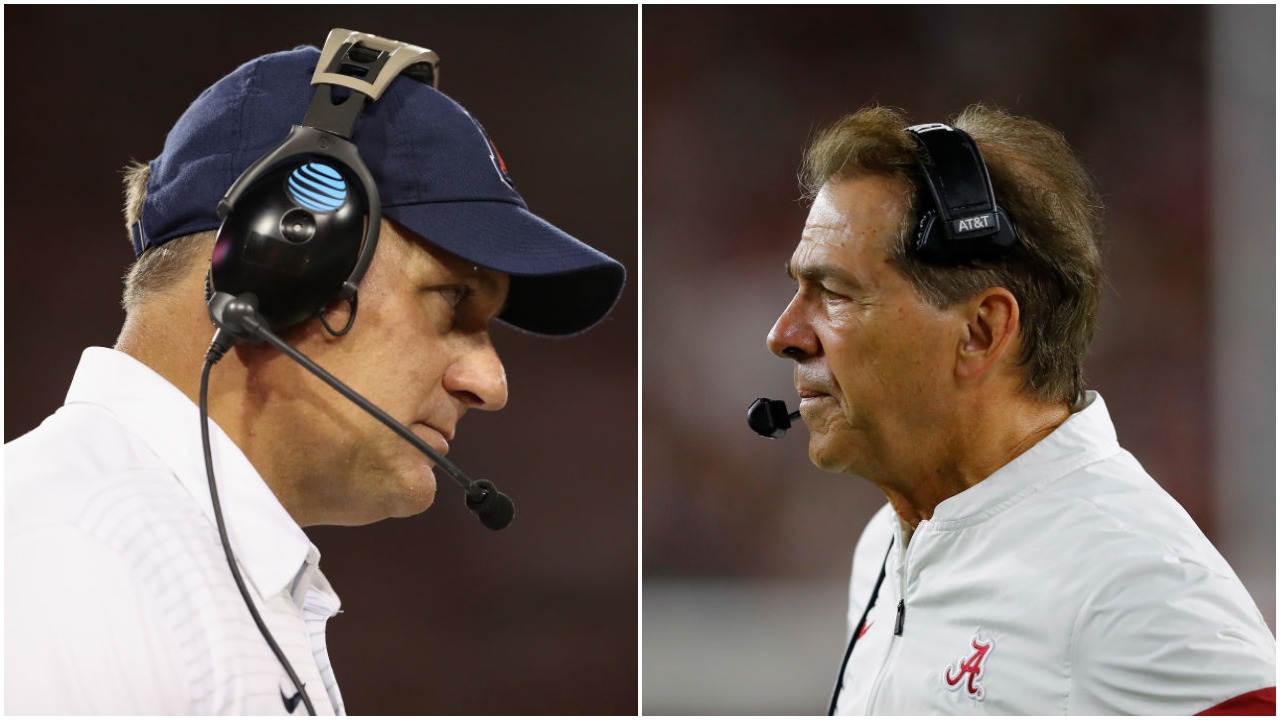 Nick Saban Doesn't Win 5 National Titles at Alabama Without Rich Rodriguez…Wait, What?
Nick Saban has led Alabama to five national titles. But if Rich Rodriguez made a different decision in 2006, college football would look very different.
While one might think that Nick Saban is solely responsible for winning five national championships at the University of Alabama, there's an argument to be made that Rich Rodriguez played just as big of a part in all those trophies in Tuscaloosa. Wait, what? You mean the same Rich Rodriguez that made West Virginia a powerhouse but then failed miserably when he went to the University of Michigan? Yes, that guy. The guy who has never coached for one second on an Alabama sideline has everything to do with why Saban and the Crimson Tide have all of those titles.
Rich Rodriguez turned around the West Virginia football program while Nick Saban won a title at LSU and left for the NFL
In the year 2000, Nick Saban took over as the head football coach at Lousiana State University after five years at Michigan State. His first year with the Tigers wasn't the greatest but the team still went 8-4 and won the Peach Bowl. In 2001, LSU won the SEC, their first outright conference title in 15 years, and won the Sugar Bowl for the first time since 1968. After a down year in 2002, Saban and the Tigers bounced back in 2003. LSU went 13-1 and won the national championship for the first time in 45 years. Nick Saban was the hottest name in coaching and following a 9-3 season in Baton Rouge in 2004, he bolted for the NFL, signing a big-money contract with the Miami Dolphins.
Meanwhile, Rich Rodriguez had turned the football program at West Virginia University from a laughing stock to a powerhouse. Rodriguez took the job with the Mountaineers ahead of the 2001 season and things did not go well as the team finished 3-8. However, in 2002, Rodriguez was responsible for the biggest turnaround in Big East history, leading WVU to a 9-4 record and earned Big East Coach of the Year honors.
In 2003, the Mountaineers tied for the conference title with Miami and earned a Gator Bowl berth. In 2004, Rodriguez had West Virginia as high as No. 6 in the country. In 2005, he again earned Big East Coach of the Year honors, leading the Mountaineers to a conference title and the school's first BCS berth. West Virginia beat Georgia in the Sugar Bowl and finished the year ranked fifth. In 2006, he led the team to its second consecutive 11-win season and a Gator Bowl victory.
All of a sudden, Rich Rodriguez was a hot commodity and a big offer came his way.
Nick Saban took the Alabama job after Rich Rodriguez turned it down
In 2006, Alabama football was hurting. As hard it is to believe, the Crimson Tide hadn't won a conference title in seven years and had posted a 42-40 record in that time. That might work for some schools but this was Alabama. Failure is not an option in Tuscaloosa and then-athletic director Mal Moore knew it. He fired head coach Mike Shula on November 27, 2006, and began his search for a new head man on the sidelines. He really wanted Nick Saban but he was in his second year with the Dolphins and had no desire (at the time anyway) to return to college football. So Moore called Steve Spurrier, who was committed to South Carolina and wanted to continue building something there.
That led to a meeting in early December in New York with Mal Moore and Rich Rodriguez. It was the head coaching job at Alabama so Rodriguez naturally had to at least listen to the pitch, right? The meeting apparently went so well that Moore offered Rodriguez the job right there at the meeting. Rodriguez never visited the campus and told Moore that he had to go back to West Virginia to think about things. Rumors spread that Rodriguez had officially accepted the position, which he says he never did.
Rodriguez felt that his team at West Virginia could compete for a national championship in 2007 and that the Mountaineers were simply in a much better position at the time than the Crimson Tide. In addition, when he got back to West Virginia, the big donors at WVU had promised millions of dollars in facility and salary upgrades, essentially telling Rodriguez that he was their guy and they wanted him to stay in Morgantown. So he did. On December 8, 2006, Rich Rodriguez announced that he would remain the head coach of the West Virginia Mountaineers.
On January 3, 2007, after weeks of telling people that he would not be the head coach at Alabama, Nick Saban made the announcement that he would indeed be the next coach for the Crimson Tide.
And the rest is history
A year after turning down Alabama and seemingly committing to West Virginia for the long haul, Rich Rodriguez left for the University of Michigan and didn't even coach the Mountaineers in the Fiesta Bowl. He had renegotiated his contract a few months earlier, which led to numerous lawsuits being filed. But the fact was that Rodriguez was gone. But things did not go well in Ann Arbor. The Wolverines had their worst-ever season in his first year, going 3-9, and Rodriguez was gone after three seasons and a 15-22 record, including 0-3 records against both Ohio State and Michigan State. After a year in the booth at CBS, he returned to the sidelines at Arizona, posting a 43-35 record in six seasons before exiting the program following the 2017 season. He spent the 2018 season as the offensive coordinator at Ole Miss but was let go when Lane Kiffin brought in his own staff.
On the flip side, Nick Saban made an immediate impact at Alabama, outside of that first year anyway. The Crimson Tide went 6-6 in 2007 but then went 12-2 in 2008. You know the rest from there. Alabama has won five national titles since then (2009, 2011, 2012, 2015, 2017) and Saban is looked at as one of the greatest coaches in the history of college football. But Rich Rodriguez thinks that those five trophies partly belong to him, once jokingly telling ESPN that had he accepted the Alabama job, Saban would have never made his way to Tuscaloosa.
"I'm partly responsible for those five national championships because if I had said yes, you wouldn't have had the greatest coach of all time, Nick Saban, winning all those championships.

"I'd say it worked out pretty well for Alabama because they went out and got the best college football coach of all time.

"At least I can still get a laugh out of it."

Rich Rodriguez
Just imagine what college football would like today had Rich Rodriguez taken that job. Maybe Nick Saban never leaves the NFL. Maybe Alabama never becomes Alabama again. Maybe Jim Harbaugh gets to Ann Arbor earlier than he did, or maybe never at all. There are so many scenarios that could have played out had things gone differently back in 2006. But I guess we'll never know.