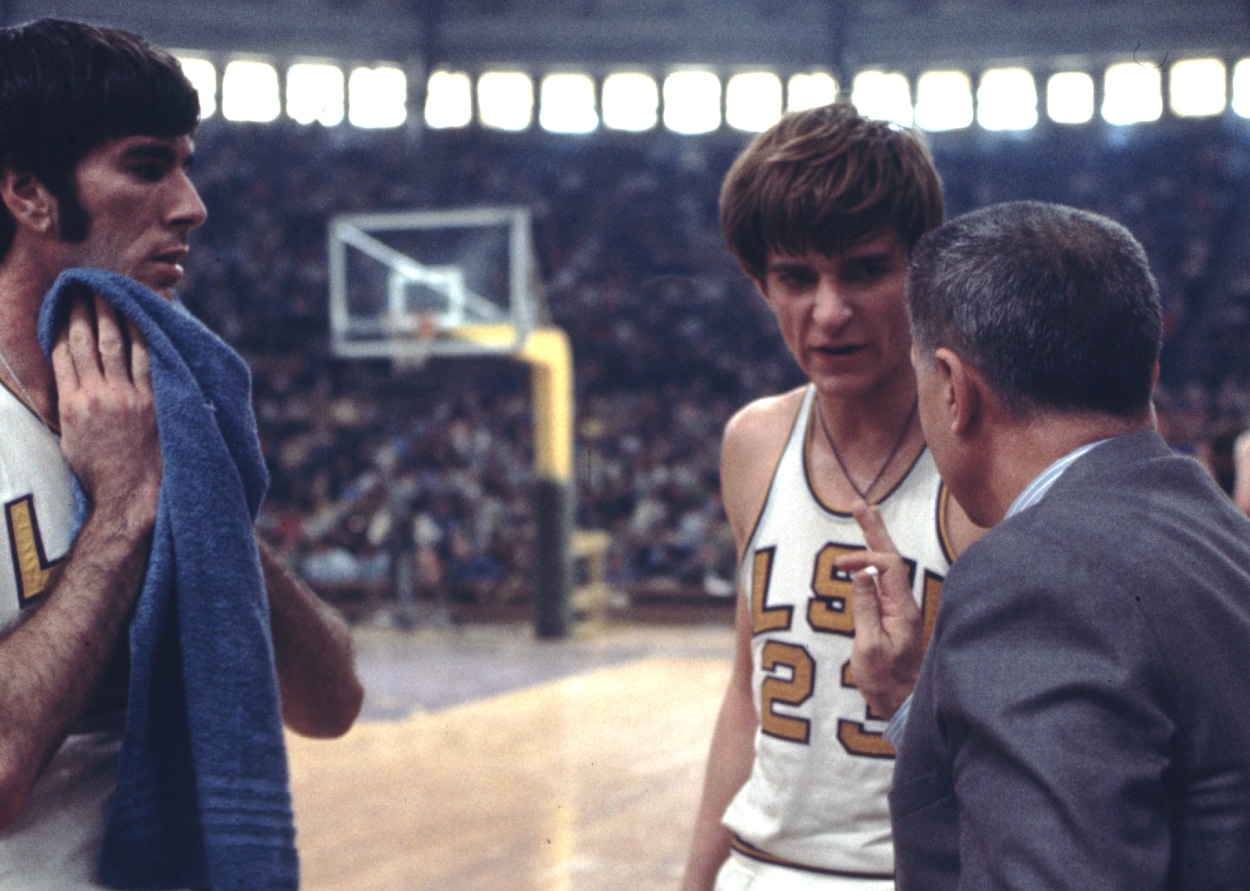 The Biggest Criticism of Press Maravich, the Father of the Legendary Pete Maravich? 'He Loved His Son Too Much'
Pete Maravich played all three years at LSU under the direction of his father, Press Maravich.
Pete Maravich goes down as one of the best, if not the best, college basketball players ever. He joined his father, Press, at LSU when Press took the job after two successful seasons as head coach at North Carolina State. In three seasons, Pete Maravich became the NCAA men's Division I all-time scoring leader, a record that still stands today. The elder Maravich did catch a little bit of heat for letting his son run the show.
Pete Maravich may have been the biggest draw in all of college basketball
There has never been anyone like Pete Maravich. The 6-foot-5 point guard with the floppy socks was the biggest thing in college basketball in the late 1960s. Although he wowed many with his behind-the-back passes, it was his scoring that set him apart.
Press Maravich took the LSU job before the 1966-67 season. He spent the previous two years as head coach at North Carolina State, going 38-13 in that span. He had been the head man at Clemson for six years before taking the NC State job.
When he came to LSU, Pete came with him. Freshmen, however, weren't allowed to play at the varsity level back then, and LSU stumbled to a 3-23 record in his first season with the Tigers. That all changed when "Pistol Pete" arrived on the scene for the 1967-68 season.
In his first season as a starter for the Tigers, Pete Maravich averaged 43.8 points and 7.5 rebounds. LSU had its first winning season in six years, finishing 14-12. As a sophomore, Maravich put up 44.2 points per game as the Tigers went 13-13. In his senior year, Maravich averaged a career-best 44.5 points. LSU went 22-10.
While many college players celebrate 1,000-point careers, Maravich eclipsed that total in each of his three seasons. For his career, Maravich racked up 3,667 points without the benefit of a three-point line or a shot clock.
Press Maravich 'loved his son too much'
Pete Maravich was as talented as anyone playing basketball, but he did get some criticism for shooting too much. Press Maravich got plenty of flak for letting it happen.
"Press came out one year and said that Pete's going to have to shoot 40 times for us to win," Pete Maravich's former teammate Ralph Jukkola told Sportscasting in March. "That was kind of a downer for us to hear. I think it may have burned some bridges. I didn't like it. It was almost like telling us we ain't worth a darn."
Les Robinson, an assistant under Press Maravich at North Carolina State, was asked to sit on the LSU bench and keep track of Maravich's assists and steals, according to Mark Kriegel's book PISTOL: The Life of Pete Maravich. Press believed opposing teams' statisticians were selling Pistol Pete short.
"They're screwing him everywhere he goes, Les," Press said, per Kriegel.
Robinson said Press was obsessed with Pete's stts and wasn't the same coach he was while at North Carolina State.
"He wasn't the same coach I knew at N.C. State," Robinson said, "and he had already become obsessed with Pete's numbers. He had gone from being one of the greatest coaches in the game to the coach of the greatest player in the game. That's the only criticism I have of Coach Maravich: he loved his son too much."